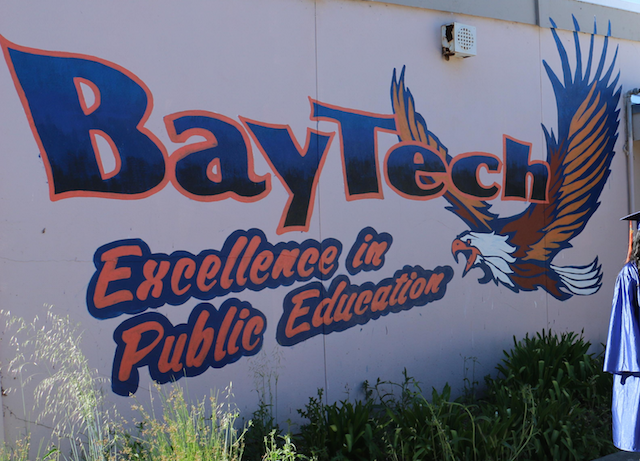 In recent weeks, Oakland's Bay Area Technology School has become the center of a management crisis and accusations of fraud. Now, the school's former principal, Hayri Hatipoglu, alleges that the embattled charter school was used to bankroll a religious and political movement that was accused by Turkey's Prime Minister Recep Tayyip Erdogan of participating in an attempted 2016 coup.
In an interview with the Express last week, Hatipoglu said employees of the school — many of them Turkish immigrants — handed over thousands of dollars from their own salaries for the cause in exchange for the H-1B visas allowing them to work in the United States.
Hatipoglu said he resigned and left for Australia, where he is a citizen. He said he no longer wanted to allow the Gülen movement to exploit the school. And he said the allegations of fraud against him by BayTech's board of directors are false.
The Oakland Unified School District is currently investigating Hatipoglu for possibly embezzling thousands of dollars from the school by using its credit card to make unauthorized purchases, and for allegedly altering his employment contract without the board's knowledge. Hatipoglu's employment contract provided him with a fixed three-year term of employment. The contract stipulated that if he was terminated, or quit, without cause, the school would owe him the remaining pay for the rest of the three-year term. Fatih Dagdelen, a BayTech school board member who is accusing Hatipoglu of fraud, claimed in a recent email to OUSD officials that the true term of the contract was six months, not three years.
Hatipoglu denies that he stole from BayTech or altered his contract. But the former principal said all the allegations about BayTech's links to the Gülen movement are true.
Public records support some of Hatipoglu's claims.
"The school gave Turkish teachers employment because the school applies for their visas, and when they give donations, they get to work," said Hatipoglu. "I told [BayTech's board] I'd no longer do this because there have been so many allegations, and the Turkish government is looking into it."
Hatipoglu is one of the first high-level administrators of a Gülen school to describe the ways the movement allegedly extracts money from the many charter schools its followers operate.
The Gülen movement is led by an elderly Turkish imam named Fethullah Gülen who lives in exile in Pennsylvania. Gülen and his thousands of followers around the world have been labeled terrorists by the Turkish government. In recent years, Turkish intelligence agents have fanned out across at least 18 nations to spy on, and sometimes seize, Gülenists and take them back to Turkey where they are jailed and tortured, according to recent reports in The New York Times and other media.
Gülenists claim to be moderate Islamists concerned about the erosion of democracy and secularism under Prime Minister Erdogan's conservative government. They are pro-science and pro-capitalism, and the movement is as much a business network as it is a religious sect. Its followers wielded considerable political power in Turkey until the crackdown that followed the 2016 coup.
Erdogan has accused the United States of harboring Gülen and allowing his movement to operate a network of over 100 charter schools in California, Nevada, Texas, Arizona, and other states. Altogether, Gülen-linked schools receive hundreds of millions in public funds.
There have long been concerns in Oakland that BayTech is a Gülenist school, but the Oakland Unified School District never seriously investigated. Meanwhile, BayTech's administration and board members have repeatedly denied the accusations. In fact, Hatipoglu even said the school had no links to the movement at an OUSD board meeting last November. And BayTech board members have called anyone who raises questions about ties to the Gülen movement "racist."
But since the end of the last school year, when several senior staff and two school board members resigned, and the district began investigating, questions have emerged about whether BayTech is being used as a source of support for the Gülenists in their conflict with Erdogan's government.
Hatipoglu came to BayTech in 2011 from Australia on a work visa. When asked by followers of Fethullah Gulen who are linked to the school to make a contribution to a Gülen-linked organization, he said he initially agreed.
"They said Gülen was doing educational services, helping the poor and needy in Africa, dialogue, and world peace," said Hatipoglu. "Does that sound good to you? I willingly gave donations because I believe in this and didn't know it was compulsory.
"When I said 'no,' I saw the ugly face," said Hatipoglu. "Before that, it was all a beautiful mask."
Hatipoglu said he helped prepare visa applications for teachers, most of them from Turkey, to come work at BayTech. He said teachers were expected to make monetary contributions to Fethullah Gülen in exchange for their visa.
"Turkish teachers have to donate this money to stay and work in America," said Hatipoglu.
According to federal Department of Labor records, BayTech obtained at least 29 H1-B visas since 2009 to employ foreign educators, mostly from Turkey. The number of foreign teachers was unusual for a single small school.
Multiple calls and emails to BayTech board members Dagdelen, Sabyrov, and Ulukoylu seeking comment about Hatipoglu's allegations regarding the school went unreturned. The three currently oversee BayTech's $4 million budget of state and federal funds.
Asked at BayTech's most recent school board meeting on Aug. 6 whether they are followers of Fethullah Gülen or if the school has any links to the Gülen movement, both Dagdelen and Ulukoylu declined to comment.
Hatipoglu claims that he pushed for BayTech to distance itself from the Gülen movement first by having BayTech cut ties with the Accord Institute, a nonprofit that was founded by Gülenists and sells education services to Gülen-linked charter schools. BayTech was also founded by Gülen movement members, including the current CEO of the Accord Institute, and multiple sources said BayTech paid the Accord Institute about $70,000 a year for several years for various education training services.
Hatipoglu said he wanted BayTech to free itself from Accord due to bad publicity. Accord was the subject of investigations by the Los Angeles Unified School District and the California State Auditor, which established that there were conflicts of interest and weak financial controls. Accord, and a chain of Los Angeles charter schools founded by followers of Gülen, were also the subject of a story in LA Weekly that uncovered evidence that the schools were used to raise money for Fethullah Gülen.
BayTech did, in fact, cut ties with Accord last year. But Hatipoglu claims that he also wanted to put an end to the practice of bringing Turkish teachers over on H1-B visas and having them contribute money to the Gülen movement. Also, he wanted to recruit directors to BayTech's board who are not followers of Fethullah Gülen.
"This is where we all broke apart," said Hatipoglu.
School board emails obtained by the Express reveal that BayTech director Volkan Ulukoylu was attempting to resign earlier this year and replace himself with a man name Volkan "Adam" Kaya. Ulukoylu shared a brief bio and photo of Kaya with Sabyrov, Dagdelen, Hatipoglu, and Alretta Tolbert, one of the board members who resigned after Hatipoglu left the school.
Hatipoglu said that he was opposed to Kaya joining the board because Kaya has links to the Gülen movement.
According to tax records, Kaya is a director of Bay Area Cultural Connections, a Sunnyvale nonprofit affiliated with the Pacifica Institute — which describes itself as an organization inspired by Fethullah Gülen. The Express was unable to reach Kaya for comment.
Hatipoglu, now residing in Australia, said he's fearful because he has been identified as a Gülenist in reports in the Turkish media about BayTech's unraveling. He insisted he's innocent of defrauding the school and that the board, in fact, approved his three-year fixed-term contract on March 8 of last year.
Minutes from BayTech's March 8, 2017 board meeting are missing from the school's website, a violation of the Brown Act. OUSD had warned the school about violating the state's open-meetings law.
But a copy of BayTech's board minutes obtained from OUSD indicate that the board did, in fact, approve a fixed three-year term employment contract for Hatipoglu.
Sabyrov, in a June 27 email to OUSD officials, wrote that the board was tricked into approving the contract and that his audio tape of the meeting shows the board thought they were voting on a six-month term, not three years.
OUSD has yet to finish its investigation.