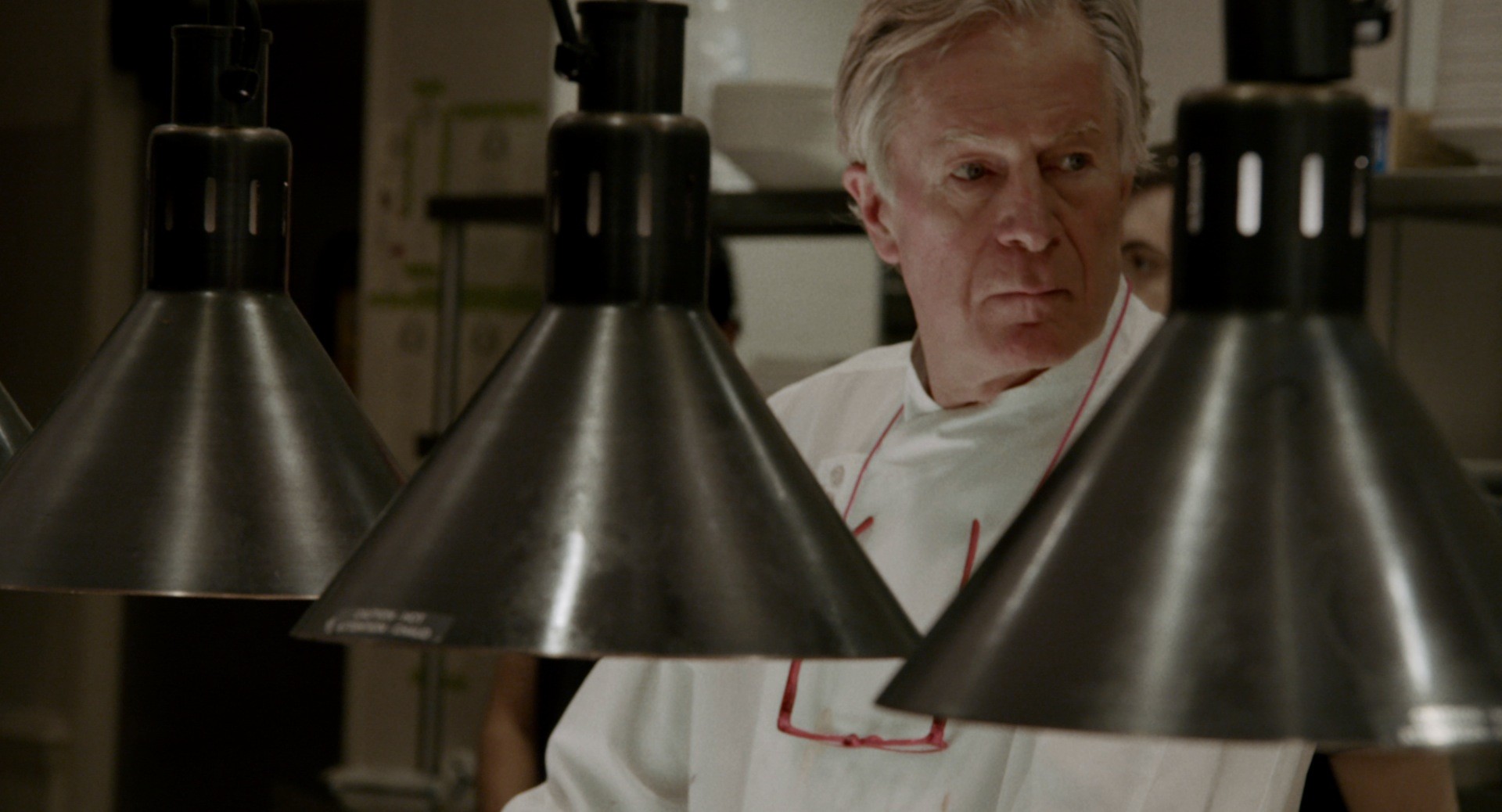 The chef himself at work in
Jeremiah Tower: The Last Magnificent
Lydia Tenaglia's
Jeremiah Tower: The Last Magnificent
belongs to the category of documentaries that celebrates headliner musicians, visual artists, fashion designers, writers, and similar household names at the intersection of the fine arts and big business. That is to say, the film is only nominally about Tower's culinary achievements, but more about his fame and the financial success of his ventures. Poised a few notches above gastro-porn in the general vicinity of infomercial, Tenaglia's profile of the renowned celebrity chef explains more about upscale American taste at the turn of the 21st century than it does the appeal of fresh, natural foods, cooked and presented simply.
Should one live to eat, or merely eat to live? No matter which side of that conundrum we come down on, there's no denying the influence of the "foodie" in the modern cultural discussion. So it's probably important that we pay attention to what Tower, filmmaker Tenaglia, and their friends are telling us.
Tenaglia, a veteran producer-director-videographer and co-founder of Zero Point Zero Production, Inc. – maker of just about anything with the name "Anthony Bourdain" attached to it – presents the 75-year-old Tower's life and times as the tale of a poor little rich boy who delighted in whipping up goodies in the kitchen when no one was looking. As re-created in fictionalized scenes, the young Tower, son of a globe-trotting American industrialist family who paid him little attention, frequently amused himself aboard luxury ocean liners by first gobbling up, then learning how to cook, the ships' delectable European classic dishes. By the time he entered Harvard, Tower was a sophisticated gay man about town adept at entertaining, omnipresent champagne flute in hand.
Broke and passing through the Bay Area in 1972 (his parents had discontinued his allowance by then), Tower answered a help wanted ad and joined the kitchen staff at Berkeley's Chez Panisse, where founder-chef Alice Waters was already making a name for herself. It is here that the doc goes into its
Rashomon
sequence. Was it Waters or Tower who invented the California Regional Dinner, and hence the "New American Cuisine"? The lineup of talking heads, including Bourdain (he exec-produces) as well as Mario Batali, Wolfgang Puck, a gushy Ruth Reichl, and food writer Andrew Friedman, seems to lean toward Tower, although Bourdain, pithy as ever, wishes Tower would "shut the fuck up" about making such claims.
At any rate, Chez Panisse took off like an alimentary rocket and made everyone involved at least famous, if not rich. Tower and Waters were romantically linked at one point. When the relationship finally soured, Tower top-lined Stars in San Francisco and fulfilled his ambition, catering to the rich and powerful in what he called a "dramatic, theatrical" space with sensational food – a palace of conspicuous consumption. Everyone wanted to sleep with him. Detractors deplored his shameless self-promotion, but Stars became one of the country's highest-grossing eating houses, the place to be in the go-go Eighties and Nineties. When it went pffft, Tower moved on to Tavern on the Green in New York City, but fell out with that owner as well.
Bourdain notwithstanding, the doc steers clear of nay-sayers. Now retired and living in Mérida, Yucatán, Mexico, Tower appears on camera in full Jean Cocteau-Gore Vidal-Paul Bowles exiled-genius mode, admitting to flamboyant egotism ("I seem to piss people off a lot") while growing vague on the subject of Stars' demise and his stint at the tourist trap TOTG. The doc's tone is worshipful to a fault, with its overly precious flashbacks and the chef's fawning admirers. At home in Mexico, Tower is shown alone, with no one present besides shopkeepers in the markets. Humor intrudes occasionally, as when Tower recalls his campus "radicalism" during the Sixties – he fashioned a Molotov cocktail using an Hermès scarf as a wick. But
Jeremiah Tower: The Last Magnificent
has a bit of a canned taste to it. The influential Tower may or may not deserve a better screen bio, but this will have to do until that one comes along.