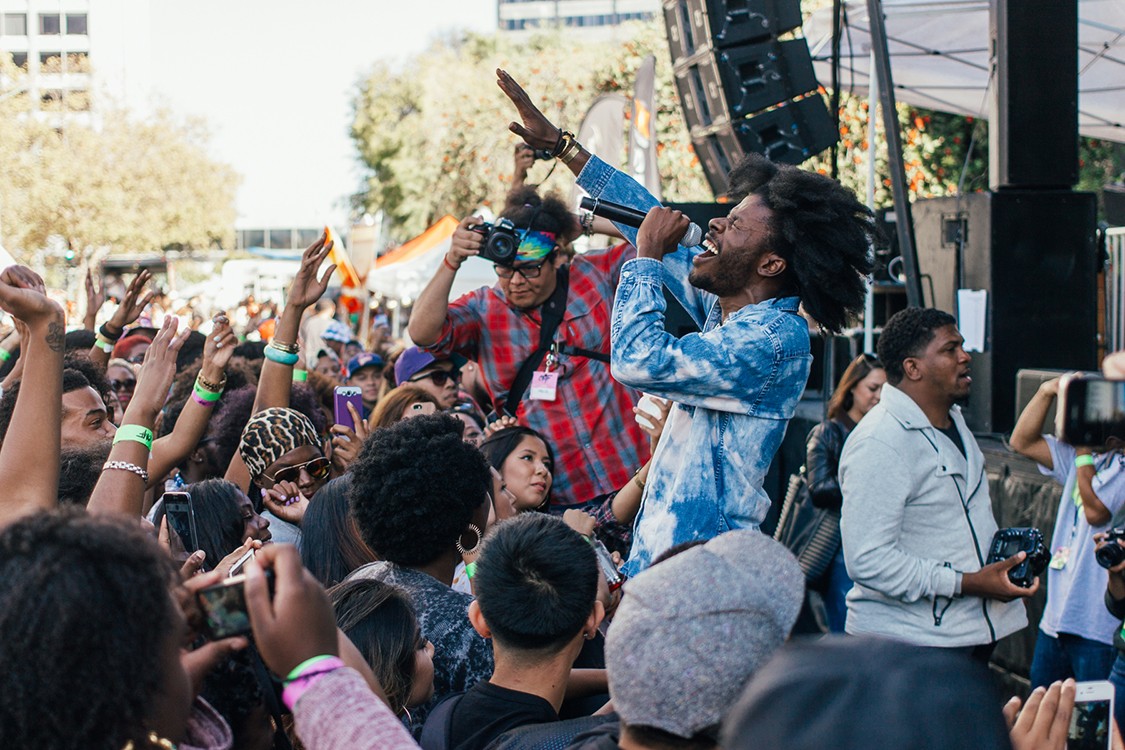 This year,
Oakland Music Festival
is doing something different: Rather than cramming dozens of performers into a day-long extravaganza, the event organizers have taken an approach more similar to ones we've seen at Noise Pop and South By Southwest, with different shows under the OMF umbrella happening all over town from September 30 to October 9. The event features legends and local up-and-comers alike. This year's OMF skews towards the DJ scene, but there are plenty of live bands and rappers to look forward to as well. To help you navigate the fest, here are five shows you shouldn't miss. 
[jump]
1. Egyptian Lover, Lakim, and Sick Sad World 
Fri., Sept. 30, 10p.m. Starline Social Club (2236 Martin Luther King Jr. Way, Oakland). $15-$20. 
Los Angeles DJ
Egyptian Lover
is a dance music and West Coast hip-hop pioneer who got his start scratching records in the early Eighties. His sound is upbeat and funky, with a retro-futuristic flavor that comes across through its vibrant synths and lovably campy robot vocals. The legend performs with laidback DJ-producer
Lakim
of the influential label Soulection. His jazzy grooves and break beats evoke the likes of Madlib and Peanut Butter Wolf. Also on the bill: Oakland DJ crew
Sick Sad World
, which lit up the dance floor at Wine & Bowties' Feels V with its eclectic mixes of hip-hop, electronic music, and throwbacks. 
[embed-1]
2. Jay Stone, Black Spade, Stas Thee Boss, Jusmoni, and Yayuh
Thurs., Oct. 6, 9:30 p.m. The Night Light (311 Broadway Ave., Oakland). $10-$15.

"Lake Merritt," the first track off
Jay Stone's
album with Monster Rally, 
Foreign Pedestrians
, hardly has drums. Instead, a lush, blown-out vocal sample couches Stone's poetic flow as he bounces between playful turns of phrase. He's a gifted poet, and his creative lyrics make the entirety of
Pedestrians
fun,
trippy, and thought-provoking. For OMF, Stone is performing at a hip-hop showcase featuring fellow MCs Black Spade, Stas Thee Boss, Jusmoni, and Yayuh. Come for lyrical bars and plenty of food for thought. 
[embed-3]
3. Elujay and Rayana Jay
Fri., Oct. 7, 7 p.m. Oaklandish (1444 Broadway Ave., Oakland). Free.

Get familiar with
Rayana Jay
, the crooner from Richmond who has been captivating eardrums with her silky, smoky voice. She first came onto the scene with her debut EP
XXI
, last year. But for her latest singles, she's teamed up with producer Mikos Da Gawd, whose breezy, soulful beats have taken her sound to the next level. While her effortless cool is unparalleled on "Sleepy Brown," with "Nothin To Talk About" she gives us a timeless R&B joint that's easy to imagine listening to thirty years in the past
or
future. Jay performs at Oaklandish for OMF with
Elujay
, the rising Oakland rapper whose project
Jentrify
has made him a voice for the people and earned him Best Protest Song in our Best of the East Bay issue.
[embed-2]
4. Masego, Jay Ant, Down 2 Earth, and Drea Faux Real
Fri., Oct. 7, 9 p.m. The New Parish (1743 San Pablo Ave., Oakland). $15-$20. 

Trap House Jazz describes itself as a band, a label, and a genre, and the group's music lies somewhere between neb-soul instrumentation (a la The Internet) and J Dilla-esque hip-hop beats. Its bandleader,
Masego
, headlines OMF's Friday night New Parish show alongside
Jay Ant
, the HBK Gang rapper-producer whose synth-drenched pop-rap anthem "Let Me Ball" was the earworm we didn't want to get out of our heads this year.
Down 2 Earth
, a hip-hop group comprised of notable local solo artists Azure, Clyde Shankle, and Dayvid Michael, joins them on the bill with their thoughtful boom-bap. And
Drea Faux Real
, a DJ with a keen ear for hip-hop and house beats that get bodies moving, will spin.
[embed-4]
5. The Tambo Rays, Big Baby Gandhi, 8ULENTINA, Trill Team 6, Namaste Shawty, and Fela Kutchii

Sun., Oct. 9, 4 p.m. Classic Cars West (411 26th St., Oakland). $10, $15.

Oakland's
The Tambo Rays
make danceable, upbeat indie pop perfect for the mellow, outdoor day partyon the last day of OMF at Classic Cars West. And joining them is
Big Baby Gandhi
, the New York rapper-producer with old school East Coast taste who recently relocated to San Francisco.
8ULENTINA
of the popular genre-bending dance party Club Chai (which one Best Party to Hear Music from Oakland to Istanbul in our Best of the East Bay issue) will be spinning, alongside
Namaste Shawty
,
Fela Kutchii
(also the winner of the Best DJ for Your Hot Tub Party in Best of the East Bay), and party-throwing crew 
Trill Team 6
.