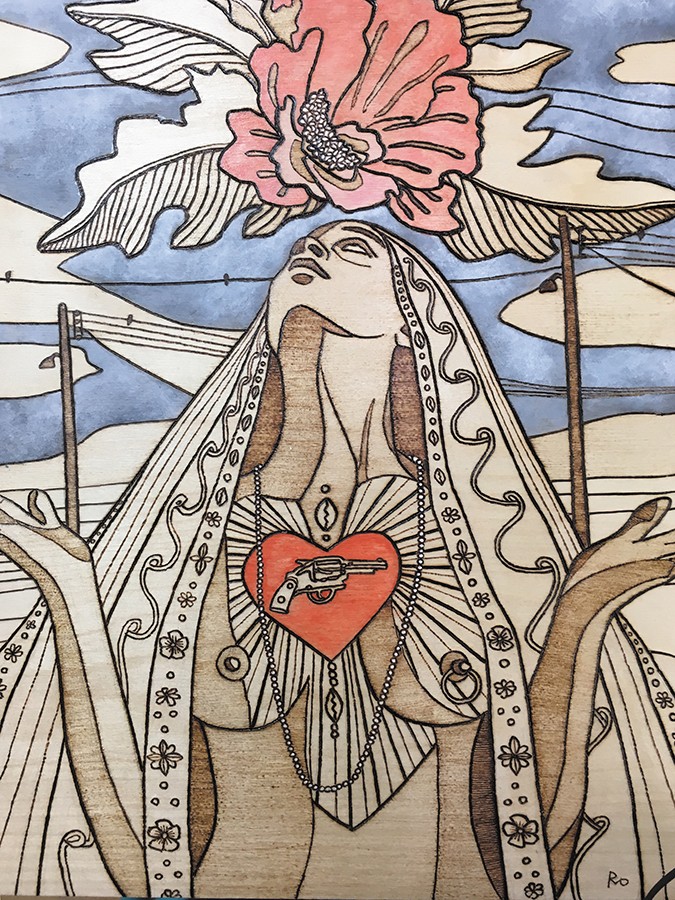 Holding Space
Even the word "pyrography" sounds badass. It means "writing with fire," which also sounds badass. More commonly known as wood-burning, the process involves creating images on a slab of wood via controlled heat. It's been around since the dawn of recorded history. At Temescal Studios, Oakland artist and activist Rosesharon Oates will debut her latest wood-burning works in Holding Space, which focuses on depictions of courageous women. The collection promises to explore grief, resilience, and power. For the opening reception, there will also be live music and a question-and-answer session with Oates at 7 p.m. If you're inspired, come back to Temescal Studios at 3 p.m. on Sunday, Nov. 5, for a wood-burning workshop. — Janelle Bitker
Friday, Nov. 3, 6 p.m., free, Temescal Studios, 4201 Telegraph Ave., Ste. A, Oakland, Facebook.com/temescalstudios


Got an event to list in our next guide? Send it to [email protected] by Nov. 22
Art Galleries
Aggregate Space. Totem noun | to·tem | \ˈtō-tem\ A Natural Installation Artist Vincent Pacheco creates narratives from excavated dead and broken trees, tree stumps, and other found objects from the Sierra mountain forest. Combining prose, parable, and fact, he activates the litany of experiences that shape his understanding of his adopted environs. Through Nov. 4. free. Friction/Function A multidisciplinary collaboration between ASG and dance artist and curator Jesse Hewit that presents innovative performance works in conjunction with ASG exhibitions. The Friction/Function Performance Series invites performing artists to study and respond to the exhibition of an artist working in another discipline, ultimately creating and presenting a live performance in the exhibition space. Sat., Nov. 4, 7 p.m. 801 West Grand Ave., Oakland, AggregateSpace.com.
[email protected]
Eclectic Visions Work by Diana and Larry Coleman. As varied as it is exciting, they take on new subject matter, as well as returning to some old standards. Nov. 3-Jan. 31. free. 431 13th St., Oakland.
ArtVale Gallery. ir*reality The concept of irreality emphasizes not just the 'not real' but some form of estrangement from our generally accepted sense of reality. Through Nov. 18. free. 3463 Champion St, Oakland, artvalegallery.com.
Athen B Gallery. Bad Order Through Nov. 3. free. 1525 Webster St., Oakland.
Chandra Cerrito Contemporary. Genea Solo exhibition by Bay Area artist Connie Goldman that explores contemporary abstraction and color as well as motion, in both metaphorical or optical terms. Through Nov. 16. free. Vibrate Solo exhibition by Mikey Kelly featuring recent acrylic paintings that explore his interest in process-driven linear compositions that are optically charged. Through Nov. 16. free. 480 23rd St., Oakland, ChandraCerritoContemporary.com.
City Limits Gallery. Gone Fishin Works by Keith Boadwee. Through Dec. 3. free. 300 Jefferson St., Oakland, CityLimitsGallery.com.
Classic Cars West. Between the Leaves A multi-sensory installation of Anjelica Colliard's signature "imaginary jungles" that takes the artist's drawings off the page and into space. As an artist primarily working in printed matter, this installation is a refreshing expansion of Colliard's strikingly sensual line work, and a deliberate invitation to the viewer to wander through her invented landscapes. Fri., Nov. 3, 6-10 p.m.; Nov. 3-Dec. 29, 6-9 p.m. free. 411 26th St., Oakland, ClassicCarsWest.com.
The Compound Gallery & Studios. Some Things That May Be Helpful At Some Point We live in a world overflowing with stupidity, intolerance, and pointless suffering. David Fullarton's latest body of work represents a stubborn refusal to treat the seriousness of our malaise with any respect. This is art that laughs in the face of our anxieties and ruthlessly skewers our fears, failures, and shared fragility. Mr Fullarton apparently intends his droll dissection of the ever-increasing absurdity of modern existence to be of help in our struggle to cope with the human predicament. And in times like these we can use all the help we can get. Continues through Dec. 9. free. 1167 65th St., Oakland, TheCompoundGallery.com.
Creative Growth Art Center. Labor of Love Curator Yukiko Koide brings together six artists for exhibition Labor of Love. Each artist developed their own creative systems and through their intensive and patient labor, each artist has found their personal means of expression. Through Nov. 11. free. 355 24th St., Oakland, CreativeGrowth.org.
GearBox Gallery. Other Conversations An exhibition that will juxtapose the AbEx influenced paintings of Irene Nelson with the eccentric assemblages of Francis Lerner. Both artists share a conviction in the values of their intuitive processes. Thursdays-Saturdays, 12-6 p.m. Continues through Nov. 25. free. gearboxgallery.com. 770 West Grand Ave, Oakland, GearBoxGallery.com.
Interface Gallery. Portentology A solo show by artist Nando Alvarez-Perez, featuring new photographs and objects that allude to the many ways we try to make meaning of the world and predict what's to come; attempting to divine the future is a universal endeavor with ancient roots that feels particularly compelling given the political uncertainty of our times. Fridays-Sundays, 11 a.m.-4 p.m. Continues through Nov. 26. free. 486 49th St., Oakland, InterfaceArtGallery.com.
Johansson Projects. MICHELLE BLADE | PARTNERLOOK Johansson Projects presents: Partnerlook, an exhibition of new paintings and ceramic sculptures by artist Michelle Blade. "Partnerlook" is a term that stems from the German colloquial for wearing matching clothes, and is an underlying theme throughout this intimate body of work. The pieces look toward one another, they echo visual similarities, and they mimic investigations of the natural world and the role the human figure takes within it. Fri., Nov. 3, 5-8 p.m. free. 2300 Telegraph Ave., Oakland, JohanssonProjects.com.
Joyce Gordon Gallery. Mygration A group exhibition that explores various meanings and implications of migrating people or other living members of the planet moving from one place to another with the intention of resettling and seeking better lives, or better means of livelihood. Featured artwork include both current and historical commentaries due to climate change, international movements spurred by political conditions, dire conditions, local migration due to gentrification, mass increases in living cost, or labor opportunities. Opening reception: Friday, Nov. 3, 6-9 p.m. with DJ Elijah Manolo. Poetry reading: Saturday, Nov. 4, 3:30-5:30 p.m. Artist talk: Saturday, Nov. 11, 1-4 p.m. Nov. 3-25. free. For more information please contact gallery curator, Eric Murphy
[email protected]
, 510.465.8928. Dhyana A meditative exploration of the basic elements of art by Samantha Chundur: line and color. The line, the primary building block, sets the tone of the series' simple yet powerful compositions: a single line framed within a square or rectangle. The compositions lend an architectural feel to the series, wherein the viewer is invited to meditate on its main structural element -the line- which is exposed in its true form. Opening reception: Friday, Nov. 3 6-9 p.m. Artist talk: Saturday, Nov. 11, 4 p.m. Nov. 3-28. free. 406 14th St., Oakland, JoyceGordonGallery.com
Manna Gallery. Seredipity Elaine Maute's new show of abstract encaustics and prints takes advantage of accidents, chance and luck. Her large luminous prints and smaller encaustic paintings are made using a loose, wet into wet technique. Continues through Nov. 4. free. 473 25th St., Oakland, MannaGallery.com.
Mercury 20 Gallery. Terry Dunn: Garden 2 Individual carved and painted elements are assembled and evolved into whimsical and evocative concoctions. In response to a sense of dread due to the current destructive impact of humans on the natural world, Dunn has turned to the exuberant beauty of nature for inspiration and solace. By closely observing plants, and in particular flowers, he has reinvented nature and created a fantastic and playful botanical world. Thursdays-Saturdays; First Friday Art Murmur: Fri., Nov. 3, 6-9 p.m. Continues through Nov. 25. Free. Fernando Reyes: Making the Cut Reyes' images reflect many sources that may arouse senses, conjure emotional states, enliven curiosity, and instigate the telling of a story. First Friday Art Murmur: Fri., Nov. 3, 6-9 p.m. Continues through Nov. 25. free. 475 25th St., Oakland, MercuryTwenty.com.
Oakopolis Creativity Center. Clay & Earth, What We Stand On A solo show of Vicki Gunter's ceramic sculptures that "that stirs the visceral will to face our many challenges, with joy, in the beauty that is us and all other life. Beauty that is under our feet and setting sail at our backs." Through Nov. 18. free. 447 25th St., Oakland, Oakopolis.org.
Roll Up Project. Two Identitys Roll Up Project is pleased to display two large-scale works on paper by Veronica De Jesus. De Jesus presents personal perspectives that reflect complex topics everyone faces, such as safety, navigating through life, identity, and loss. Her engaging line drawings are often supplemented with blocks of text, allowing the viewer to dive deeper and reflect on the imagery. Two Identitys investigates De Jesus's experience with identity and personality. Growing up, her family moved often, and she gained a deep understanding of the ways we can change, conceal, and adapt the many facets of our identities. Mondays-Fridays, 10 a.m.-5 p.m. Continues through Nov. 30. 217 Harrison St., Oakland, Rollupproject.com.
Royal NoneSuch Gallery. Objects of Mutual Affection Art from the homes of Bay Area writers Dodie Bellamy, Bruce Boone, Robert Glück, Kevin Killian, and Jocelyn Saidenberg. Through Nov. 19. free. 4321 Telegraph Ave., Oakland, RoyalNonesuchGallery.com.
SLATE contemporary. Moderna SLATE artists Maya Kabat, Lola, and Maura Segal examine modernism through playful forms, colors, and lines. Nov. 2-Jan. 6. free. 473 25th St., Oakland, SlateArt.net.
Slide Space 123. Culture Industry A group exhibition exploring the psychological impacts of popular culture and the racialized, classed, and gendered nature of its influence, featuring work by Sara Cwynar, Debora Delmar, Shana Moulton, and Tabita Rezaire. Mondays-Fridays, 9 a.m.-5 p.m. Continues through Nov. 29. free. www.slidespace123.org/culture-industry. 5000 MacArthur Blvd., Oakland.
Sweeney Kaye Gallery. We'll Be Singing Collages, drawings, text pieces, and wood sculpture by Bay Area artist Lena Wolff, along with a performance of her new project Future Chorus, an ensemble of friends, artists and musicians singing songs of hope and context in the political moment. Her visual work draws from early American quilt patterns – symbolic emblems of our ideals of democracy as well as cosmic symbols of interconnectedness. Through Nov. 12. free. 644 40th St. #108, Oakland.
Temescal Studios. Holding Space Artwork by Rosesharon Oates that depicts images of fierce and courageous women in their power, transforming the world as we know it from the inside out. Opening reception: Fri., Nov. 3, 6-9 p.m. free. 4201 Telegraph Ave., Suite A, Oakland.
The Fourth Wall Art Gallery. Unearthed Works by artist Elizabeth Harris, a recent recipient of the Berkshire Taconic Foundation's A.R.T. Fund. Through Nov. 11. free. 473 25th St., Oakland.
The LOT. All Souls Oakland Welcoming all souls to honor & reminisce through ceremonial solemnity, music, art & dance during Oakland's First Friday event. A secret password said at the door is your access in to this event, if you don't know – find out. Fri., Nov. 3, 6-10:30 p.m. $10-$20. www.facebook.com/events/1761781780798230/?acontext=%7B%22action_history%22%3A%22null%22%7D. 3381 San Pablo Ave., Oakland.
Vessel Gallery. This Land We Share A showcase with paintings by Walter James Mansfield and sculptures by Pamela Merory Dernham. Through Dec. 23. free. 471 25th St., Oakland, Vessel-Gallery.com.
Attractions
$5 First Friday: Playing with Food Throw your table manners out the window and join us as we play with our food! Local food hackers, tinkerers, and makers will lead hands-on experiments with interesting gadgets that allow you to explore food science while creating some delicious dishes. Dig into every aspect of the production and consumption of your daily meals, with an emphasis on learning, community, and sustainability and more at this fun and tasty event! Fri., Nov. 3, 6-10 p.m., $5, Chabot Space & Science Center, 10000 Skyline Blvd., Oakland, ChabotSpace.org.
Asian Cultural Center First Fridays Oakland Asian Cultural Center hosts First Fridays, showcasing Asian and Pacific Islander art, cultural performance, informative workshops, and exciting games every first Friday of the month. OACC is located in the Pacific Renaissance Plaza. First Friday of every month, 6-8 p.m., Free. Oakland Asian Cultural Center, 388 9th St. #290, Oakland, OACC.cc.
First Fridays Community Potluck ArtVale invites the community to break bread with one another. Bring friends, family, and food to share. Stay for a small drawing session among new friends and community members. Celebrate Oakland arts! First Friday of every month, 6-9 p.m., free. ArtVale Gallery, 3463 Champion St, Oakland, artvalegallery.com.
Saturday Stroll A weekly component to Art Murmur, but with fewer festivities and more focus on the galleries. Visit OaklandArtMurmur.org for a full list of participating Oakland galleries. Saturdays, 1-5 p.m., free. Uptown District, 19th St. at Telegraph Ave., Oakland.
Live Variety
First Friday Follies Burlesque performances, with MC JUICY D. Light and music by, Elegant Trash First Friday of every month, free. Stork Club, 2330 Telegraph Ave., Oakland, StorkClubOakland.com.
Hoodslam Monthly underground wrestling event for the 21+ crowd. First Friday of every month, 9 p.m., $20. Oakland Metro, 522 2nd St., Oakland, OaklandMetro.org.
Museums
Oakland Museum of California. Friday Nights @ OMCA! Jam to live music, special performances, and dance lessons, get crafty at drop-in art workshops, and join local foodies for a variety of demos and tastings. Indulge in a wealth of curbside cuisine options with over 15 Off the Grid food trucks. Grab a drink from the bar and admire beautiful views of Lake Merritt from OMCA's terraced sculpture garden or sprawl out with a family picnic in the courtyard. Gallery admission is half-price for adults and free for ages 18 and under. Friday, 5-10 p.m., free. Nature's Gift: Humans, Friends & the Unknown A one-of-a-kind and interactive environment by FriendsWithYou—the LA-based, fine art collaborative featuring Samuel Borkson and Arturo Sandoval III—this large-scale, light-filled installation sparks joy and positivity, and sets the stage for friendship, magic, and social connection. Through Jan. 21, 2018. Free w/ museum admission. Metamorphosis & Migration: Days of the Dead Explore ofrendas and artworks inspired by the Monarch's migration and themes of tradition and transformation. View rarely-seen butterfly specimens from OMCA's collection alongside newly commissioned artworks. Through Jan. 14, 2018. free w/ museum admission. Question Bridge: Black Males Immerse yourself in intimate videos—woven together and arranged to simulate face-to-face conversations between participants—among a diverse group of 150 black men across the United States. Through Feb. 25, 2018. free w/ museum admission. 1000 Oak St., Oakland, MuseumCA.org.
Music
Free First Fridays: Mighty Quinn, Bum City Saints, Coercion, Ghost of California The Uptown Nightclub, 1928 Telegraph Ave., Oakland, 5 p.m., free
No Se First Friday Dance Party Resident DJs Dave Wilson and Andy Cabic with special guest DJ FOXXEE (Your Mama's House, Purple Music)., Starline Social Club, 2236 Martin Luther King Jr. Way, Oakland, 9 p.m., $5 donation l