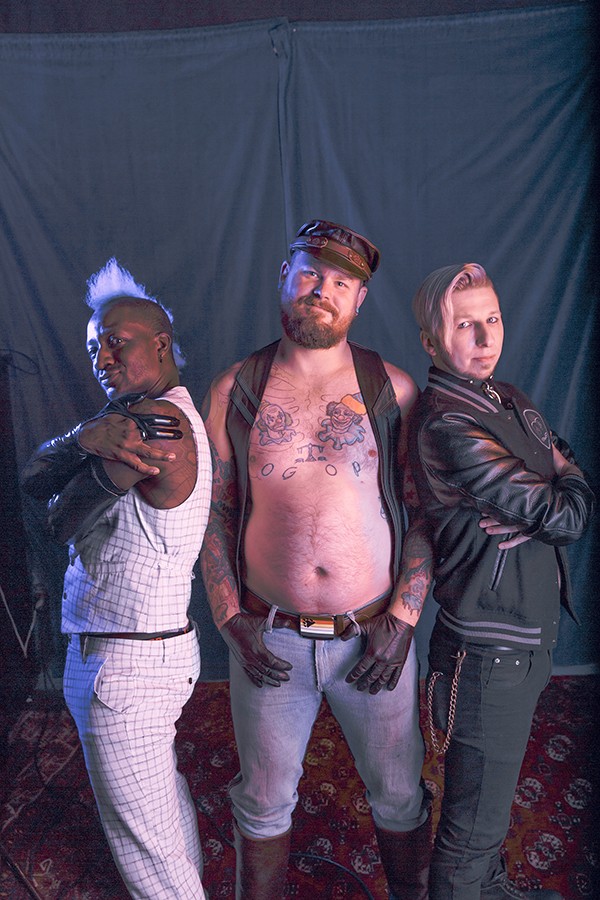 Jesi Ringofire walks down the catwalk of the Oakland Metro Operahouse under bright magenta lights. He welcomes the audience to the Bay Area's premiere all-male burlesque review and is met with applause, hoots, and whistles. He asks if there are any birthdays in the crowd. One brave soul, a man wearing a T-shirt with a rainbow-colored moustache emblazoned across the chest, steps onstage. Ringofire wastes no time and gives him a lap dance straight out of a Magic Mike deleted scene, as the audience cheers him on and throws balled-up dollar bills at the stage. Thus, the scene is set, the raunchy mood established, for Manarchy.
Manarchy's initial run began in December of last year in a small room at the infamous Mitchell Brother's Theater, a well-known, independently run strip club in San Francisco. The show was full nude and sold out almost every night. "It was awesome," recalled Ringofire, the show's director and host. (Due to the risqué nature of their work, all of the performers interviewed for this article wished to use their stage names only.) "We basically created a small male strip club inside of a larger strip club." Despite the show's success, a change of management at the club resulted in Manarchy losing its venue, at which point Tom Dean, artistic director at the Oakland Metro Operahouse, invited the show to Oakland.
"We support new artistic endeavors that test the edge of where performance can go," said Dean. "I'm super happy to have them here and we look forward to a long run of this particular performance."
Organizers describe Manarchy as "a new kind of male revue featuring talented men giving the middle finger to toxic masculinity," and this is where the show takes on significance beyond a fun Friday night. "As guys growing up, we're told not to be emotional," said Ringofire. Guys aren't supposed to dance, we're not supposed to be sensual. It's relegated as being 'effeminate' and met with hate." He said this socially enforced repression lends itself to violence. "Growing up, I was beat up and picked on all the time for being kind of effeminate," he said. "You'd get shit for something as dumb as wearing skinny jeans."
As an all-male burlesque review, Manarchy offers an alternative perspective on these societal expectations, showcasing men dancing, emoting, and being sensual onstage. Amidst the spectacle and exuberance of it, there lies a subtext of subversion, and the performance element of burlesque, perhaps, lends itself to this countercurrent. "As men, we need to get outside of this box, and art allows for that to happen," noted Jet Noir, a prolific Bay Area burlesque performer and member of Manarchy since its genesis.
Wonderdave, a Bay Area producer and Manarchy performer, said the show "presents an array of different representations of masculinity that you don't often get to see." In the past, the show has featured transgender performers, stagehands, and crew members who identify as genderqueer and non-binary, as well as acts that offer up a variety of takes on "maleness."


[pullquote-1]
At the September show, a performer came onstage dressed as a construction worker and began stripping, revealing a gray formal suit and tie, which was also shed as the act descended into a state of gyrating, semi-nudity. It was a well-done performance, received enthusiastically by the crowd, and fit the bill for what one expects when they hear the words "male stripper." This, however, was immediately followed by a brash and bold chair-tease, straight out of Flashdance, by a man in sequined platform heels and bright-blue booty-shorts. It also included a series of impressive gymnastic maneuvers and an audience interaction involving a lollipop. It is this range of representation that sets Manarchy apart from a standard Chippendale's-type show, and why it's appropriate to consider it a form of social activism.
It's important to note, however, that the neo-burlesque revival that has occurred over the past decades is rooted firmly in the realm of female representation and advocacy. That isn't to say there isn't a place for male representation, but as Ringofire put it, "If you want to be a part of this, you need to also engage in the sort of activism and support that empowers women."
Aside from the social relevance, the show is astoundingly well produced. The acts are beyond impressive. From stripteases to mesmerizing pole acrobatics and choreographed dance numbers, the performers are all at the top of their game, and the show often features nationally renowned touring acts. Audience members are encouraged to throw money at the men, or, if they forgot cash, to send funds to performers via Venmo. The atmosphere is sexy, energetic, and manly as hell.
If you're looking to see what all the hype is about, or if you dislike the effects of male repression, do yourself a favor and check out the next production, "Manarchy! Whoror Show!" on Oct. 21 at the Metro. Bring an open mind and lots of singles.