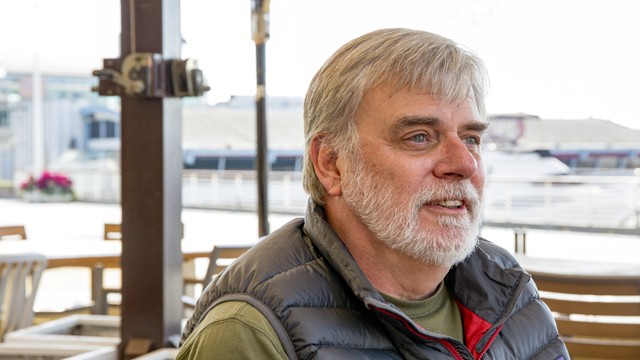 As he sat overlooking the bustling Swan's Market inside his Pacific Coast Brewing Co., Steve Wolff took a measured breath before describing his feelings about the rebirth of Old Oakland and the city in general over the last few years.
"I think the future of Oakland is bright with all the building going on and the housing—I think there's a lot of potential," he said. "I'm an Oakland resident and I'm excited for the future."
There was more disappointment than excitement evident in his voice, however, as the city's bright future will not include his brewpub. After nearly 30 years of brewing beer on-site to pair with hearty pub grub inside a beautifully restored brick building on Washington Street, Pacific Coast Brewing was set to shutter before the end of the year.
It's a story that has become increasingly familiar as spillover from the overheated, tech-fueled economy of Silicon Valley and San Francisco has rippled into the East Bay, driving rents, both commercial and residential, to rarefied heights.
Wolff was careful not to blame his new landlord—a new operator in Oakland that recently bought the two square blocks in Old Oakland that includes Pacific Coast. The landlord hadn't actually raised the rent that much, he said. But the landlord declined to offer a long-term lease, instead negotiating a two-year deal that could be terminated with just two-months' notice. That uncertainty, combined with what Wolff cited in his Facebook post announcing the closure as the "rapid changes coursing through the Bay Area's restaurant industry," led to the business partners' decision to pull the plug.
According to Gwyneth Borden from the Golden Gate Restaurant Association, those "rapid changes" amount to a bitter cocktail of increased competition, labor shortages, surging operating costs fueled in part by minimum wage hikes, and, yes, rising rents that can push many restaurants' already-thin profit margins into the red. It's a trend that can particularly impact older eateries whose business plans were founded under different economic assumptions.
"It's been happening in San Francisco," Borden said. "And now that people are seeing they can get better rental rates, it's causing pressure on longtime, old-school businesses in Oakland."
That certainly seems to be the case as a spate of established East Bay restaurants has been imperiled in the last few years. Genova Deli closed in 2016 after 90-plus years in Temescal, Barclay's Pub was forced out of its home in Rockridge last year just before its 25th anniversary (it has since reopened in Berkeley), 28-year-old Colonial Donuts fried its last dough in Uptown in August, and Gold Coast Bistro and Bar shuttered in October after 25 years on Park Street in Alameda. In each case, owners cited landlord issues to one degree or another, whether it was increased rent or simply an inability or outright refusal to negotiate a new lease.
And while attrition among older restaurants is perhaps to be expected, the same fate has also been befalling newer, and seemingly still popular operations. Vegetarian restaurant/wine bar Encuentro closed abruptly in January citing the "rising costs of doing business." Owners Sunhui and Ellen Chang called it quits on FuseBox, their tiny but iconic Korean fusion spot in West Oakland, when they couldn't come to terms on a new lease. Perhaps most shockingly, Michelin-starred chef James Syhabout shut down his beloved Thai street food eatery Hawker Fare in Uptown when, in a similar case to Pacific Coast Brewery, a new group of investors bought the building and put him on a month-to-month lease ("The writing was on the wall," he told Eater SF at the time).
So what do these changes mean for the East Bay dining scene? It may mean that the traditional model of a sit-down full-service restaurant will become increasingly rare. According to Borden, there has been a trend toward fast-casual service as a way for restaurants to cut labor costs. Alamar made that switch in late 2016, while Syhabout will be doing the same at Hawking Bird, his Hawker Fare spin-off opening in Temescal. In the same efficient vein, restaurants are emphasizing more focused and streamlined food offerings. (As Borden said, "you're seeing less and less five-page menus.")
Recent years have seen more pop-up style restaurants, often in a shared kitchen arrangement, and communal food hall concepts such as Swan's Market and Emeryville's Public Market. Smaller spaces in general seem to be the new norm. For instance, after sitting vacant for more than a year, the former Genova Deli space was split into two units, one of which was finally leased to Noah's Bagels. In Uptown, two vanguards of that district's renaissance, Ozumo and Pican, closed this year, and the landlord divided the two large interiors into four spaces. A new branch of Tanya Holland's Brown Sugar Kitchen will occupy one.
Bocanova will fill another as veteran restaurateur Rick Hackett moves his pan-Latin destination dining spot from its longtime home in Jack London Square. The downsized space—around 5,500 square feet versus 7,000 square feet—is easier and cheaper to operate, Hackett said, not to mention he'll be paying less rent on a location with higher foot traffic. He said that between increased dining competition and less disposable income for diners (thanks to rising residential rents and cost of living), any additional rent increases on top are harder to absorb.
"It's definitely a problem," he said. "I think landlords will need to have a 'come-to-Jesus' moment and realize they can't keep charging these outrageous rents."
One final thing diners can probably expect to see: higher prices. Lexi Filipello, the owner of Bar Dogwood and The Lodge, closed her immensely popular sandwich shop Stag's Lunchette in downtown Oakland in 2016, citing skyrocketing costs.
"It's so hard to make money with food: It's so expensive to run a restaurant, and it's so much work," she said. "And everyone wants organic and free range and for it to be really high quality, but no one wants to spend any money. Well, you can't have everything. I was getting to the point at Stag's where I'd have to charge like $25 for a sandwich and no one is willing to pay that."
And restaurants' margin for error, said Joel Digiorgio of Farm League Design & Management Group, which consults and manages dozens of East Bay bars and restaurants, is increasingly razor thin. "It's very hard to survive these days without the right concept and a high-density location," he said. "If you're not in a high traffic area, you need to offer a novel and memorable experience, or fill a void, otherwise the increasing minimum wage alone will put you out of business quickly."
For his part, Wolff is keenly aware of the prevailing trends. He freely admits that Pacific Coast has struggled to attract the latest crop of younger beer drinkers flocking to new craft breweries popping up across the East Bay. And he noticed the trend toward fast casual, even if he didn't adopt it ("I'm kind of old-school in that I like table service and everything like that.")
But as you look around his brewpub, filled with a diverse swath of Oaklanders watching sports, enjoying pints, and digging into shepherd's pie, it's hard not to feel a pang of regret that there no longer seems to be a place in the city's dining landscape for a warm, comfortable, and, yes, old-school place like Pacific Coast Brewing Co.
"It's been very hard, very emotional for me," admitted Wolff. "I've heard from so many people since we made the announcement, and it's reminded me how much this has meant to people. This has been the living room for a lot of our guests through the years. A lot of people have felt like this was part of their home and the staff was part of their family. Sometimes you think that, 'Oh, this is just a brewpub, it really hasn't meant anything to anybody.' But it really has.
"It's been 29 wonderful years. I wish we could hang on until hopefully things picked up again, but it's a decision we needed to make. Right now, we're just kind of getting squeezed out."
This report was originally published by our sister publication,
Oakland Magazine.