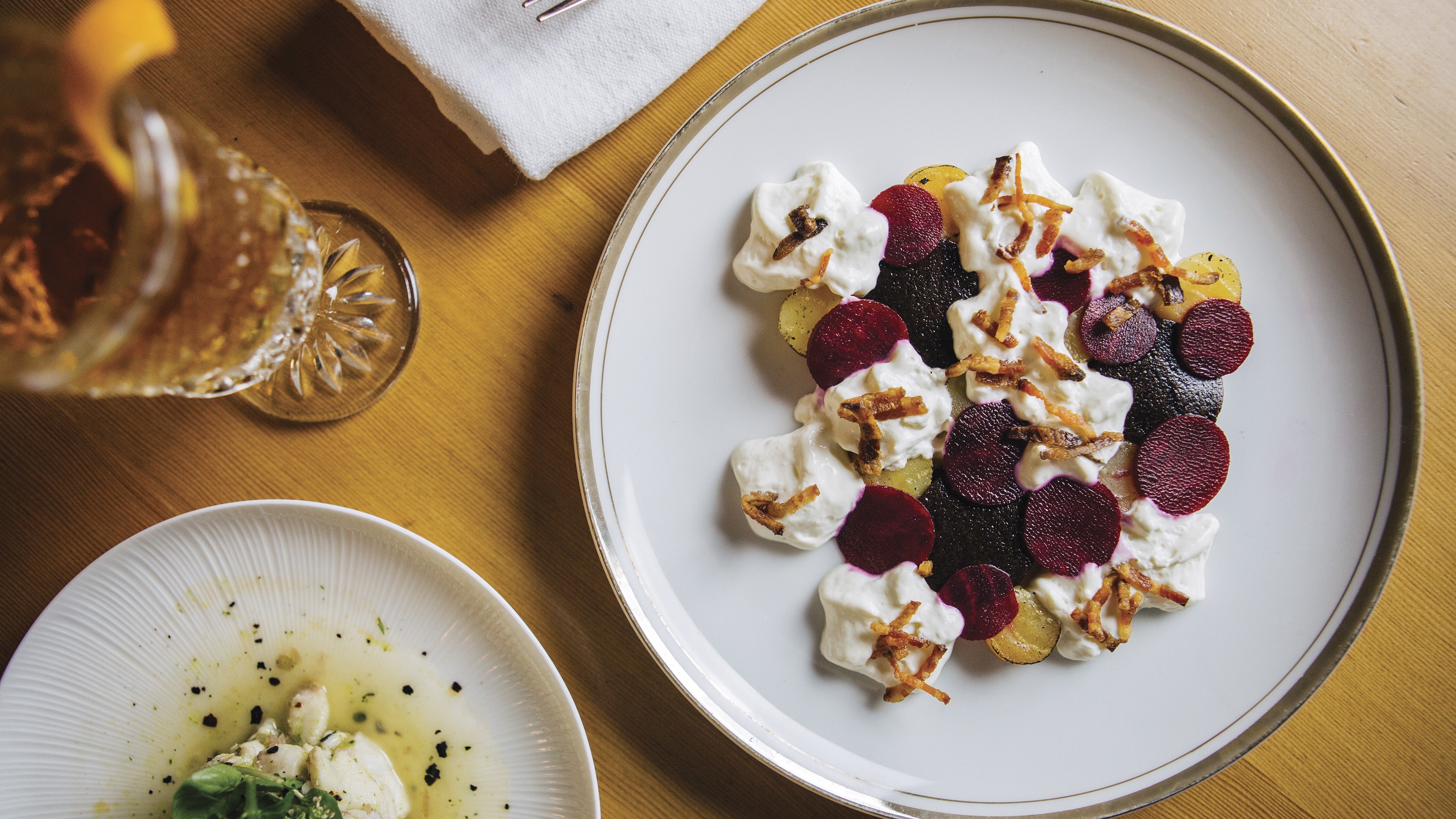 Eight years ago, Andre Hall ordered 25 pounds of beets by mistake. Not wanting to be wasteful, he ate them for a month straight, marking the start of his love affair with beets. More recently, he fortuitously spilled beet juice into a glass of mezcal and kept sipping, enjoying the combination. These two accidents, combined with a technique Hall picked up during his fine dining career, led to his cleverly named dish Beets by Dre: coins of roasted beets, beet-mezcal gelée, and pickled beets along with whipped Greek yogurt that's smoked for 20 minutes over a Japanese grill — and a scattering of crispy bacon for good measure. Together, they create something earthy, tangy, slightly sweet, and shockingly reminiscent of a campfire, with a wealth of textures you wouldn't expect from a $7 plate of beets. It's one of the most memorable dishes I've eaten all year in the East Bay.  
Such is the type of surprising, interesting, and wholly delicious eats you'll find at Copper Spoon, a North Oakland spot that opened in October, where Hall is executive chef. While no other menu item rises quite to the heights of Beets by Dre, the cocktails and general energy of the place match the food, making this is a lovable restaurant with high ambitions but also an admirable sense of down-to-earth inclusiveness.
Copper Spoon took over what used to be Art's Crab Shack for 52 years. The importance of that restaurant as a gathering space for Oakland's Black community was not lost on Copper Spoon's owners, longtime Oakland residents Vita Simone and Carmen Anderson.
"There are a lot of people with a lot of money opening up establishments who don't understand the heart and soul of Oakland," Simone said. "We're not trying to be another establishment that's trying to whitewash what Oakland is now."
Design elements nod to Oakland's history and culture, including a copy of a Black Panthers newsletter and artwork by M. Gayle "Asali" Dickson, the first graphic artist for the Panthers. Even more importantly, Copper Spoon demonstrates its ethics in its hiring. From the hosts to the servers to the cooks, the staff is incredibly diverse in an industry where white workers tend to dominate front-of-house positions. The restaurant also tacks on a 3 percent tip for the kitchen staff, which helps mitigate the typical pay imbalance and ill will between front and back of the house. In other words, Simone and Anderson are running things differently, and it shows.
Before Copper Spoon, Simone and Anderson operated the Sassafras Seagrass food truck, which served fresh California fare atypical for mobile food. Simone is also a staple in the local cocktail scene — her résumé includes Bar Dogwood, Prizefighter, and Kingston 11 — and manages the robust cocktail program at Copper Spoon. Mezcal plays a major role, and Simone's spirit-forward style is well-represented in, for example, Fight the Power, a smooth, balanced combination of mezcal, vermouth, and a bittersweet Italian liqueur. Hall, who has worked at esteemed San Francisco establishments such as Alexander's Steakhouse, Bar Tartine, and Fifth Floor, even weaves mezcal into some dishes and developed his menu with cocktail pairings in mind.
Ingredients will change seasonally, and specials are offered here and there, but Copper Spoon's general menu won't vary too much. At first glance, it looks eclectic to a fault — a mix of Japanese, Mediterranean, and classically Californian influences with a few staples from the food truck — but it doesn't really matter when Hall's team executes each dish so well. The slow-grilled fish was a thing of beauty — on my visit, it was swordfish — with crispy skin, koji-cured Romanesco, finger limes, fried fingerling potatoes, and shaved radish. An entirely slurpable lemongrass broth tied everything together, simultaneously demonstrating restraint and depth. Equally impressive was the refreshing rock cod ceviche — meaty yet delicate, with pickled shallots, watercress, and a slightly smoky mezcal vinaigrette.
Vegetarian options abound, such as the crowd-pleasing deviled eggs, which get a briny blast from pickled mustard seeds, a little heat from togarashi, and texture from deep-fried broccoli. The whole roasted cauliflower, which arrived stabbed with a steak knife, is doused in a wonderful fermented hot sauce and topped with celery leaves. It's a righteous riff on buffalo cauliflower, even as it's become a somewhat tired vegetarian entrée over the years.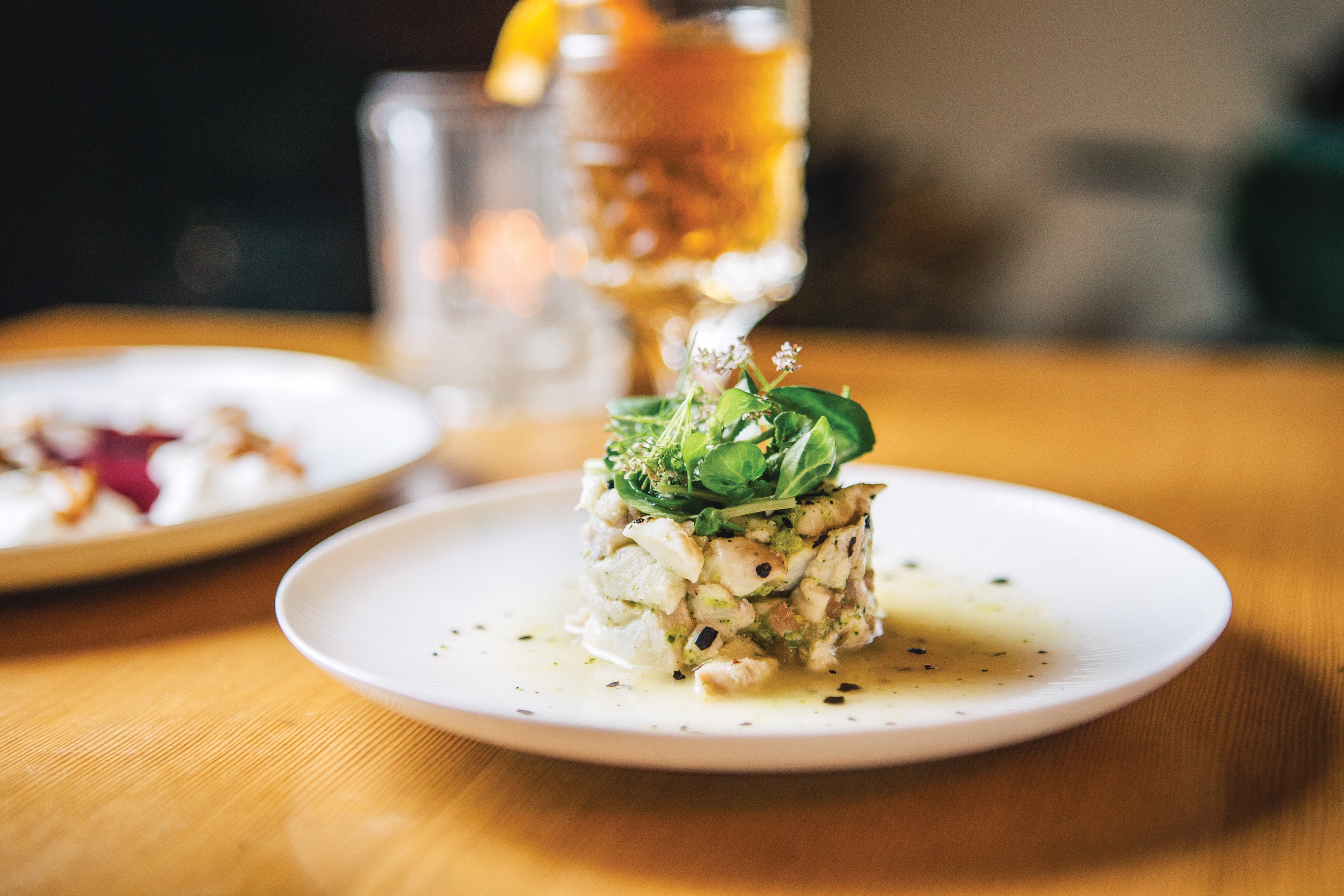 It's tempting to ignore the food truck dishes — on paper, they just don't sound as complex as Hall's originals — but they hold their own. The kale salad is actually Copper Spoon's most labor-intensive dish, with the hand-torn kale getting massaged a whopping three times before it hits the plate — not to mention its 17 ingredients, including turmeric, beets, ginger, and ricotta salata.
Even better is the lamb merguez burger, which uses tzatziki from Simone's family recipe, a spice rub from Anderson's family recipe, and a naturally fermented kraut made only with seaweed, ginger, and red cabbage. Simone said the unique kraut technique is a product of Anderson's "science brain" (she holds a degree in astrophysics), and it really makes the dish. While the creamy tzatziki is delicious, I wished there was slightly less of it so I could better taste the merguez.
My other quibbles are similarly minor. The trio of bacon side dish — soy-braised pork belly, citrus-candied lardons, and crispy bacon topped with togarashi — felt a bit uneven, as the togarashi paled in comparison to the other two preparations. Still, it's worth ordering for the lemony lardons alone. The country sour baguette with the Breads & Spreads was slightly over-toasted and hard, but I loved the purple sweet potato spread, ethereally smooth with whispers of maple syrup and truffle oil, as well as the tomato bacon jam. The black bean garlic and eggplant harissa spreads, however, could have used an extra sprinkle of salt. The warm service matches the fresh, funky look of the space — a series of Japanese-style shibori fabrics dyed by Anderson's mom is a nice touch — but on one visit, four small plates came at once and couldn't fit on our tiny two-top table. On the next visit, the spacing showed more thought, though.
Perhaps most exciting, Copper Spoon serves food late. At 11 p.m., the regular dinner menu is phased out in favor of a slimmer selection of bar bites offered until 1 a.m. The late-night menu includes some of the same hits, like the kale salad, deviled eggs, and ceviche, at a lower price point, as well as a slider version of the lamb burger. You'll definitely want to return for dinner though, if only to try Beets by Dre.
Copper Spoon
4031 Broadway, Oakland
510-879-7061
CopperSpoonOakland.com
Hours: Thu.–Tue. 5:30 p.m.–2 a.m.
Cash, all major credit cards

Sample Menu
Ceviche $10
Kale salad $12
Lamb merguez burger $16
Grilled white fish $29