For the East Bay art scene, 2015 was a year characterized by ambivalence. As the months wore on, more and more artists began expressing a shared sentiment: They were wavering between being motivated by the rich and diverse creative community that the East Bay has to offer and exhausted by a constant fear of displacement and cultural erasure.
In July, Rock Paper Scissors Collective, a community arts center and Art Murmur founding member that existed on 23rd Street and Telegraph Avenue for eleven years, announced that it could no longer afford its rent. Soon after, drummers, churches, and community centers began receiving noise complaints. A young muralist was shot in West Oakland while completing a community-fueled mural project. And Mills College nearly shut its legendary Book Art department due to budget cuts.
But in the face of this challenging reality, disparate corners of the art community have banded together, spurred by a sudden sense of urgency. Under the leadership of the newly formed Oakland Creative Neighborhoods Coalition, drummers, dancers, curators, artists, and pastors have been strategizing ways to demand security for crucial art spaces in the city. Meanwhile, the Black Artists on Art project began building a roster of Black artists and organizing a radically inclusive showcase of their work in order to ensure representation for Black artists both locally and internationally.
In terms of artwork, that ambivalence emerged as a heightened drive to amplify voices and perspectives often excluded from mainstream discourse coupled with a perpetuation of the Bay Area's long-held inclination for conceptual experimentation. At best, that intersection produced forward-thinking work that feels, in many ways, distinctly exemplary of contemporary East Bay culture. Following is my list of the ten best East Bay art shows, art projects, and poetry releases of 2015, in chronological order.
A Hole in Space (Oakland Redux)
By Ellen Sebastian Chang and Maya Gurantz
In late January, artists Ellen Sebastian Chang and Maya Gurantz set up a portal between Cole Hardware on College Avenue in Rockridge and Youth Employment Partnership on International Boulevard in East Oakland. They discreetly installed cameras, projectors, and mics, transforming each storefront into a video chat platform connecting unsuspecting pedestrians on either side. Mostly, passersby ogled in bewilderment, sometimes they ran past in fear, and on rare, magical occasions they stopped to engage in conversation with someone on the other side. The project was based on a famous 1980 installation entitled A Hole in Space, which used the same concept to connect pedestrians in Los Angeles and New York City. But Chang and Gurantz' version flipped the initial piece on its head by connecting two communities that are geographically close yet, in many ways, worlds apart. In doing so, it crucially reminded Oakland residents to always acknowledge their neighbors.
Drifting Islands
By Michelle Dizon
Oakland Museum of California
This year, the Oakland Museum of California offered a number of excellent shows highlighting local culture. Fertile Ground: Art and Community in California was an ambitious survey of important artists throughout Bay Area history, ranging from Diego Rivera to Barry McGee, while Who is Oakland? highlighted a diverse array of prominent local voices attempting to answer that impossible question through art. But Drifting Islands (April through November) was its most thoughtfully challenging show this year. Michelle Dizon, a Filipino-American former Oakland resident, presented three experimental films unpacking the LA riots, systems of production in the Philippines, and breast cancer-related trauma. Probing into each, Dizon used formal techniques to relay her philosophical musings in a way that questioned the nature of representation altogether, solidifying the museum's willingness to feature both traditional and avant-garde cultural homages.
Tender Points
By Amy Berkowitz 
Timeless, Infinite Light
This year, the public dialogue on consent and rape was perhaps more audible in mainstream media than ever before. But few personal contributions to that discussion are as complex and thought-provoking as Amy Berkowitz' book of poetic prose, Tender Points, released by Oakland's Timeless, Infinite Light in April. It's an account of Berkowitz' experiences as a rape survivor living with fibromyalgia — an invisible illness that causes chronic pain and exhaustion, often associated with sexual abuse. In fragments that range from a paragraph to a few pages, the author compiles research on her illness, memories of trauma, descriptions of her pain, quotes from both internet trolls and medical professionals bent on discrediting her illness, snippets from the history of female hysteria, and thoughts on mortality and noise music. Together, they form a searingly honest story about the aggravating dangers of being a woman in a world in which men consistently attempt to claim authority over your body.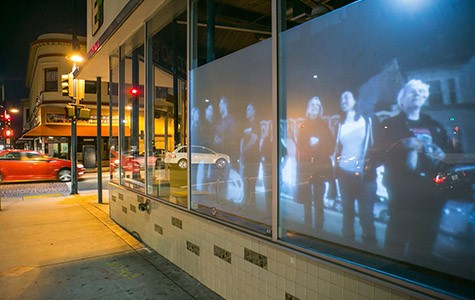 Heavy Breathing
Curated by Sophia Wang and Lisa Rybovich Crallé
Last summer, artists Sophia Wang and Lisa Rybovich Crallé curated an event series that merged critical theory seminars with absurd aerobics classes. They aimed to engage people's physical and mental capacities simultaneously to see how thinking while moving could change both our idea of exercise and our understanding of the concepts being learned. The series included a dozen classes all led and created by local artists, including a tutorial on tactics for people of color to survive the racist patriarchy during a run around Lake Merritt, an underwater aerobics class and feminist reading of the Aristotelian notion of topos, and a lecture on the unexpected relationship between global risk management systems and the nervous system delivered from inside a bounce house. Fantastically executed, the series drew out important questions about what it means and how it feels to actually embody theory. Also, it was fun.
A+P+I
Jacqueline Kiyomi Gordon, Zarouhie Abdalian, and Weston Teruya
Mills College Art Museum
Adding to its legacy of artistic experimentation, the Mills College Art Museum offered a generous six-month residency to three artists this year, entitled A+P+I (Artist + Process + Ideas), which culminated in one of the year's most memorable exhibitions. It featured sharp work by Weston Teruya, Zarouhie Abdalian, and Jacqueline Kiyomi Gordon, but it was Gordon's contributions that garnered the show a spot on this list. For her complementary sound installations, Linda and Tammy 3, Gordon positioned high-frequency directional speakers around the gallery, each emitting simple tones directed at her sculptural targets that functioned as diffusers. The set-up constituted the boundaries of a sonic sculpture invisibly occurring between the tangible components of the piece. As viewers moved throughout the apparatus, they became the sculptor, determining the sound with their own positioning. In an excitingly interactive way, the pieces highlighted the subjectivity of sound reception, and, more broadly, perception altogether.
Visions from the Inside
Curated by CultureStrike
In early August, CultureStrike, a national pro-migrant arts organization based in downtown Oakland, unveiled an online exhibition of artwork depicting the experiences of migrant families being held in a detention center in Arizona. To create the project, CultureStrike artist program manager and local illustrator Julio Salgado paired artists (including Oakland's Favianna Rodriguez and Robert Trujillo) with detained mothers and children. Through letters, the pairs worked together to create a vivid depiction that felt accurate to the author. Over the course of a few weeks, CultureStrike released the eye-opening illustrations online at VisionsFromTheInside.Tumblr.com along with scans and English translations of the original letters (they can still be found online).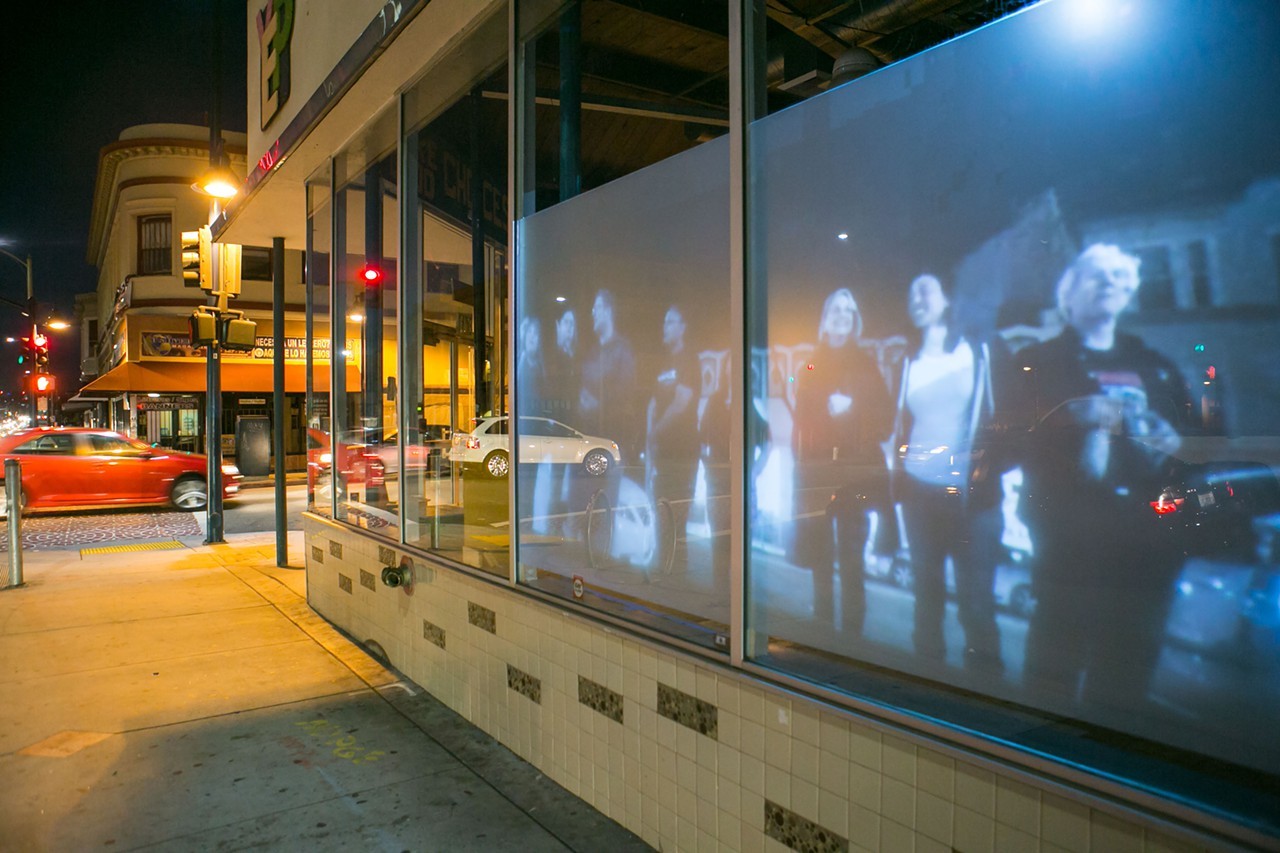 That Winter the Wolf Came
By Juliana Spahr 
Commune Editions
Juliana Spahr's That Winter the Wolf Came is one of this year's most important pieces of local literature. It was released in September by Commune Editions, a newly established imprint of Oakland's AK Press that Spahr co-edits with Jasper Bernes and Joshua Clover. (Both Bernes and Clover also released worthwhile books of poetry this year.) In the book's best moments, Spahr describes the arousing, intoxicating quality of protest — the ways in which it can make one feel peculiarly animated and exceptionally emotional — and the extent to which it can be difficult to distinguish between your personal desire to fight for a cause and to simply be involved in something bigger than yourself. Although the allure of collectivity is typically overshadowed by politics, Spahr lets the two play, pinpointing a feeling that many Oakland residents are familiar with — that of hearing helicopters overhead and wanting, more than anything, to be out in the streets yelling, "Fuck the police!"
MATRIX 258
Tarek Atoui
Berkeley Art Museum
While BAMPFA's move to downtown Berkeley limited its typically excellent curation in 2015, for MATRIX 258, Lebanese-born Paris-based sound artist Tarek Atoui did an eight-month residency that didn't need a gallery space. Instead, he worked with UC Berkeley students to develop instruments specifically designed to be played and listened to by deaf and hearing-impaired people. For years, Atoui has been at the forefront of developing compositions for deaf listeners and has been working with deaf communities to research the experience of music from the perspective of hearing-impaired people, and to optimize music for them. To culminate his residency, Atoui gave two presentations of the "sub-bass" and "infrasound" instruments that he and the students designed. The instruments employ extremely low frequencies to heighten the physical experience of the music by creating noticeable vibrations. For hearing audiences, the performances prompted an expanded understanding of what it means to listen.
Some of Us Did Not Die
By Tammy Rae Carland
Land and Sea
Some of Us Did Not Die, Tammy Rae Carland's book of photography published by Land and Sea in October, is heart-wrenching and personal. To create it, the California College of the Arts professor culled content from her archive of seminal Riot Grrrl and queercore zines that she made in her twenties, ephemera from her tenure running the feminist music label Mr. Lady Records, and a recent series of photography commemorating friends that she lost to the AIDS epidemic during the same period. The contents are cryptic, poetically alluding to the queer experience of existing without fully being seen. Rather than singular photographs, most of the pages feature scanned contact sheets. Others hold scans of crumpled pieces of paper with esoteric notes scrawled on them or envelopes with no indication of what was inside. Many pages show mixtapes without their song lists, others: a box of letters, record sleeves, two clocks side by side, a single pin that reads "SILENCE = DEATH." The catalog of analog media functions as a romantic metaphor for mortality that intimately evokes the ethos of a past era.
Year-long Experimental Residency Program at Krowswork
For the entire year of 2015, Krowswork gallery director Jasmine Moorhead decided to feature a series of ten artist residencies rather than traditional shows. For the viewer, that difference makes the gallery feel more like a platform than a display case, and offers a sense that the process behind each show was one of incubation rather than curation, because it offers remarkable depth. The program began with a "radical medicine" series of healing workshops. In March, it featured lectures on the African-diasporic aesthetic by local scholar Duane Deterville. In July, it became a space for the Malidoma Collective, a women-of-color artist collective that presented interactive work celebrating the spectrum of womanhood. Most recently, throughout November, it featured the last works of pioneering feminist multimedia artist Sonya Rapoport, who died in June at the age of 91 while completing her residency. As a whole, the series produced some of the most pleasingly provocative local exhibitions of the year.