There is no doubt that in East Bay sports, 2015 was the year of the Golden State Warriors. The Oakland A's finished with the worst record in the American League, and while the Raiders showed marked improvement this year under new coach Jack Del Rio, the Silver and Black missed the playoffs again for the thirteenth straight season. The Warriors, on the other hand, not only won the NBA title in June, but then opened the 2015­–16 campaign with a league record 24 straight wins.
Just three months ago, things didn't look so rosy for the Dubs. Sure, they were coming off a record-breaking season in which they went an absurd 83­–20, but concern swirled around the squad because of a surprising health complication for the guy who simultaneously kept every member of the Warriors sharp and loose: Head Coach Steve Kerr. After two offseason back surgeries, Kerr couldn't participate in the Warriors' preseason, and then missed much of the first part of the regular season.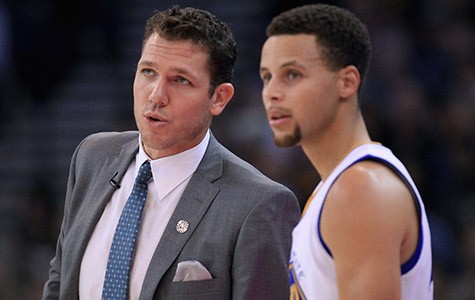 Many observers, including General Manager Bob Myers and Kerr himself, expected that losing Kerr would mean losing games,. "It could've been like when I was in school and you announce a substitute teacher and the students slump, read comic books, and take advantage," Myers told KNBR.
"I figured the first part of the season would be tough," Kerr added. "I was hoping we would just win enough games where [Interim Head Coach Luke Walton] could get his feet wet. And lo and behold, he wins his first 24."
There are other reasons that happened, of course, including the baby-face assassin: Stephen Curry. He leads the league in scoring, true plus-minus differential, true shooting percentage, and lovability. The most striking demonstration of his dominance has become how mightily announcers struggle to describe his blend of ball handling and shot making, from TNT's Chris Webber ("He's a human video game") to KNBR's Tim Roy ("Curry has a new middle name: 'Are You Kidding Me?!'") to ESPN's Mike Greenberg ("He's the reigning MVP and the most improved player") to Kerr himself ("He's [Steve] Nash on steroids").
Another reason: the coaching team that Kerr put in place. With assistant head coach Alvin Gentry absconding to New Orleans after last season, Walton stepped into the lead the team at the young age of 35. "We see the game the same way," Kerr told reporters, referring to Walton. "He was a brilliant passer as a player — he could pass, cut, and move. He has a great mind for the game, great feel for the players."
Curry added: "He's smart. He knows the game. He understands the players' mentality, the ups and downs of the season."
Walton deflects credit, pointing to the team's play and back to Kerr. "We talk every day and run ideas off each other," Walton told ESPN Radio. "He constantly tells me, 'it's your call to make.' For him to have that trust in me as a coach gives me a lot of confidence. But his biggest influence is what he's already put in place: How we practice, the way we approach games, the overall attitude we have. Everything we do has his fingerprints all over it."
Having defensive guru Ron Adams, who play-by-play announcer Bob Fitzgerald calls "Cerebral and direct, the truth teller," on board helps provide continuity. Adams took all of about a week off after the NBA Finals before resuming work developing the Warriors in summer league.
In addition to designing Golden State's defense — whether that calls for more switches or schemes for stars like James Harden (the Warriors are back near the top in field goal percentage defense) — Adams works one-on-one with the Ws' big men.
Meanwhile, former Stanford star and NBA veteran Jarron Collins rose from player development coach to de facto offensive coordinator, helping script out-of-bounds plays, track the success of different lineup combinations, and manage players' minutes. "I grew up playing with JC," Walton told reporters. "There's a lot of trust, and he's constantly giving me information."
Like his fellow coaches, Collins ducks credit. "I'm involved a little bit more in coaching duties," he told reporters. "But, honestly, it comes down to our players."
Player Development Coach Bruce "Q" Fraser plays a central role in keeping those players sharp, and one player in particular. The so-called Curry Whisperer works closely with the MVP in practice on all the different pressure fronts he'll face, helps him run through his now-famous pregame drills, and monitors Curry's technique forensically. "Fraser will suggest things — ways to pass, move side to side … he has a mental focus," Fitzgerald said. "He doesn't talk too much, but Stephen listens."
Fraser is also known for being Kerr's best friend since their days at Arizona University, and for tucking a Gumby figurine in his sock when he played there. Collins is best known as the brother of one of the most famous gay athletes in the country, his twin Jason. Adams might be known for defense, but he calls himself the "oddball" of the group. And Walton is most widely known as the son of a Hall of Famer named Bill Walton.
But if they're not careful, these diverse members of the Warriors coaching staff could ultimately be known as one of the better ones ever assembled. For now, they'll settle on being remarkably close — "Like a brotherhood," is how Adams put it.
Since the beginning of last season, the Warriors are 109–21. Like Fitzgerald wondered out loud during a recent telecast, "Is this the greatest stretch in NBA history?" Here, a look at some facts that help make the case that it is:
• In the October 27 season opener versus the New Orleans Pelicans, Curry became the third player to score forty points after winning the NBA MVP award and a championship. The other two — Kareem Abdul Jabbar and Wilt Chamberlain — are Hall-of-Fame centers. Four days later, Curry dropped 53 on the Pelicans in Nola. He leads the league in scoring with 31.8 points.
• The Ws' regular season home winning streak stands at 30 going back to last year. They're 51–2 at Oracle the last two seasons.
• The Dubs boast the most comebacks from 15 points down or more in the league during the last three seasons, including a soul-rattling resurgence from down 23 versus the Clippers in Los Angeles on November 18.
• Curry has had five 20-point quarters this year — double the rest of the league, not counting Klay Thompson who notched 27 in the third quarter alone versus the Phoenix Suns last week
• The Warriors own the number-one spot for jersey sales as a team, with Curry ranked number one, ahead of the likes of LeBron James and Kevin Durant, with Thompson (number five) and Draymond Green (fifteen) not far behind. Curry's jersey sales have increased 581 percent since the start of last season. His jersey is the top-seller in 38 states.
• Golden State's 24-0 start was the best in any major North American professional sports league, eclipsing a St. Louis Maroons record that stood for 131 years. (The Maroons won 20 straight baseball games to start the season in 1884.) The Warriors fourteen straight road wins to start a season is also a record.
• Curry's 131 three-pointers to date put him on pace to detonate his record of 286. As a team, the Brooklyn Nets have 135.
• Last month, Draymond Green became the first Warrior to post back-to-back triple doubles since Chamberlain more than a half-century ago. Against the Boston Celtics on December 11, he became the first player since Hakeem Olajuwon in 1993 to amass 20 points, 10 rebounds, 5 assists, 5 steals, and 5 blocks. Green currently leads the NBA in triple doubles and all forwards in assists, with 7 a game.
• Six different Warriors currently average better than 40 percent from behind the three-point line. Curry, shooting better than 45 percent on the year, only trails Steve Kerr for career three-point percentage.
• The last time a team scored more than 100 points in each of its first 20 games — as the Warriors did this year — was the 1966–67 season.
• Benjamin Morris of statistical analysis hub FiveThirtyEight evaluated NBA shooters based on distance, shot clock, and defender distance. Among his findings: Curry is the league's most valuable shooter "by a lot." He shoots as well with a defender 2 to 4 feet away as an average shooter does with the nearest defender 12 feet away. He shoots significantly better with less time on the shot clock, while the rest of the league shoots worse. And he's measurably improving in scoring efficiency. "Curry is making his MVP season seem pedestrian," Morris wrote.
• The Warriors set the league record for threes in a half with 15 against Phoenix November 23, finishing with a team record 22. The team averages more than 13 threes a game. Curry averages five by himself.
• Only Lebron James' Cleveland Cavaliers trump the Warriors average road attendance of 19,596, or the 96.2 percent rate for sell-out crowds on the road.
• Warriors games have been five of the top six highest-rated national broadcasts on ESPN and TNT this season.
• The trendy plus-minus stat measures the point differential for a team when the player is on the court. The four highest ranking plus-minus players in the entire league are Warriors: Curry (16.1 per 36 minutes), Green (15.6), Andre Iguodala (13.2) and Thompson (12.6).