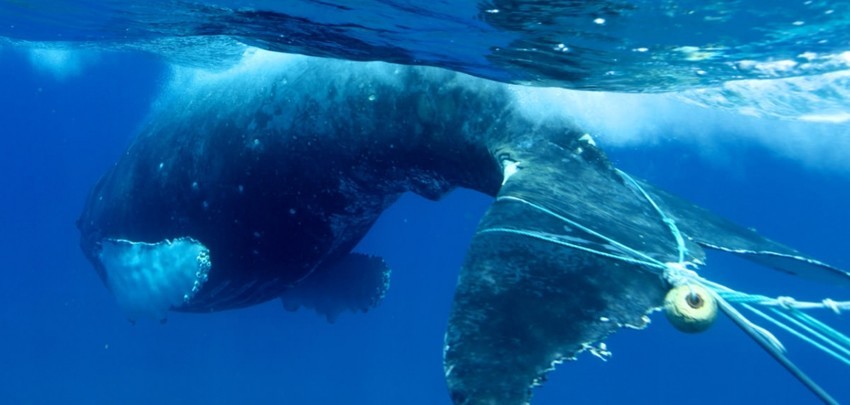 In 2014, a severed humpback tail was found tangled in a crab fisher's ropes and buoys near San Clemente Island. Two years later, crab fishing line cut into a humpback whale so deeply that it was hardly visible.
Over the last three years, reports of whale entanglements, like those, have spiked. Last year, 71 whale entanglements were reported compared to a previous annual average of fewer than 10 before 2014.
As a result, the Center for Biological Diversity filed a lawsuit Tuesday, alleging that the California Department of Fish and Wildlife has violated the Endangered Species Act through allowing these entanglements to occur.
Last year, at least 22 animals protected by the Endangered Species Act —19 humpback whales, two blue whales, and one leatherback sea turtle — were among those found caught in crab fishing gear off the California Coast.
"It's incredibly painful for the whales and can cause extreme suffering," said Kristen Monsell, an attorney for the Center for Biological Diversity. "The department has legal and moral obligation to stop these entanglements."
Fish and Wildlife officials declined to be interviewed about the lawsuit, citing a "longstanding policy not to comment on pending litigation."
Back in September 2015, the department created a working group in response the increases in whale entanglements, which was made up in part of environmental groups, including the Center for Biological Diversity and commercial crab fisheries.
Together, the working group developed a best practices guide for avoiding whale entanglements. It advised crab fishers to avoid placing gear in the vicinity of whales whenever possible and to keep their fishing line as short as possible.
But the practices suggested in the guide were completely voluntary.
The Center for Biological Diversity eventually left the working group as a result of "mutual frustration," after the department failed to begin enforcing these practices to prevent whale entanglements, according to the Center for Biological Diversity spokesperson Steve Jones.
"Right now, there are virtually no restrictions on the fishermen," Monsell said. "That's what got us into this situation."
Monsell noted that, on average, whales only live for about six months after becoming entangled in fishing line as a result of infections that may result from the cuts the lines leave or from exhaustion and starvation for whales that aren't able to escape.