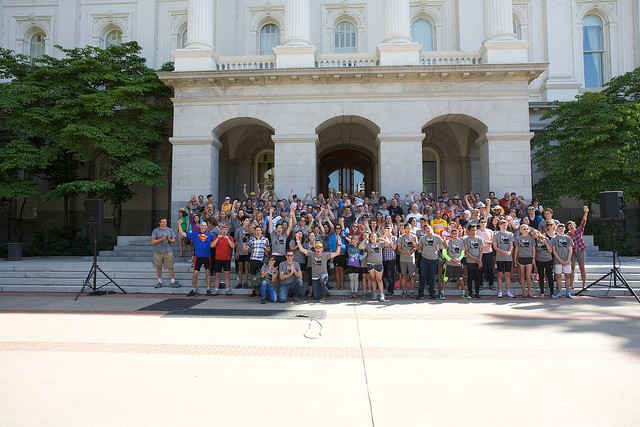 Education advocates raised nearly $100,000 over the weekend for Oakland public schools as part of a bike-ride fundraiser aimed at pressuring state officials to increase funding for public education. The
Ride for a Reason event
 — which attracted 225 cyclists, who rode from Oakland to Sacramento on Saturday — has raised $97,000 so far though supporters can still donate
online
through June 12. The funds go to Emerson Elementary School, Claremont Middle School, Westlake Middle School, Edna Brewer Middle School, Oakland International High School, and Oakland Technical High School.
The fundraiser, in its seventh year, helps raise money for a wide range of initiatives, including music, art, and restorative justice programs.
[jump] This year, Ride for a Reason partnered with
Evolve
, a Bay Area nonprofit that is pushing for 
reforms to commercial property taxes
in California in an effort to raise more funding for public education. That organization is advocating for changes to Proposition 13, a 1978 ballot measure that critics have long
argued
 includes unfair loopholes that result in industrial and commercial property owners failing to pay their fair share in taxes. The group has proposed establishing regular reassessments of non-residential commercial properties in California — a move that Evolve said could generate an estimated $9 billion in annual revenue for schools and other services. 
Advocates with Ride for a Reason also argued that public schools in the state need long-term financial support due to the fact that the tax increases implemented through Proposition 30 in 2012 are set to
expire in 2016
. And even with Prop 30 revenue, California has led the nation in class sizes, advocates noted. 
The large fundraising effort for Oakland schools came one day after the Oakland Unified School District and the Oakland Education Association (the teachers' union) finalized a
tentative contract agreement
 — after months of tense negotiations about instructors' salaries and class sizes. In a statement today about the Ride for a Reason funds, Kiernan Rok, assistant principal for Edna Brewer Middle School, referenced the contract negotiations, saying, "We're fighting over scraps when we really need to take the message here to the capital. It's a matter of priorities." Rok added: "Ride for a Reason funds programs that really make school worth coming to for kids."