Come to me, ye cornhole enthusiasts and preachers of the gospel of West Coast IPA, and you will find — in Oakland — a beer garden for every occasion or frame of mind. The Town has a rooftop beer garden where sports fans gather in front of flat-screen TVs to watch the big game under the stars. There's a backyard beer garden that resembles a tree fort, where customers sip draft beer in the shadow of three majestic redwoods. And there's even a waterfront beer garden you can pull up to in a sailboat.
Now it's time to welcome Drake's Dealership to the fold. And it might serve the best food of the bunch.
The brewpub, located at the site of a former Dodge auto dealer, is tucked away in the back section of the Hive complex — Uptown's ritzy, walled-off romper room for young urban professionals. It's the latest venture from the folks behind the San Leandro-based Drake's Brewing Company (as well as Jupiter and Triple Rock in Berkeley). And if you've heard anything at all about the new brewpub, it almost certainly had to do with its open-air patio, which is massive and lovely and hits all the classic notes: low-slung Adirondack chairs, fire pits, and lights strung up over the magnolia trees. Everything is spread out and rustic and designed to make you feel more like you're hanging out on well-manicured picnic grounds than eating at an actual restaurant. It's no coincidence that most of the menu items can be eaten with your hands.
Drake's is a fairly big-name brewery, and when the big-name breweries decide to open restaurants, they tend to be … just fine — a step up from the TGI Fridays of the world, but with similarly generic food offerings that lean heavily on middle-of-the-road burgers, pizzas, and fried things. The idea, of course, is to get people to drink more beer, not to provide any kind of memorable culinary experience. (I'm looking at you, Pyramid Alehouse and Gordon Biersch.)
On its face, Drake's Dealership follows the same basic template. There's wood-fired pizza, a burger, and an assortment of bar-snack-y appetizers; few dishes veer from the typical American comfort food playbook. But even if it isn't apparent from reading the menu, chef Taylor Smith likes to dabble in modern cooking techniques and whole-animal butchery, and puts more care into each dish than you'd expect from a super-sized, 350-seat beer garden that cranks out massive quantities of food and booze every night. In short, the food is better than it really needs to be.
Have you, for instance, ever tried New Haven-style pizza? At Drake's, these oblong, wood-fired pies — served in a metal cafeteria tray — are the centerpiece of the menu. A variant on a standard Neapolitan-style thin-crust pizza, New Haven pies are traditionally cooked in coal ovens, whose blazing heat Smith approximates by cranking his wood ovens up to as hot as 800 degrees. You can opt for a traditional "apizza," which is topped only with tomato sauce, oregano and pecorino romano, or a more California-inflected pie with figs, goat cheese, and what not. But I kept it simple with the "Uptown," which was topped with fennel sausage and thick double-smoked bacon: a straightforward, winning combination. The well-blistered crust had a nice chew and was delicious, thanks to a long fermentation of the dough.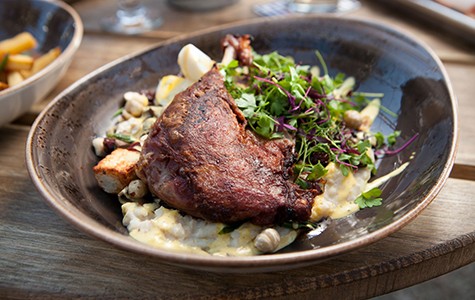 But the best part of the pizza was the duck egg (or "dinosaur egg," as our server quipped) that was available as an optional add-on. Slow-cooked in an immersion circulator to exactly 62.5 degrees Celsius, the egg's yolk oozed — as thick and viscous as a pat of soft cheese — when you cut into it, so you could spread an extra bit of richness onto each slice as you ate. This was one example, Smith said, of how he likes to "drop the science" on basic bar food dishes.  
The egg yolk was also just one of many items on the menu that incorporated some element of duck — a nod to the waterfowl in the Drake's logo. (A "drake" is, of course, the proper term for a male duck.) The restaurant also serves an excellent, and fairly traditional, version of poutine — the Québécois specialty of gravy- and cheese curd-topped fries. But in this case, the dish's velvety, deeply savory brown gravy is made by simmering the bones, giblets, and other odd scraps left over from the thirty or so whole ducks the kitchen breaks down each week.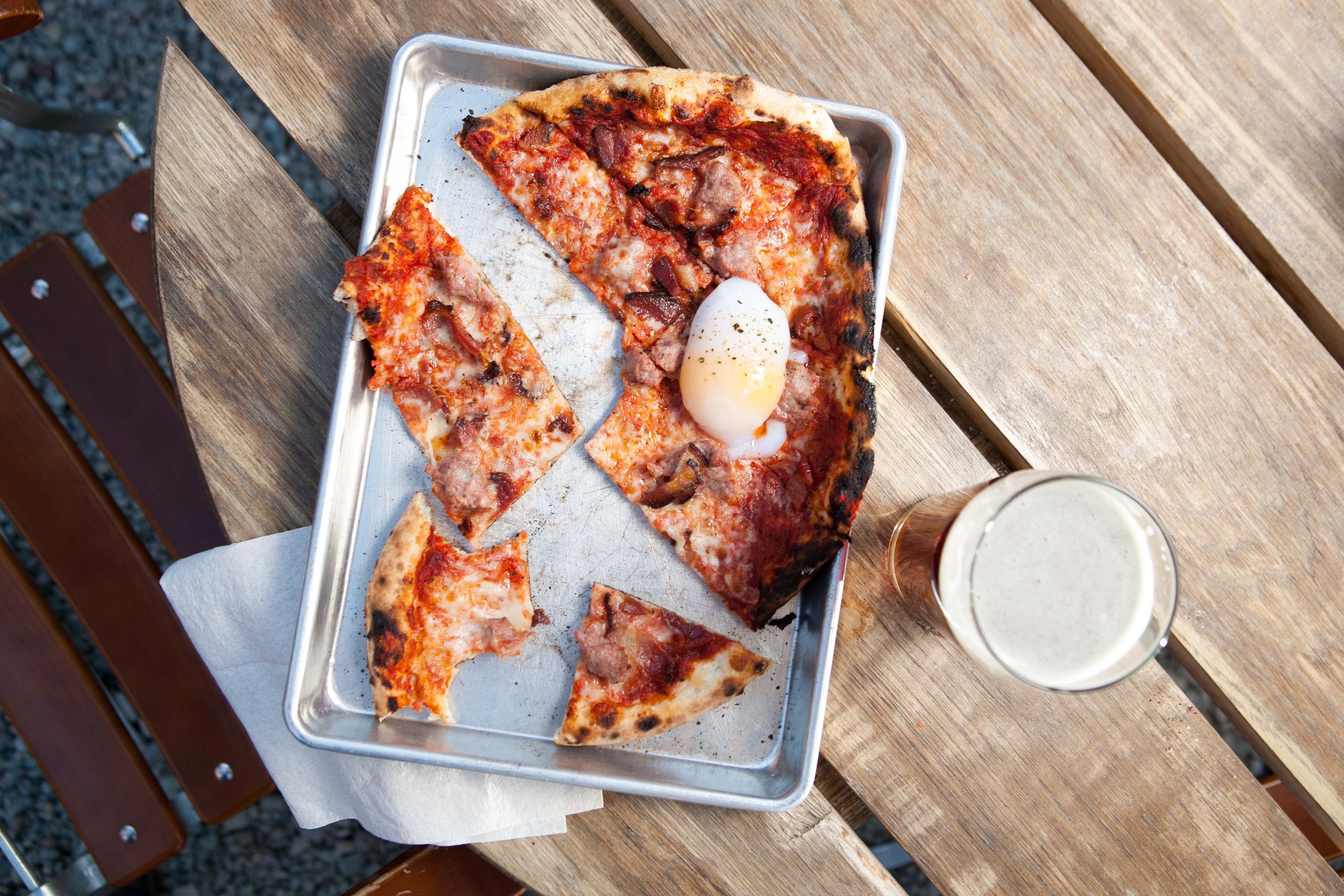 Smith cited his duck confit as an example of what he described as a "respect-no-borders" approach to New American cooking, borrowing ingredients and techniques from international cuisines with abandon. In this case, the duck leg had been marinated in koji (a Japanese fermented-rice concoction) before getting cooked in its own fat (a French technique), and was served with grits, roasted mushrooms, macerated cherries, and cubes of fried paneer (an Indian cheese) that I initially mistook for tofu. The dish's core ingredients (the duck, the mushrooms, and the cherries) made for a classic fall dish, but it's a tribute to Smith's restraint and sense of balance that even the most random additions — paneer? — more or less worked.
You can also add a confit duck leg ($10) or a hunk of roasted duck breast ($9) to any of the restaurant's selection of meal-size salads — though how you'll feel about that depends on how amenable you are to the idea of dropping more than $20 on a salad.
Smith is probably selling himself short when he says he's under no delusions that the food is anything more than a side attraction at a place where the craft beer is meant to be the star. But it is true that Drake's makes very good beer, and the nice thing about drinking at the Dealership is that it offers a host of seasonal, limited-edition taps: the bright, citrusy "70×7" unfiltered IPA, for instance, and a smoked porter that was as creamy as a milkshake.
And while there are a handful of entrées like the duck confit, a much bigger swath of the menu is dedicated to bar snacks and small plates that are meant to be shared with a group. I loved the caraway seed-flecked soft pretzels (made by the Oakland-based Salt Point Pretzel Company) and Smith's take on a Southern-style Frito pie — warm corn chips topped with a spicy-sweet tomato-based beef chili and a slightly boozy bacon fondue, all served inside a split-open Frito bag, as is traditional. Heartier eaters might opt for the muffuletta, a take on the New Orleans deli staple — as giant a sandwich, and as thickly stuffed with mortadella, soppressata, and capicola, as one could ask, though I wished the olive-relish topping had more olive oil and more of the traditional tangy, pickle-y elements.
For such a large and relatively new eatery, the service was reasonably friendly and efficient — though it's only fair to note that the staff's attention tended to get spread thin as the evening wore on and the patio got increasingly packed. My only other complaint: Brewpub or not, for a restaurant that is as family-friendly as this one — with kids at literally every other table — it was somewhat off-putting that there wasn't a single dessert option that didn't prominently feature beer.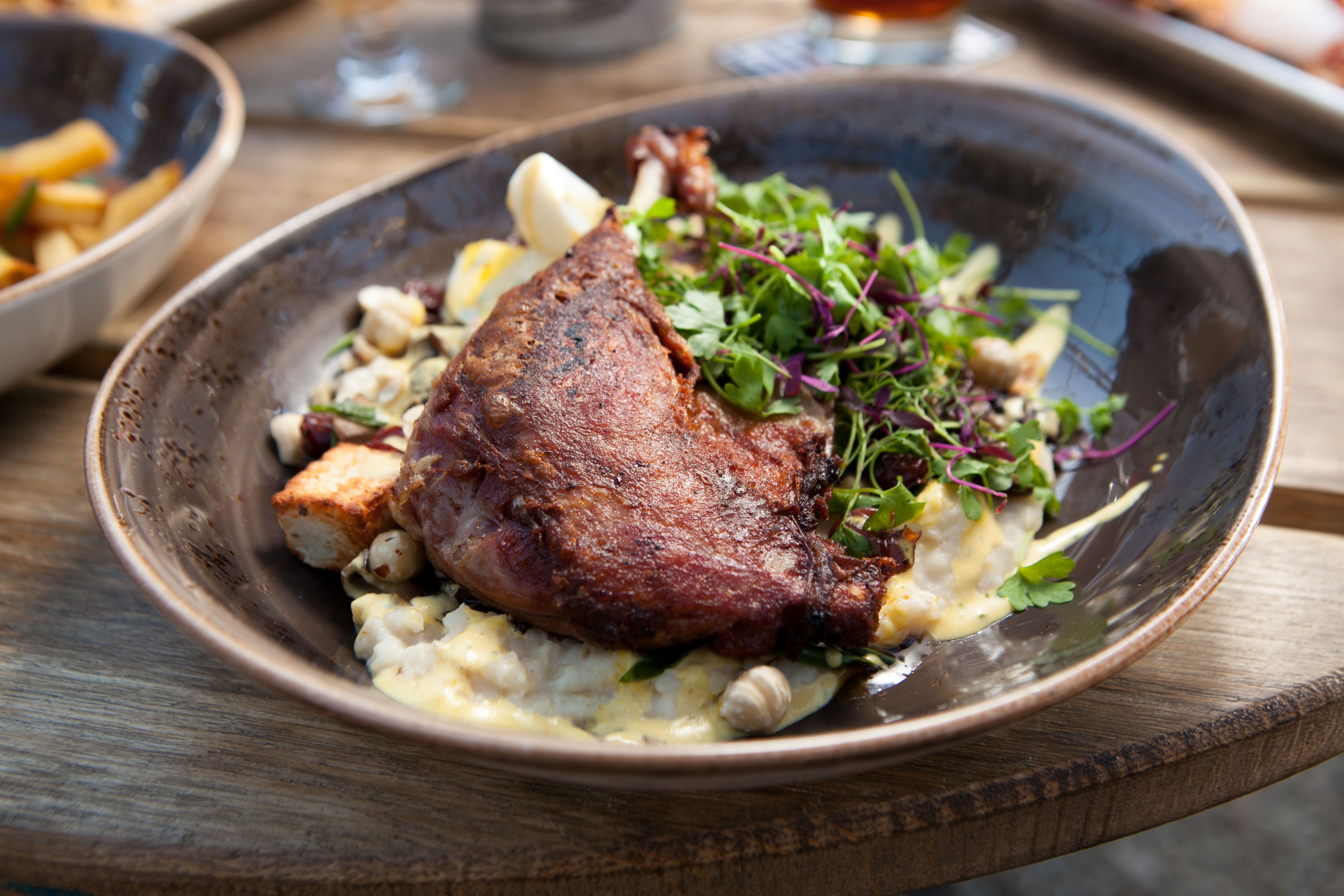 But let's be real: You're mainly here for that patio, anyway — to squeeze next to your date on one of those Adirondack chairs, alongside a blazing fire pit; to be loud with your friends; to drink too much beer, and, while you're at it, to maybe share a couple of pizzas and a plate of poutine. For all of that, Drake's Dealership does its job very well indeed.