Last week, Bay Area crab lovers got the news they feared: Due to toxin levels too high for safe consumption, the California Department of Fish and Wildlife decided to delay the commercial Dungeness crab fishing season indefinitely. The toxin, known as domoic acid, is the result of an unusually large algal bloom likely caused by warm waters off the coast of California. When consumed in large quantities, domoic acid can cause diarrhea, nausea, and, in severe cases, permanent damage to short-term memory and even death.
Originally slated to start on November 15, the crab season won't begin until wildlife officials determine that the domoic acid levels in the crabs have lowered to a safe level for human consumption — a delay that puts what's estimated to be a $60-million-a-year industry in peril.
Although news of the delay had barely broken, seafood-oriented restaurants around the East Bay were already changing their plans for the start of the crab season. For the past couple of years, Homestead (4029 Piedmont Ave., Oakland) has hosted a big, family-style crab feed on the Wednesday before Thanksgiving. Last Friday, the farm-to-table restaurant announced that the pre-Thanksgiving meal would be reformatted to a clam bake. And Camino (3917 Grand Ave., Oakland) will forego its wintertime tradition of serving Monday night prix-fixe dinners that feature Dungeness crabs grilled in the restaurant's wood-burning fireplace.
The crabs are Camino's most popular item, but chef and co-owner Russell Moore said the restaurant is committed to serving only local seafood. Moore now plans to feature boudin blanc for the restaurant's next set of prix-fixe dinners, starting on Monday, November 16. The sausages are actually the restaurant's second-most requested item, but the demands of the crab season have often left him with little time to make them, Moore said.
"What I'm not going to do is just try to buy crabs from farther away or anything like that," he said. "Some things are more important than business."
The constantly changing nature of the menus at seasonal, locavore restaurants, such as Homestead and Camino, makes it easier for those businesses to take a wait-and-see approach when it comes to the Dungeness crab season. For now, Moore said he's going to operate under the assumption that the season will be canceled altogether and then adapt accordingly if and when the crabs eventually come through. Homestead co-owner Elizabeth Sassen is taking a similar approach, but said her bigger concern is how the delay (and potential loss) of the crab season will affect the Bay Area economy and what it says about the overall well-being of the ocean — especially if this year's algal bloom problem was at least partly impacted by global climate change, as some suspect.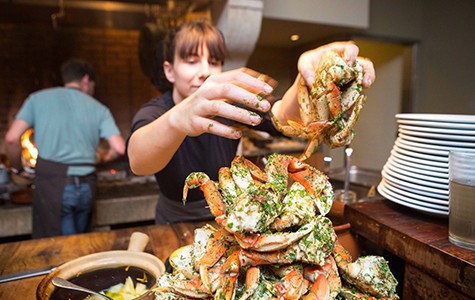 As I reported in my January cover story, "Shell-Shocked," the Bay Area's Dungeness crab fishery is unique in the sense that about 80 percent of each year's catch is concentrated in the first two or three weeks of the season — a mad scramble that fishermen refer to as the "derby." Pushing that derby back a few weeks might not in itself be a critical blow for local crab fishermen, but the loss of the traditional Thanksgiving rush will certainly hurt. Paul Johnson, owner of Berkeley's Monterey Fish Market (1582 Hopkins St.), explained that part of the problem is the crab fishermen have already spent weeks getting their gear ready for the crab season. They may not have the proper equipment or licenses to fish for something else in the meantime. For better or worse, all they can do is wait.
The only sliver of good news for local fishermen: Most years, a huge number of big fishing boats from Oregon and Washington come down for the derby, scooping up a disproportionate amount of crab in those first few weeks. Tom Worthington, who runs Monterey Fish Market's wholesale operation, said that once the delay of the season was announced, most of those big boats immediately packed up and headed back north — presumably to get ready for the northern Dungeness crab season, which for now is slated to begin on December 1. If the Bay Area season does eventually open, it's possible that local fishermen might actually bring in a bigger share of the haul.
"It's a potential silver lining with a delayed paycheck," Worthington said.
It's also possible that all this talk of toxins has turned some customers off of Dungeness crabs altogether, at least for the time being. Nelson German, chef-owner of the seafood restaurant AlaMar (100 Grand Ave., #111), seems to believe that's the case, and he's decided not to serve crab at his restaurant as a result. "I think the public will refrain from ordering any crabs at this time, no matter where the restaurant says it originates from," he said.