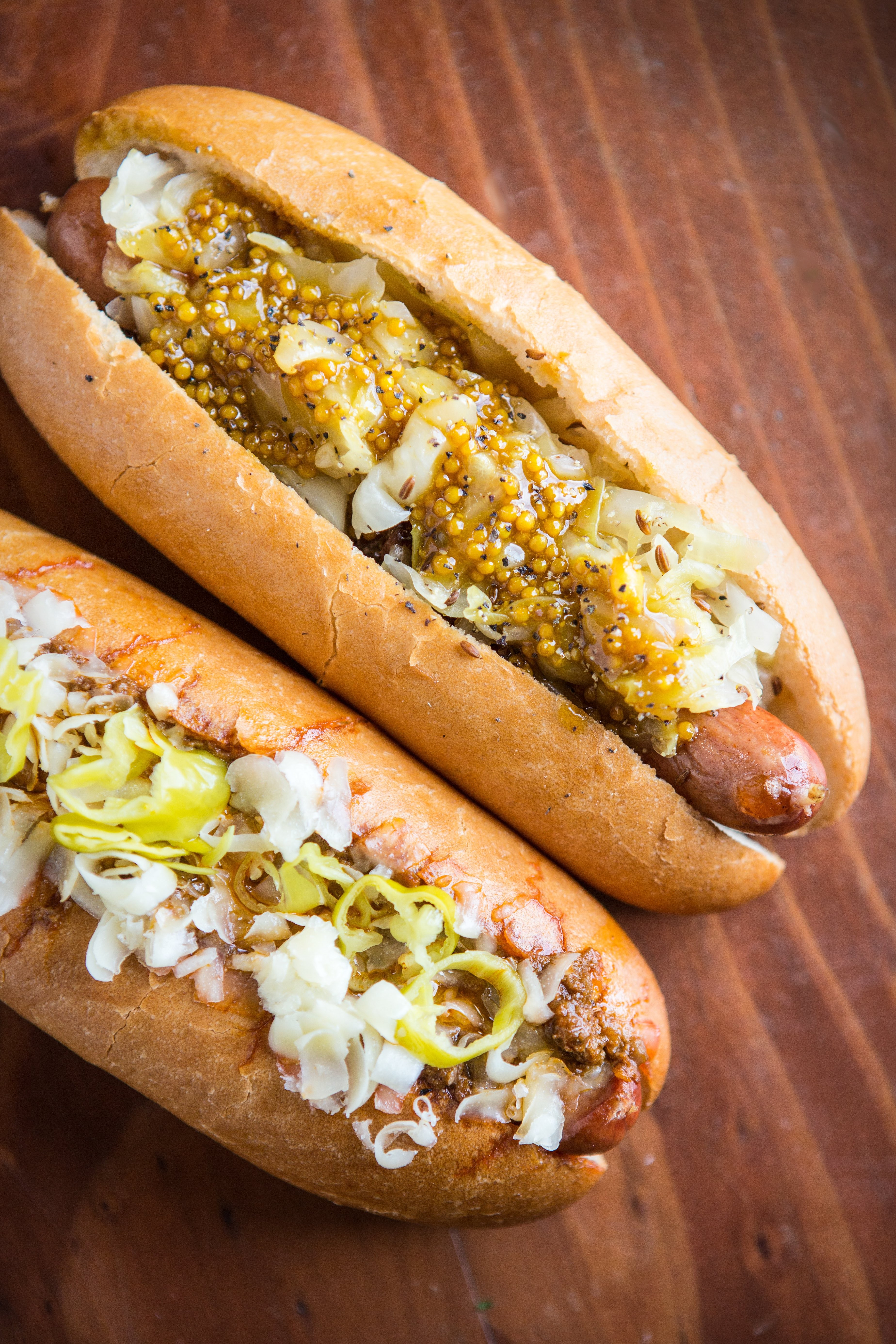 Jack London Square is a flurry of activity these days, between Grocery Cafe returning and the farmers market moving and, last month, Diamond Dogs quietly opening.


Diamond Dogs started out as a pop-up by Rob Wertheimer, formerly a bartender with the Double Standard. In July, it opened at 468 Third Street, specializing in gourmet hot dogs.


The menu is cutely divided into two sections: hot dogs and not-hot-dogs. There are five hot dogs with set toppings as well as the option to build your own. The aptly-titled Bourgeois Dog ($9), for example, comes with white cheddar bechamel, garlic confit, fried leeks, and watercress. All dogs can be made with an Evergood Beef Frankfurter or vegan Field Roast Veggie Frankfurter and arrive on a bun via Starter Bakery. Vegan and vegetarian options are clearly labeled.


On the other half of the menu, there's a hot chicken sandwich ($11), corn dog studded with jalapenos ($6), and churro sundae with dulce de leche ($7). These mostly single-digit prices notably make Diamond Dogs among the more affordable dining options in the Jack London area.


In the kitchen is chef Steve Balzanto, who Wertheimer says has cooked up and down the West Coast for the last decade. He held stints at fancy steakhouses and Cal-French restaurants, but Diamond Dogs is the first spot where he has real creative control. Eventually, Wertheimer plans to put his Double Standard experience to good use and incorporate a full bar. For now, Diamond Dogs just serves beer, wine, and low-octane mixed drinks.


And yes, Wertheimer did name the pub after David Bowie.
Diamond Dogs, 468 Third St, Oakland; open Wed.-Fri. 5-9 p.m., Sat.-Sun. 2-9 p.m., www.diamonddogsoak.com.