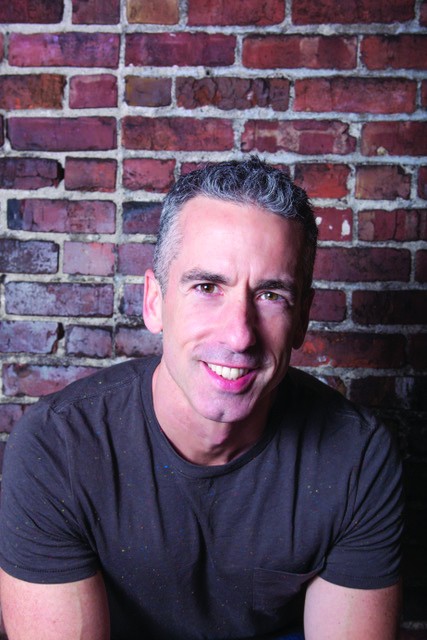 I'm a 67-year-old gay man. After a breakup 15 years ago, I believed the possibility of emotional and sexual intimacy with a partner was over for me. Then a couple of months ago, I began using apps, and I felt like the proverbial kid in a candy store. Also, I was surprised — not unpleasantly — by the whole Daddy phenomenon, never imagining that this old face and body would interest younger men. You can probably guess what happened next: I was contacted by a 22-year-old man who revealed himself to be mature, intelligent, sweet, and, fatally, the physical type that arouses me most. I fell hard, and he seems to like me, too. Am I a creep? A fool? Is my judgment impaired?
— Dumb And Daddy
If the affections of a consenting adult 40-plus years your junior is your particular perk of aging, go ahead and enjoy it. Keep your expectations realistic (a successful STR is likelier than a successful LTR), don't do anything stupid (see Father Clements, below), and reacquaint yourself with my Campsite Rule: When there's a significant age and/or experience gap, the older and/or more experienced person has a responsibility to leave the younger and/or less experienced person in better shape than they found them.
While the age difference will creep some out, DAD, that doesn't mean you're a creep. Don't want to be a fool? Don't do anything foolish. Worried about infatuation-impaired judgment leading you to do something foolish? Ask a few trusted friends to smack you upside the head if you start paying his rent or lending him your credit cards. And just as you don't want to take advantage of this young man, DAD, you don't want to be taken advantage of either.
For example: "A 79-year-old retired priest has been left heartbroken and homeless after his 24-year-old husband left him just after their home was put into his name," LGBTQ Nation reported. "Philip Clements sold his home in Kent, England, for £214,750, before moving to Romania and purchasing an apartment for the couple to live in in Bucharest. He signed over the property to Florin Marin, so that Marin would have security after he passed away… Marin broke things off just weeks after the apartment was put in his name, and Clements found himself homeless."
Keep Father Clements' sad story in mind, DAD, but don't be paralyzed by it. Because there are lots of examples of loving, lasting, non-creepy, non-foolish relationships between partners with significant age gaps out there.
Someone at work — not my boss — asked me to fuck his wife. He's nice, his wife is hot, and I'm single. This is a first for me. Besides STI status, what questions should I ask?
— Help Interested Straight Boy Understand Lust's Limitations
1. "Are you a cuckold or is this a hot wife thing?" (Considering your sign-off, HISBULL, either you've assumed he's a cuckold or he's told you he is one. If he is a cuck, he may want dirty texts and pictures — or he'll want to be in the room where it happens. Is that okay with you?)
2. "Have you done this before?" (The reality of another person sleeping with your up-to-now-monogamous spouse can dredge up intense emotions. If they've done this before and enjoyed it, you can jump right in. If they haven't, maybe start with a make-out session at a time or in a place where you can't progress to sex.)
3. "Can I speak directly with your wife?" (You'll want to make sure she isn't doing this under duress and that she's into you, and you'll want to independently verify the things he's told you about their arrangement, health, experiences, etc.)
I recently started seeing a gorgeous 24-year-old woman who's smart and sweet and also happens to have a few out-there fetishes. There's not much I'll say no to, Dan, but one of the things she's into is formicophilia (a sexual interest in being crawled on or nibbled by insects). I offered to get some ants and worms to crawl on her body while I fuck her, but she wants me to put earthworms in her vagina. Is there a safe way to do this? Female condom? I want to help, but putting worms in your vagina seems like it will end with an embarrassing trip to the ER.
— Worries Over Really Messy Scenario
"I thought I had heard everything," said Dr. Jen Gunter, an ob-gyn in San Francisco. "Apparently not."
"This is obviously unstudied," Dr. Gunter said, "but anything that lives in soil could easily inoculate the vagina with pathogenic bacteria. Also, I am not sure what earthworm innards could do to the vagina, but I am guessing the worms would get squished and meet an untimely demise during sex. How would you get the pieces of dead earthworm out of her vagina? I can think of a lot of ways this could go very wrong. I would advise against it."
I'm with Dr. Gunter: Don't stuff earthworms in your girlfriend's vagina. That said, tucking a few earthworms into a female condom and carefully inserting it into your girlfriend's vagina would most likely kill the earthworms, it probably wouldn't damage your girlfriend or land you both in the ER. Even so, don't do it. Because blech.