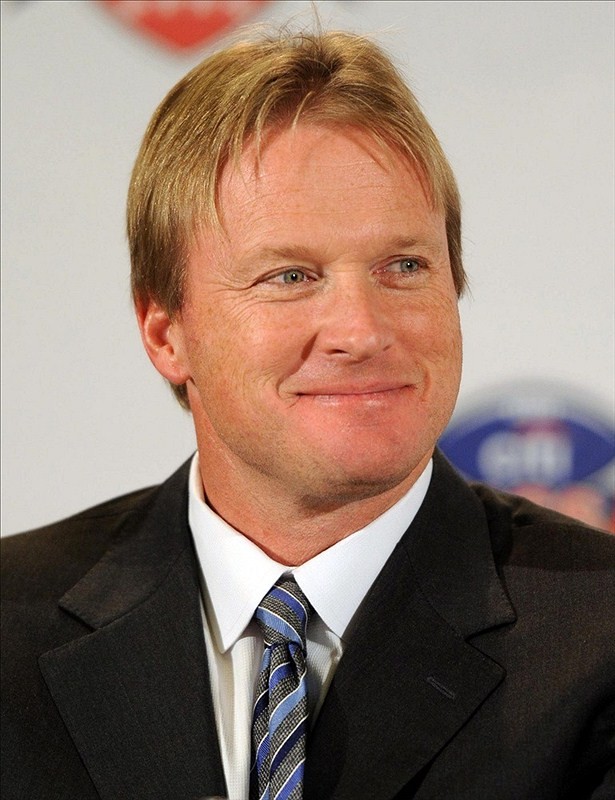 For years, I was just like most other Oakland football fans. I dreamed that Jon Gruden would return to coach the Raiders, so he could again successfully steer a Silver-and-Black ship that always seemed headed in the wrong direction. Frustrated that the Raiders too often underachieved before and after Gruden's successful four-year tenure (1998-2001), I yearned for him again to clean up the organizational mess created by Al Davis and continued by son Mark Davis.
Gruden's abrupt departure in early 2002, by way of Al Davis trading him for misspent money and forgotten draft picks, also reminded Oaklanders that being a Raiders fan often involves a rueful game of "What if?"
As in, what if the Raiders had never left Oakland in 1982? What if Al Davis had avoided feuding with Marcus Allen and other players?
And yes, what if Al Davis had kept Jon Gruden after the infamous Tuck Rule defeat to the New England Patriots? Could Gruden have continued that short-lived return to Raiders glory?
Oakland fans don't have to say "What if" anymore, at least in regard to Gruden. For that reason alone, the Alameda press conference Tuesday announcing Gruden's return should have been a wonderful day. The Return of Chucky was a Raiders reunion, so it's time to celebrate, yes? Pop open the bubbly and recite "The Autumn Wind" ad nauseam, right?
Well, um, no.
Instead, it was a reminder that another unfortunate "What if?" is looming for the Raiders. As in, what if the Raiders had never moved to Las Vegas? That was the elephant in the room in Alameda, for anyone willing to deal with the cold realities and self-inflicted wounds facing Davis, the Raiders, and now Gruden.
When Gruden was hired in 1998, he immediately won games and captured East Bay hearts. The brash, charismatic coach's intense sideline demeanor featured a feisty, wild-eyed game face that earned him the nickname, "Chucky," after the murderous doll from countless '90s horror movies. Not since John Madden in the 1970s had Oakland's team had such a boisterous, tough-minded coach who exemplified this blue-collar city as much as the Raiders. Gruden was all of that and more.
And all of Chucky's strengths were on full display Tuesday, as he flashed the charm, wit, passion, and charisma that made him a star 20 years ago.
When it comes to Oakland, Gruden said all the right things at the press conference. Well, almost all the right things.
"I love the city of Oakland. I had a son here. Some of my great memories of life are in Oakland," said Gruden, now 54.
He later added: "A big reason I'm here is my passion for the city of Oakland and this franchise. People in The Black Hole, if you're out there listening, I can't wait to see you guys, man. I really can't."
Nice sentiment, and it would've been the perfect statement had we not known that Mark Davis plans to move the team to Vegas by 2020. But, of course, we do know, so Gruden's comments rang somewhat hollow.
It was even worse when Gruden added: "I want to give [Oakland] two of the best years of football that I can possibly help deliver."
What the…?
Was that vague reference to the short time window in Oakland Gruden's way of being positive about the East Bay present without addressing the impending Vegas future? If so, it might've been shrewd, but it wasn't altogether honest.
It was like a rich grandfather hosting a warm-hearted family reunion only to publicly announce he's going to disown everyone in two years. How can that be seen in a positive light, no matter how happy you are to see old relatives at the party?
And the reunion analogy is worth mentioning because no sports franchise talks about "family" and "home" and "tradition" more than the Raiders. No pro team betrays and subverts those concepts more than the Raiders, either. Vegas will be their third home city in 36 years. Perhaps it's not surprising that Mark Davis, the only child of pro sports' most cold-blooded and ruthless owner, has a different notion of "family" than the rest of us.
Gruden said he didn't come back to the Raiders for the big contract, which reportedly guarantees him $100 million over 10 years. Instead, he said it's because he loves the city of Oakland and the Raiders, as well as his passion for football and winning. I believe him and I wish him the best.
Yet no matter how appealing Gruden's press conference comments were, some uncomfortable truths lingered in the air.
"I think the timing of this is perfect," he said of his return.
I couldn't disagree more.
First, the Raiders lack talent. Their defense has only one irreplaceable player, Khalil Mack, amid gaping roster holes in the secondary and defensive line. To win with that roster, they might need a magician more than a coach.
Also, the dysfunction enveloping the Raiders franchise is worse now than during the Al Davis era, and that's saying a lot. Just as when he was first hired 20 years ago, Gruden in 2018 is tasked with transforming an underachieving squad, this time a 6-10 team whose listless, spotty play dashed Super Bowl hopes and supported rumors of team dissension and a lack of leadership.
Dysfunction looms in the franchise's Las Vegas future, too. The $750 million in taxpayer funds that Nevada legislators gave to Davis is sure to generate more negative headlines as the stadium is built. The owner of the Vegas Golden Knights, Sin City's new NHL team, last month criticized the use of public funds for sports facilities — a clear jab at the Raiders, his future neighbors. A new stadium by itself has never been a panacea for a franchise's problems. Davis and Gruden might learn this lesson the hard way in the Nevada desert.
Gruden's ample star power also seems to have caused a curious case of media amnesia. Sportswriters seem to have forgotten that Tampa Bay fired Gruden in early 2009 amid reports that he'd lost the respect of his players. One former Tampa Bay Buccaneer, Simeon Rice, publicly called Gruden "a scumbag" who lost the team when players began questioning his sincerity and loyalty. His Tampa Bay record was an ordinary 57-55.
Also overlooked recently was Marcus Thompson's story in The Athletic, in which he reported that Davis this year sometimes vented his anger at former head coach Jack Del Rio and other staff on the team plane. If Davis displays such petulant disrespect to Gruden after a loss next year, this marriage might be short.
To be an Oakland sports fan is to wrestle with an abandonment complex the size of the Tribune Tower. How many times have we been forced too early to bid goodbye to players and coaches we love? The list ranges from Catfish Hunter to Jason Giambi to Josh Donaldson with the A's; from Bernard King to Chris Webber to Gilbert Arenas with the Warriors.
And no franchise has left a bigger scar on Oakland fandom's psyche than Al and Mark Davis and the Raiders — whether it was their premature trade of Gruden or the Davises backstabbing East Bay fans with the L.A. relocation in 1982, and now again with the impending Vegas move.
That's why Gruden's return is so bittersweet. Even if he wins, his stay in Oakland will be all-too-brief. Again. And that's really nothing to celebrate.
On Tuesday, Gruden repeated to sportswriters one of his favorite lines:  "You get what you deserve."
It's a good coaching line because it urges players to accept adversity and keep striving to overcome it.
You get what you deserve.
That mantra reassures players that as long as they work hard, show discipline, avoid trouble, and rise to the occasion, they'll get the success they've earned. It promotes the myth that the NFL is a meritocracy that rewards excellence and issues glory and riches fairly.
You get what you deserve.
Remember that line in 2021 or 2022, when the Raiders' Las Vegas reality might include a listless crowd watching a mediocre Raiders team in a half-filled dome. Remember that line when a feckless Mark Davis again is screaming at coaches and pleading with the bank; when Gruden is nearing age 60 and tiring of wringing victories out of a forever-dysfunctional franchise playing far from its true East Bay home, where most of its fans live.
A $100 million contract can't free you from the type of Davis-style negativity with which Gruden might soon be surrounded. No matter how good the original intentions, you can't buy your way out of that kind of unhappy situation.
In that scenario, you get what you deserve.
Chris De Benedetti writes a regular sports column for the
Express.