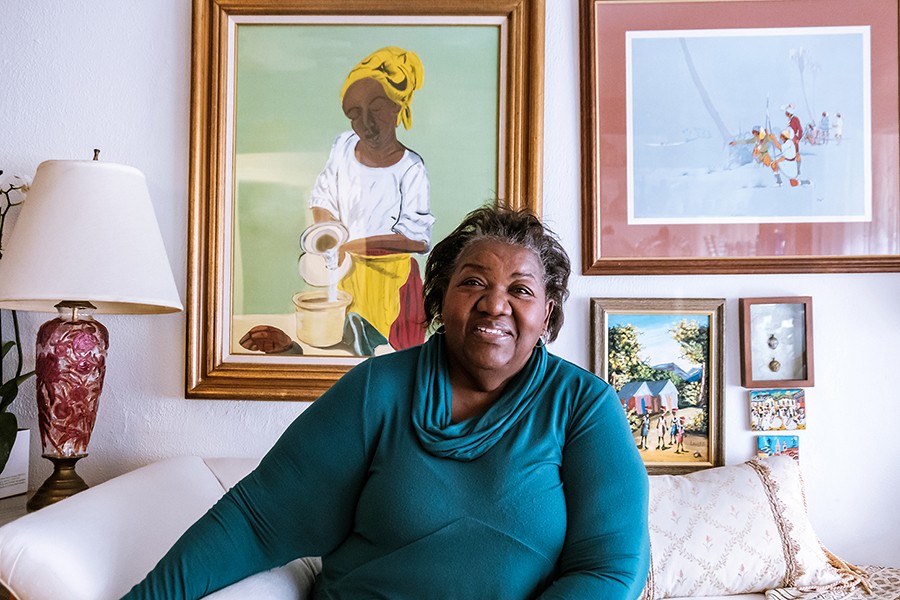 Alternier Cook is looking for a place — a place for stories, for community, a place to document history, and a place to imagine the future. She believes a public library could be that place. Describing herself as "just an interested neighbor," she leads the Friends of the Hoover-Durant Public Library, a community-based group spearheading the campaign to bring a library back to the Hoover-Foster West Oakland neighborhood by 2022. By then, Hoover will have been without a public library for more than 40 years.
It wasn't always like this. For years, two library branches served Hoover: the North Oakland Branch Library, opened in 1887 at 34th and Adeline streets, and the Telegrove Branch Library, opened in 1930 at 34th and Grove streets (now Martin Luther King Jr. Way). Both were well used, but not without their share of political and administrative drama.
In 1936, Lucie Nye, the chief librarian of branches for the Oakland Public Library, wrote to city librarian John B. Kaiser urging him not to renew the lease on the North Oakland Branch Library. Nye complained about poor book circulation in Hoover, writing that: "this is not a reading neighborhood, although the branch is used considerably by readers in the building." In "An Evaluation of Oakland's Branch Libraries, an interim report, July 1971," Peter Conmy, former city librarian, wrote in reflection on the Telegrove and North Oakland branches that they were "preposterously close. There were racial overtones in branches in such proximity." The Telegrove Branch Library closed in 1950 and by the mid '70s, construction on Interstate 980 was approved, condemning 503 homes, 22 businesses, four churches, and 155 trees for demolition. By 1980, the North Oakland Branch Library, and the Hoover neighborhood as it once was, no longer existed.
A retired, long-term Hoover resident, Cook fondly remembers visiting the Grove Street and San Pablo libraries after school and on Saturday afternoons in her youth. She graduated, married, and moved out of Oakland for years, returning in the '90s to care for her ailing mother, acclimating to the changed community, and reconnecting with neighbors and friends. One of those friends was Madeline Wells, a lifelong Hoover community member and board member of the Hoover Residential Area Council. It was after a council meeting that Wells suggested Cook lead the crusade to bring back Hoover's library.
The idea to bring a library back to Hoover has been one of community necessity. Currently, the nearest public library — the Golden Gate Branch, on San Pablo Avenue near 56th Street — is about a mile away. Of the public schools in the neighborhood, only one has an operational library. In 2006, two years after the closure of the Foster Elementary School, the Oakland Public Library presented a Master Facilities Plan describing the need for a library in Hoover, and predicting that the neighborhood size would increase by 12 percent by 2020. "Bounded by I-980, I-580, I-880, and West Grand Ave., this neighborhood has significant geographic limitations to travel, especially for young children and the elderly," the plan states.
Cook took charge immediately, emailing Oakland Public Library's then-deputy director Gerry Garzón, gathering information, and laying the groundwork for the beginning of the current library project. The Oakland Public Library assigned a dedicated staff person to consult with Cook, and with their help she formed a task force and surveyed the community.
"This library is a community effort," said Cook. "One of my jobs, and the board's job, is to ensure that the community has its input from the beginning."
And she's done that, bringing as many members of the community as she can into the work and taking guidance and suggestions from those who offer it. "We have a lot of talent, a lot of people who have the knowledge, the skill, the credentials," she said. The missing element is time. And money: It will take an estimated $22 million to bring a public library back to the Hoover neighborhood.
The Friends of the Hoover-Durant Public Library is in the process of becoming a 501(C)3, and this year they're working to get a bond measure for the Hoover library on the November ballot. In 2006, the proposed library was a part of a city-wide bond measure of approximately $150 million, which lost by less than 2 percent. The Friends are hopeful that a smaller measure, created with enthusiastic community support, will pass. The group is an entirely volunteer-run effort, with representation from the city of Oakland, the Oakland Public Library, and the Hoover Residential Action Committee. Their supporters include city councilmembers, the Friends of the Oakland Public Library, local businesses, university Greek-letter organizations, the Prince Hall Masons of Monarch Lodge #73, and families, both past and present, living in the neighborhood.
It was on the recommendation of one of these supporters that Cook joined a mentoring program through the San Pablo Area Revitalization Collaborative (SPARC), a decision that changed the course of the project. It was in this program that she met June Grant, founding principal at blink!LAB architecture, mentor, and, in Cook's estimation, the library project's "angel."
With Grant's help, the Friends of the Hoover-Durant Public Library streamlined their messaging and obtained small grants from SPARC and the city, which they have used to build "mobile learning towers." Designed by blink!LAB, these towers are movable shelves topped with a photo history canopy, used at pop-up library events throughout the neighborhood. "When you have a presence, that says something to the community," said Cook.
And have a presence she does: Cook is boisterous and welcoming: At the first pop-up library event, she directed passersby and visitors to coffee and doughnuts, ferried them to volunteers who could make pointed book recommendations, and gave recommendations and history lessons herself. She is serious, too. She acknowledges every visitor, every organization, and community member by name, tracks every hour volunteered, every dollar donated, every check received, and every check delayed. She makes everyone feel as though they have a place, because here they do.
For more information about the Friends of the Hoover-Durant Public Library and to find out about upcoming pop-up events: Facebook.com/FRIENDSHDPL/