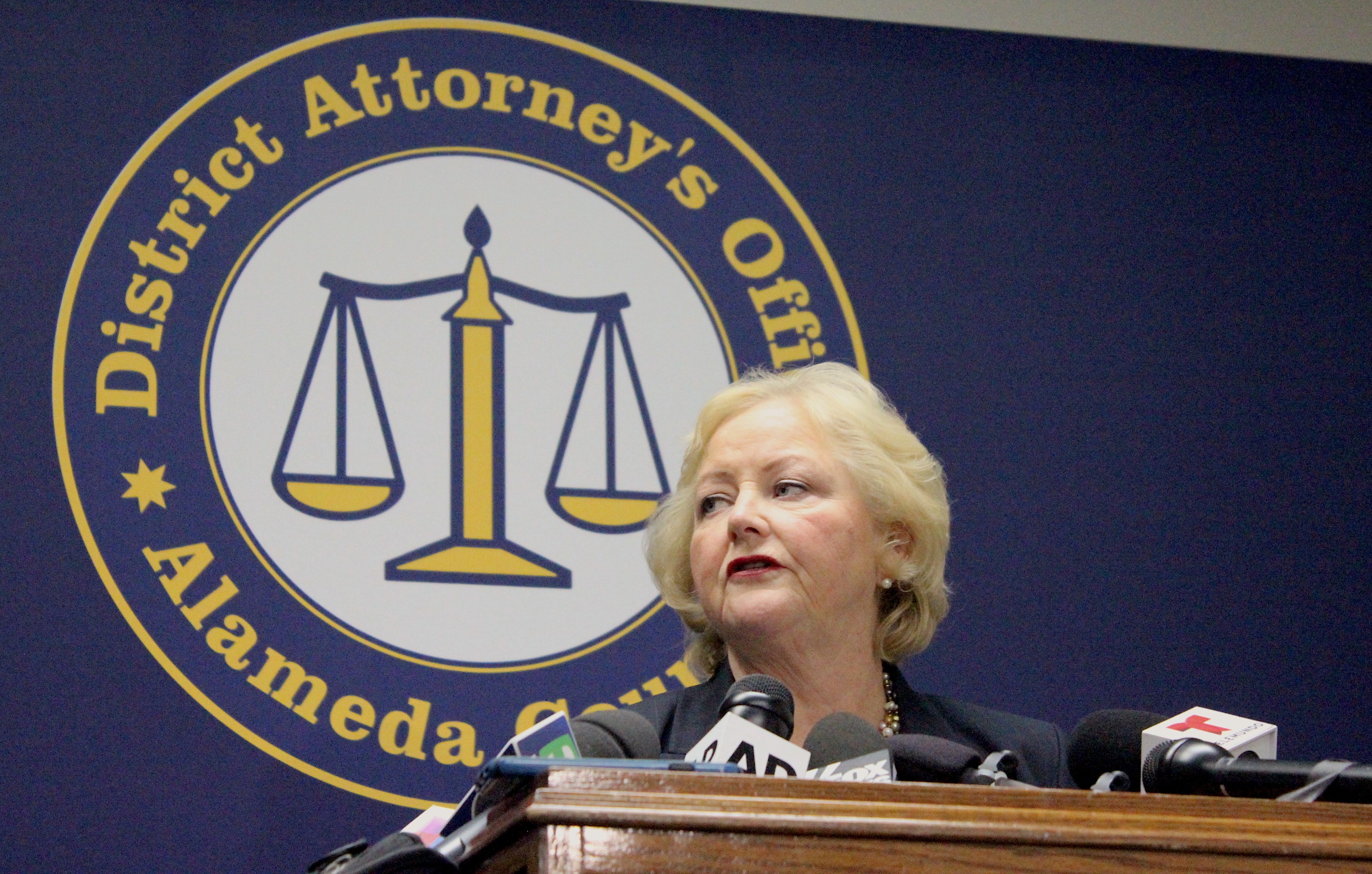 Alameda County's district attorney charged Derick Almena and Max Harris with 36 counts each of involuntary manslaughter, in connection with the Ghost Ship warehouse fire. Authorities arrested Almena in Lake County, while Harris was apprehended in Los Angeles.
During a press conference this afternoon, District Attorney Nancy O'Malley explained that her office's six-month investigation determined that Almena and Harris built unauthorized structures inside Ghost Ship, knowingly permitted residents to live at the warehouse, and allowed large groups to congregate in the space for underground concerts and events, including the night of the December 2 fire that took 36 lives.
If convicted, Almena and Harris could face up to 39 years in prison.
"Defendants Almena and Harris knowingly created a fire trap with inadequate means of escape, filled it with human beings, and are now facing the consequences of their deadly actions," said Alameda County District Attorney Nancy O'Malley at a press conference Monday.
Deputy District Attorney Teresa Drenick said the office has completed its investigation. When asked if the warehouse's owner, Chor Ng, would be charged, she declined to address what she called "speculation" of further charges.
According to charging documents, Almena — Ghost Ship's master tenant since November 2013 — rented out spaces inside the building and encouraged tenants to construct their rooms using materials such as fence boards, shingles, and wooden sculptures in a manner that violated city and state fire-safety codes. He also kept flammable objects inside the building, and constructed a dangerous staircase from the ground floor to the second level.
Almena knowingly promoted the building's upstairs floor as an events center and music venue, also in violation of city municipal codes. Almena reportedly made Harris the venue's "creative director," a job that included collecting rent, settling resident disputes, and acting as an intermediary between Almena and the warehouse's owners.
Before the December 2 fire, the DA alleges that Harris blocked off a stairwell on the warehouse's second floor, which "effectively reduced the upstairs guests to a single point of escape."
"Almena's and Harris' actions were reckless, creating a high risk of death," O'Malley said at the press conference.
Two days after the fire, on December 4, Harris told an
Express
reporter via Facebook messenger that Ghost Ship was a "24 [hour] art and music space" that celebrated "culture and expression in all mediums from across the world. It was a gallery, a museum, and a living sculpture; made of brilliant and sensitive creative souls. We are all in mourning."
Today's charges come on the heels of revelations that, over the years,
Oakland fire and law-enforcement officials had visited the Ghost Ship site to deal with incidents, varying from couch fires, illegal raves with alcohol, and resident disputes
. Oakland police also responded to assaults, and one report of an attempted rape.   
Prosecutors say Almena and Harris will be brought back to the Bay for arraignments, but Drenick said there is not yet a set date for their returns.
"I applaud the charges filed today by District Attorney Nancy O'Malley," Oakland Mayor Libby Schaaf said in a statement on Monday. "They send a clear message: you won't get away with making a profit by cramming people into dangerous spaces or failing to maintain safe living conditions."