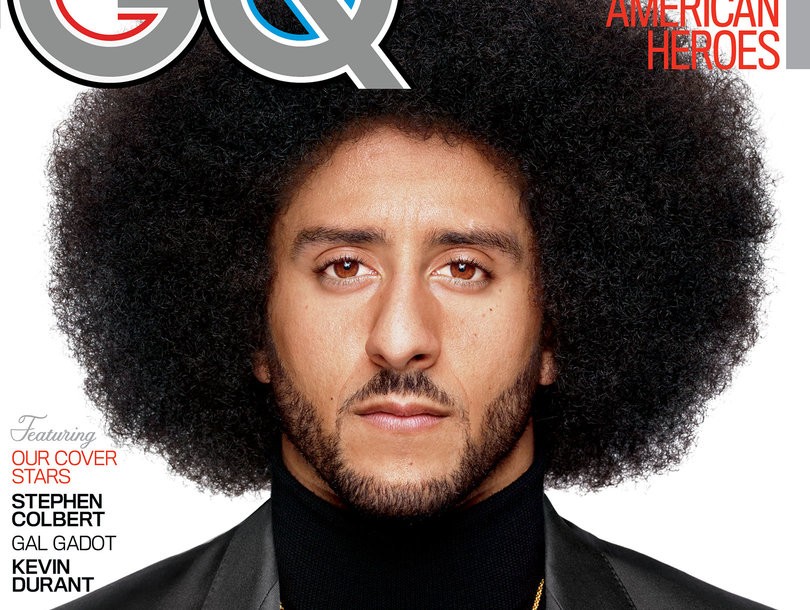 A pair of NFL news items announced on Monday — one about the league's controversial quarterback-in-exile and another on the team owners who banished him — exhibited some poetic justice.
First, there were reports of an NFL civil war, as angry owners threatened to strip Jerry Jones of his control of the Dallas Cowboys, and Jones countered that he might sue the league.
Then
GQ Magazine
announced it named Colin Kaepernick as "Citizen of the Year."
To repeat: The same NFL billionaires who blackballed Kaepernick for nothing more than a silent, dignified protest were now engaged in a hapless but ugly circular firing squad — all over a dispute about the commissioner's gaudy contract demands. America's most power-mad oligarchs were at each other's throats in a manner that was part Keystone Kops, part Reservoir Dogs.
The same day,
GQ
celebrated Kaepernick. It honored the athlete-activist with a long article about his political stance and the firestorm of protests it inspired, as well as his behind-the-scenes social work and the quiet, gracious way he's weathered his forced exile from the NFL. The glowing piece compared the ex-49er to Muhammad Ali and Jackie Robinson, pioneers famous for fusing politics, race, and sports. It also featured praise from activists and celebrities such as Harry Belafonte and Ava DuVernay, who lauded Kaepernick for spending money and time to mentor African-American youth and for doing those good deeds with minimal publicity.
The fashion magazine turned to testimonials, in part, because Kaepernick declined to be interviewed for the article, continuing a strategic silence that aims to let his actions speak for themselves. However, he did participate in the magazine's video and photo shoot on the streets of Harlem, "among the men, women, and children he is fighting for,"
GQ
wrote.
This moment must be especially sweet for Kaepernick, who was bypassed by all 32 teams this offseason after he left the 49ers when it was clear the franchise had no intention of keeping him. NFL front offices have scraped the bottom of the barrel this year on journeyman quarterbacks with distinctly unimpressive resumes — also-rans such as Tom Savage, Brock Osweiler, Jacoby Brissett, Brian Hoyer, and Cody Kessler. In Green Bay, fans responded to Aaron Rodgers' injury by starting an online petition calling for the team to save their season by signing Kaepernick. The mediocre Packers, fighting for a playoff spot, have ignored the petition's 23,000 signatures and stayed their wobbly course with no-name signal callers Brett Hundley and Joe Callahan.
Kaepernick, who once led the 49ers to a Super Bowl, hasn't even been invited for a tryout.
NFL brass wants fans to focus on marketable stars like Tom Brady, Russell Wilson, Drew Brees, and Derek Carr. But some political-minded players also want to discuss the tragic plights of Eric Garner, Tamir Rice, Freddie Gray, Sandra Bland, and any other African American recently killed by police under controversial, perhaps criminal, circumstances.
The NFL owners have clearly blackballed Kaepernick. And it's clearly backfired. The league has several socially conscious athletes — including Malcolm Jenkins, Michael Bennett, and Eric Reid. But the owners have centered their ire on Kaepernick, which has only increased his credibility as an activist.
It's difficult to envision how more poorly Commissioner Roger Goodell and NFL owners could have played this. All they had to do was reach out to the players who risk life, limb, and certain long-term brain damage on every play. Short of that, they could have just contacted Kaepernick to ask why he took a knee last year during the national anthem, to learn why he no longer could ignore his country's long-festering racial inequality and alarming incidences of police brutality.
All that NFL wealth has created immense power for Goodell and the owners — power they could use to further improve their communities, albeit while draining their tax dollars. Instead, they've abused that power.
After all, what good is power to the powerful if they're not recklessly throwing it around?
NFL owners' greed always motivates them to remind the players who's really in charge, an upper hand they wield ruthlessly whenever their collective bargaining agreement expires and the two sides squabble over the league's multibillion-dollar pie.
But this latest attempt to crush the players, including the blackballing of Kaepernick, has blown back in the owners' faces. When other players imitated Kaepernick's protests this autumn, President Trump — always eager to divide voters and distract from his own problems — heightened the tension by referring to a protesting player as a "sonuvabitch" who "should be fired." NFL owners initially were caught off guard. Then they went on the offensive. Which only made things worse.
Normally apolitical athletes fought back. In-game protests spread like wildfire. And any time the dispute seemed ready to die down, Trump or an owner would escalate the rhetoric — and the conflict. Last month, Houston Texans owner Robert McNair told his peers they needed to crack down on the players, saying "we can't have the inmates running the prison." Around 40 of 53 Texans players took a knee the following Sunday during the anthem.
Jerry Jones, one of the protests' fiercest critics, hasn't fared much better than McNair. Jones' problem is he has no moral authority. No other NFL owner has been more willing to sign players with a criminal past and questionable character. He's acquired players accused of domestic violence (Greg Hardy), repeated drug offenses (Randy Gregory), and violent crime (Adam Jones). That should make him the last owner to demand punishment for Kaepernick or any other player whose "crime" is merely a dignified protest.
Meanwhile, as tabloids have long mocked players for reckless lifestyles, Jones and other owners have made their own share of public mistakes. Multiple photographs of a drunken Jones posing with strippers in compromising positions — albeit fully clothed — were posted online in 2014. When Colts owner Jim Irsay was arrested in March 2014 for driving under the influence, police found him in possession of a very large amount of prescription drugs and $29,000 in cash.
Youthful indiscretions? Irsay was 54. Jones was 71.
These are the guys who say Kaepernick is unfit to represent the NFL?
In these politically divided times, where debate on social media is especially toxic, legions of online critics accuse Kaepernick and other protesting players of being disrespectful to the troops, veterans, and the Stars and Stripes.
Everyone's entitled to their own opinion. But assuming facts still matter, I would respectfully argue the facts are on Kaepernick's side. History will be, too.
First, the national anthem isn't the troops or freedom. The anthem is a wonderful symbol of those great things, but still a symbol. As important as those symbols are to many people, including me, they should never outweigh the actual freedoms they're intended to symbolize. Those include freedom of speech and the right to peacefully demonstrate in ways that don't hurt or discriminate against others — like, you know, NFL players' protests during football games.
And while some veterans are Kaepernick's worst critics, many other vets support him, saying that protecting the freedom of civil disobedience is partly why they joined the military. In fact, Army Special Forces veteran Nate Boyer convinced Kaepernick to kneel, rather than sit, because that was a more respectful way to protest during the anthem.
Is there racial inequality in the United States? Let's count just some of the ways:
*White and Black people use drugs at similar rates, but Black people are arrested on drug charges twice as often as whites; and Blacks are jailed on drug charges 10 times more often than white people, according to the ACLU.
* A Black driver is 31 times more likely than a white driver to be pulled over by police, and less likely to be told why, according to the U.S. Department of Justice.
* Police are three times as likely to search the cars of stopped Black drivers than stopped white drivers, according to the U.S. Bureau of Justice Statistics.
* Risk exposure to air pollution and toxic waste for African Americans is nearly six times higher than whites, according to the American Journal of Public Health.
* Black renters who contact agents about recently advertised housing units learn about 11.4 percent fewer available units than equally qualified whites and are shown 4.2 percent fewer units, according to the U.S. Department of Housing and Urban Development.
I could go on and on, but you get the picture.
Activists for decades have raised the issue of police brutality in America's Black neighborhoods.
On Tuesday, a magazine hit the newsstands with an article praising Kaepernick for risking his career by raising awareness about the same issue.
GQ
compared the embattled athlete's year in exile to the three-plus years Ali was denied a license to box over his refusal to serve in the Vietnam War.
In terms of sports activism, there is no higher praise.
That same day, the president who lambasted protesting athletes and the football league that banished Kaepernick garnered just as many headlines as the magazine article, only for far less admirable reasons. Jerry Jones continued his threats to sue other NFL owners. President Trump tweeted again that "fake news" had treated him unfairly.
Colin Kaepernick was not available for comment.
Chris De Benedetti writes a regular sports column for the
Express.