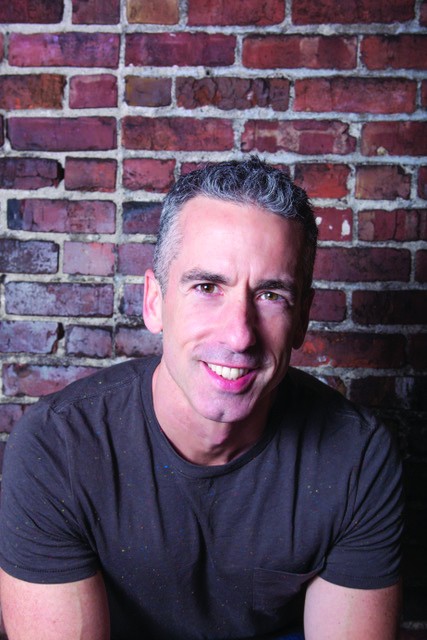 I was honored to appear with Esther Perel at the Orpheum Theater in Vancouver, BC, a few weeks ago to discuss her new book, The State of Affairs: Rethinking Infidelity. Questions were submitted on cards before the show — some for me, some for Esther, some for both of us — and we got to as many as we could during the event. Here are some of the questions (mostly for me) that we didn't get to.
I've never slept with anyone. My current boyfriend has had sex with many, many partners. He knows I'm a virgin, but I'm worried. Any tips on how I can avoid performing like the amateur gay man that I am?
Give yourself permission to be bad at it — awful at it, inept and halting and awkward. And remind yourself going in (and out and in and out) that whatever happens, this isn't the last time you'll ever have sex. Some people are good at sex right out of the gate, but most people need a little practice before they catch a groove. But nothing guarantees a bad first experience quite as effectively as faking it. Faking is always a bad idea — faking orgasms, faking interest, faking confidence — so don't fake. Just be.
How would you help a woman who has never experienced an orgasm?
I would gift her a mild pot edible and a powerful vibrator.
I'm a woman in my mid-30s. Sometimes I want to bang it out in 30 seconds but my husband wants 45 minutes. What do we do?
Your husband has a nice solo stroke session for 44 and a half minutes, and then you climb on top or slide underneath for the last 30 seconds.
I'm a 34-year-old woman. My 40-year-old boyfriend used to date his sister-in-law. One time he said he thought it would be funny if I asked her who was better in bed: him or his brother. Is this weird or is it just a man thing?
It could be both — a weird man thing — but seeing as your boyfriend asked only once, he's clearly not obsessed. The question presumably made you uncomfortable (which is why you're asking me about it), and here's how you shut it down if he ever asks again: "I could ask her who's better in bed or I could go fuck your brother myself and report back."
What do I do if my wife doesn't want an open relationship and I do? We haven't had sex in 11 years, but we are still in love and have two young children.
I don't understand monogamous but sexless marriages. Because if your relationship is monogamously sexless… wouldn't that mean you don't have sex only with each other? Setting that aside …
Your wife probably and perhaps reasonably fears that opening up your marriage could result in you leaving her for some woman you're fucking. But if you're unwilling to go without sex for the rest of your life, you're going to wind up leaving your wife in order to meet some woman you can fuck. So the thing she fears might happen if you open the relationship up is definitely going to happen if you don't.
How does someone in a straight-presenting, long-term relationship come out as being bisexual/pansexual?
Someone opens a mouth — preferably their own — and says the words "I'm bisexual/pansexual."
What's the best-case scenario in the wake of an affair?
"People often see an affair as a trauma from which there is no return. And indeed, some affairs deliver a fatal blow to a relationship," Esther Perel writes in The State of Affairs. "But others may inspire change that was sorely needed. Betrayal cuts to the bone, but the wound can be healed. Affairs can even become generative for a couple."
So best-case scenario? Needed change and a regenerated connection. And since some relationships need to end, an affair that leads to a breakup — the affair that delivers the fatal blow — can also be regarded as a best-case outcome. Back to Esther:
"Because I believe that some good may come out of the crisis of infidelity, I have often been asked, 'So would you recommend having an affair to a struggling couple?' My response? A lot of people have positive, life-affirming experiences that come along with terminal illness. But I would no more recommend having an affair than I would recommend getting cancer."
The State of Affairs is required reading for all couples, not just couples struggling with the fallout from an affair. A relationship that should survive an affair is likelier to survive if you've given the subject some thought before it's a crisis. Order a copy today.