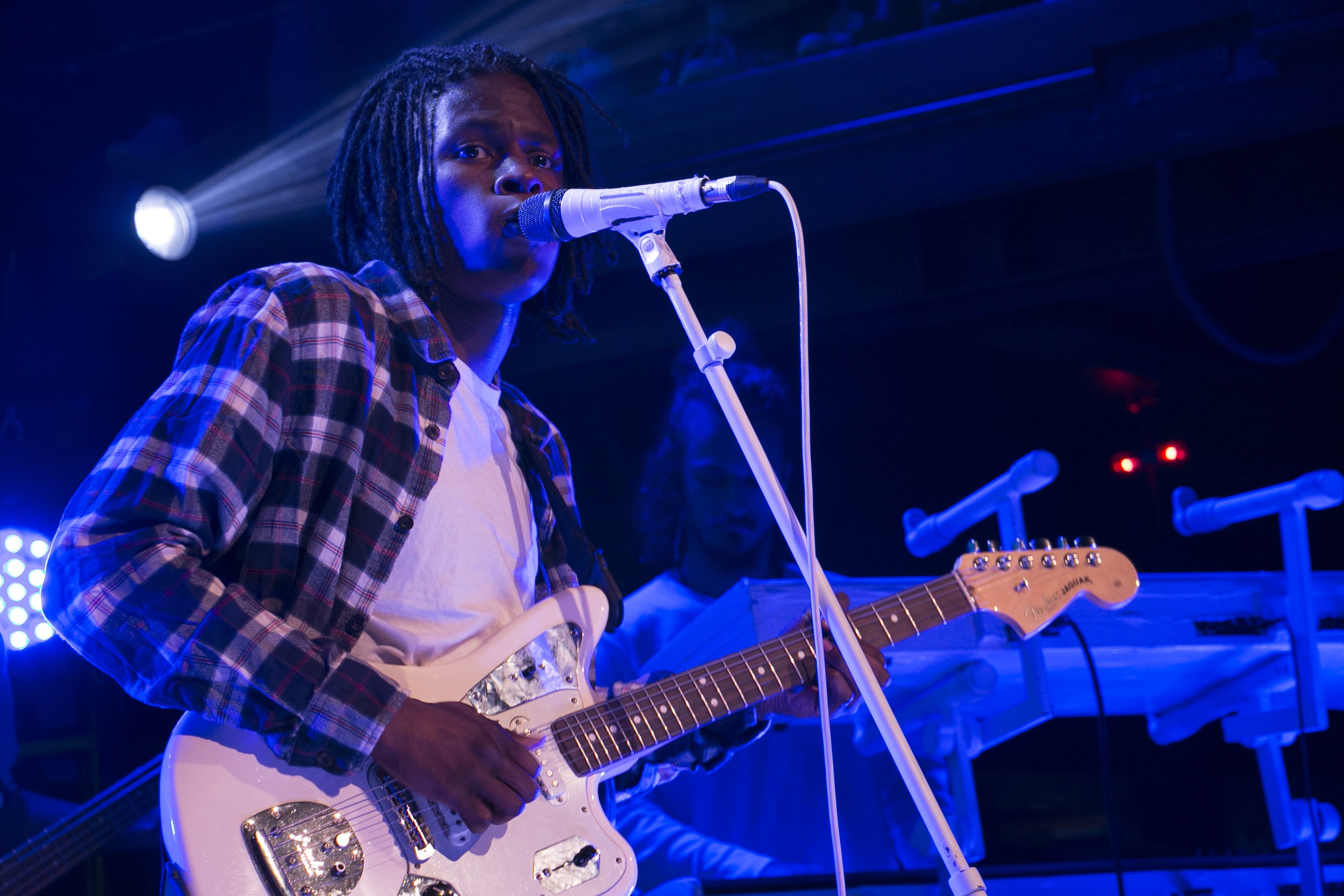 The first time I heard Daniel Caesar was not when I sat wiping tears from my eyes, watching my friend's wedding video as they danced to "Get You." I don't actually remember where I was or what I was doing the first time I heard his music; I just remember I liked what I heard and I wanted to hear more from the 22-year-old Toronto native.
And speaking of Toronto, to be quite honest, the only reason I have heard of Snoh Aalegra was because another cat from Toronto, Drizzy, sampled her song "Time" on
More Life
's "Do Not Disturb." Just after 9 p.m., when the Persian, Swedish-born newcomer took the stage in a white, long-sleeve tube-crop top and silver sequined harem pants, I heard less of the Amy-Alicia-Jazmine-Janelle graininess that caught my ear while repeatedly listening to her debut album,
Feels
.
But the crowd felt her and that's all that mattered. They welcomed her with hearty cheers and applause as she opened with one of my favorites, "In Your River," a sultry, horn-driven ballad that feels like it could've easily been on the
Goldfinger
soundtrack. Perhaps Amy Winehouse, who Aalegra somewhat resembles in both sound and stature, could've gone on to pen a James Bond cinematic theme song, but I digress.
Aalegra's mash-up of Bobby Caldwell's "What You Won't Do for Love," Joe's "I Wanna Know," and Travis Scott's "Goosebumps," threw the audience for a loop in the best way possible. There were some things that didn't quite work, like the awkward moment when her vocals played in the background so that she could attempt a few runs — we weren't expecting that, either — but with each song, she grew more and more comfortable, and she gracefully left us eagerly waiting for Caesar.
I'm not really quite sure at what point in your career you're allowed to have more than 30 minutes between set times. Then again, Caesar's been effortlessly selling out nearly every show on his first tour — the stop in Oakland included. I can't say that I wholeheartedly feel like Caesar is at that point just yet but when he hit the stage at 10:21 p.m., it was well worth the wait. Instant euphoria. He'd arrived and his choir — us — was ready.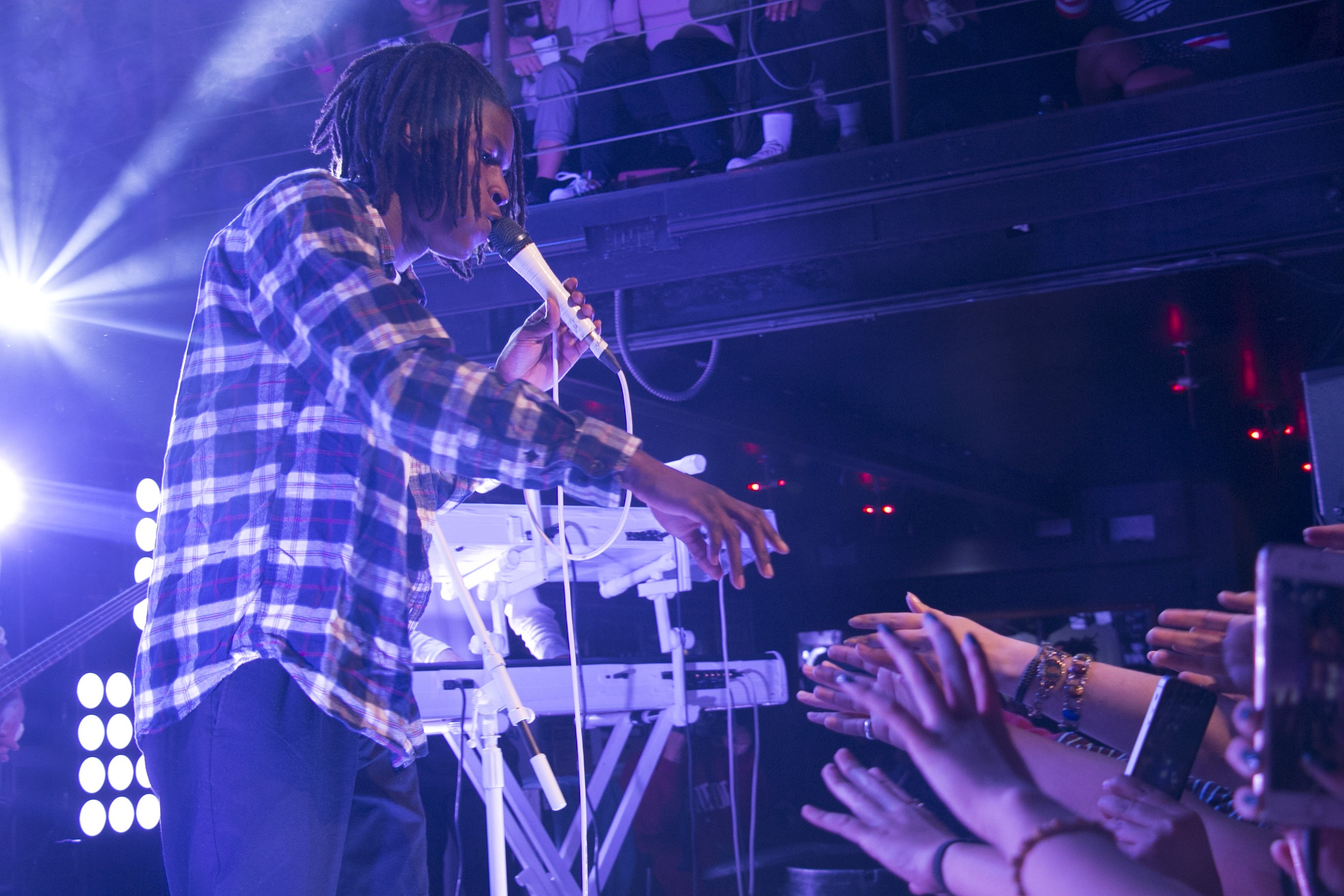 Caesar started off with a few early joints, songs he'd crafted before
Freudian
dropped, before his dreads grazed his shoulders that, last night, were cloaked in a black, white, and red flannel atop a white tee. He stood, crooning to the crowd, feet firmly planted in well-worn yet still crisp black and blue hightop Jordan 1's that greeted his relaxed chinos.
I personally went to church about five songs in, during "Hold Me Down." I suspect that the majority of his young audience had never heard the original, tear-inducing, legendary gospel cut "Hold Me Now" by Kirk Franklin that Caesar folds into the second half of the song, but it didn't stop me from belting out the lyrics and throwing my hand in the air like I was in a pew, dressed in my Sunday best.
Caesar closed his eyes often when he sang, gripping his white mic so closely that it touched his lips. Other times, he sang, scanning the floor and the balcony as he strummed his pristine white guitar. During the crowd-favorite "Take Me Away," Caesar tip-toed in and out of a delicate falsetto amidst verses he sang in his earnest tenor. We bobbed and swayed to "Neu Roses," a cozy jam that is part apology, part plea to stay, part ambiguous reflection.
Caesar's guitar solo during "Transform," a vibey, lush duet that he sang solo, nearly took me out. I simply wasn't ready. He took us to church again during "We Find Love," a poignant, bittersweet ballad about a love not meant to be, whose refrain echoes another gospel great — Donnie McClurkin's "We Fall Down." And, like McClurkin, he took it up a notch, building emotion and momentum, extending the song — and his hand — to fans.
If Caesar hadn't graciously admitted that he had forgotten some of the lyrics to "Best Part" earlier in the show, we wouldn't have known.
"Truth be told, I was in the middle of 'Best Part' and I forgot the words," he said. "I gotta give you guys my best, so I'm going to do it again."
"FUCK IT UP!" someone yelled from the audience, and fuck it up he did.
There's something undoubtedly special about this brother, and his ability to write and sing songs that are much more than that — they're cerebral confessions, praise and pleas that capture a range of emotions, trigger memories, and spur contemplation.
And to make you feel loved — as he did last night — by closing with "Get You," even if, like myself, you're not in love or in a relationship.