If you're anything like me, the holiday season is a double-edged sword: You love your family, but the novelty of seeing them in person, all in the same place, wears off eventually. Fortunately for me, I come from a long line of social drinkers, so self-medication is de rigueur at family gatherings. To be sure, there's a delicate line between having a good time and having a problem, but I've always appreciated a little anesthesia while spending time with my nearest and dearest.
For some people, when it comes to holiday booze, subtlety is key, and for others, festive cocktails are a requirement to help set the mood. With that in mind, I asked some local bartenders for seasonable drink recipes that pack a punch so you can put on a numb, happy face to hide all those emotions seething under your sweater.
Room 389 (389 Grand Ave., Oakland), a cozy Grand Lake district standby with a laidback vibe that attracts a diverse crowd of locals throughout the week, has a healthy spread of warm drinks to suit the colder temperatures. The bar serves as a popular holiday refuge, according to bar manager Nick White: "First things first, as soon as the holiday dinner is over, you have to go find a bar to go to. Room 389 is famous for the night before Thanksgiving. … We really have a good time." Room 389's seasonal offerings are split between alcoholic cafe drinks, available from the baristas at the front of the bar until 3:00 p.m., and bar drinks, which become available once the service changes after the cafe closes.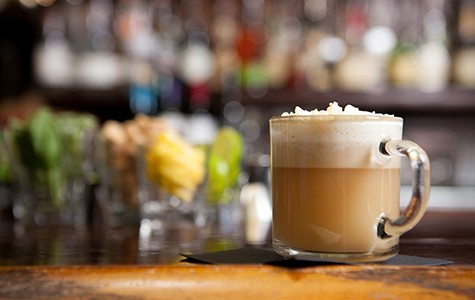 At East Bay Spice Company (2134 Oxford St., Berkeley), the cold-weather cocktail menu is called "Sweater Weather," and it brings the bar's signature Indian-inflected style to warm booze standbys like toddies and ciders. "We don't try to reinvent the wheel," general manager Jared Berry said. "What we try to do is take things you really, really like and present them in a new way." This season's list includes a Classic Spiced Toddy, whose standard-issue name belies the drink's bright, ginger-infused zest, as well as a Garam Masala Buttered Rum that uses culinary spices to make a classic drink even more savory and soul-warming.
Depending on how long you have stay in the same building as your kith and kin, things may become desperate. J.J. Jenkins, owner of Merchant's Saloon (401 2nd St., Oakland), has cultivated a stable of drinks designed for just such an occasion. Their names describe the feelings of angst that a grueling day spent with family can inspire: The Rotten Apple and Festering Scab sound like the kind of cruel nicknames only a sibling could invent, while the Black Eye offers a vision of what can happen when the holidays go on a little too long.
Room 389 Hot Apple Cider
This is the same recipe that Nick White makes for his own family gatherings, and he swears by its comforting aroma. Although Room 389 uses a custom spice blend made by Oaktown Spice Shop, White told me that Oaktown's standard mulling spices (available in-store or online) are an excellent substitute.
• Simmer apple cider with mulling spices slow and low to make the base for this drink, being careful not to cook the mixture. Room 389's bar staffers begin to simmer the cider before the bar opens, which infuses the drink with a deep, warming flavor.
• Add Mount Gay Black Barrel Rum to each mug as you serve the cider so the alcohol doesn't cook off.
Hot Buttered Rum
This is a classic take on the recipe — the one twist is the addition of vanilla bean ice cream (pioneered by co-owner Jamie Bernal), which gives the butter-spice mixture a creamy consistency. Room 389 tops it all off with its house-made salted caramel whipped cream.
• To make butter-spice mixture, combine:
1 pound of unsalted butter, softened
1 pound of white sugar
1 pound of brown sugar
Cinnamon and nutmeg
Vanilla ice cream to taste
Keep refrigerated.
—To serve, combine in a mug:
2 tablespoons of butter-spice mixture
2 shots of Sailor Jerry's Spiced Rum
Fill with hot water and stir.
Irish Cappuccino
This is one of several variants on Irish Coffee offered at Room 389, and it's perhaps the most unique. However, it's important to note that this drink is only available during cafe hours; after 3 p.m., you'll have to order the (still very good) Irish Coffee, which is made with Room 389's custom coffee blend, sourced from Bicycle Coffee.
• Steam together:
1 ounce of Jameson Irish Whiskey
1 ounce of Baileys Irish Cream
Milk
• Add espresso and top with whipped cream.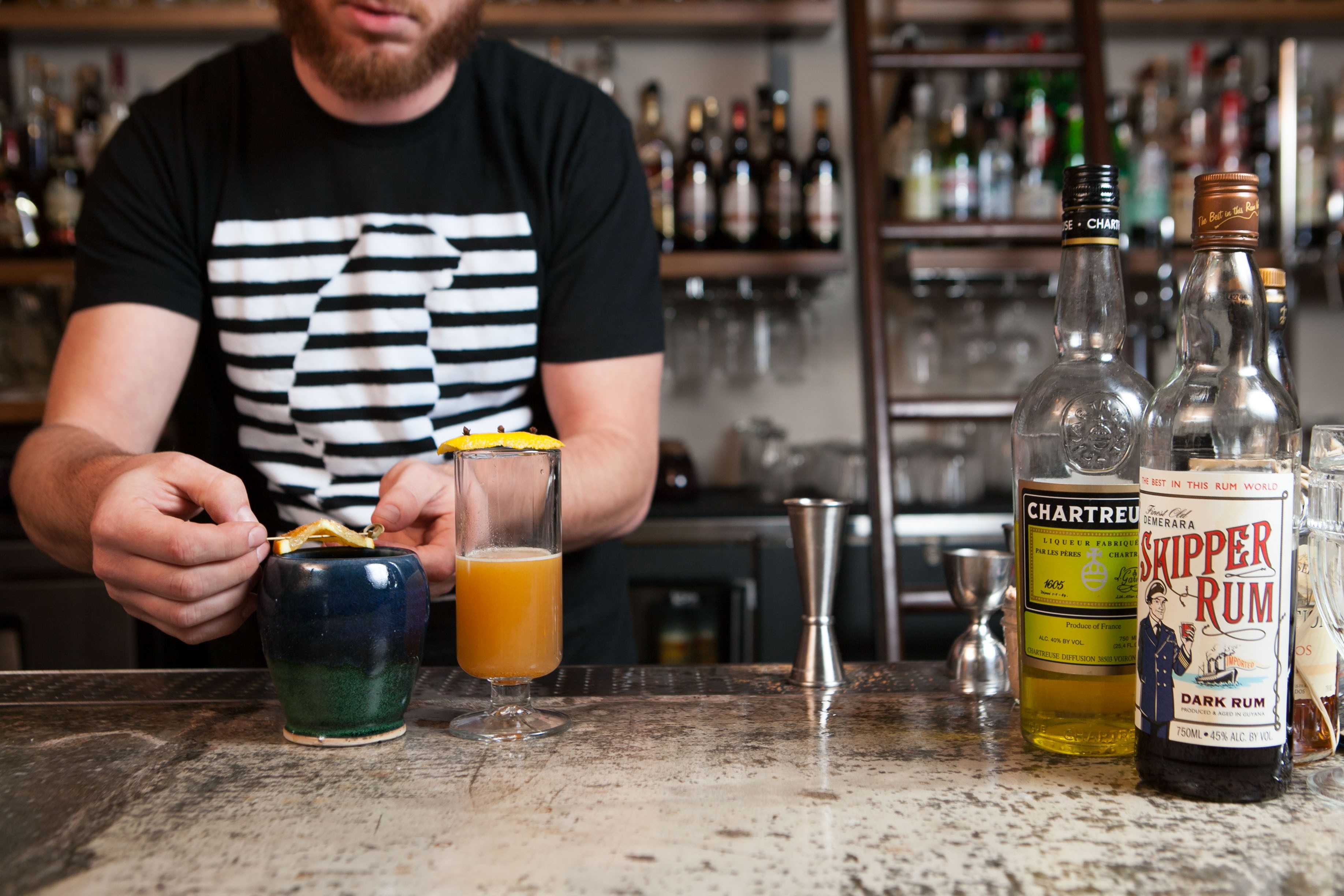 East Bay Spice Company Classic Spiced Toddy
The Hot Toddy fulfills a variety of needs, from after-dinner treat to cold remedy, but this version takes the drink to new heights with the addition of house-made ginger syrup made with equal parts by weight of fresh-pressed ginger root and white sugar.
• Combine in a mug:
1 ounce of Skipper Dark Rum
1 ounce of Evan Williams bourbon
0.5 ounces of ginger syrup
0.5 ounces of lemon juice
0.75 ounces of Demerara sugar syrup
0.75 ounces of honey syrup.
• Pre-mix, then fill the mug with hot water and serve.
Garam Masala Buttered Rum
This recipe makes use of culinary spices that Berry calls "intrinsically warming," including Garam Masala and Cayenne pepper. These are added to the butter-spice mix along with Angostura bitters and salt.
• Combine in a mug:
2 ounces of Plantation Barbados 5 Year Rum
0.25 ounces of Yellow Chartreuse
0.75 ounces of cinnamon syrup
0.75 ounces of lemon juice
1 big scoop of Masala Butter spice mix.
• Stir and add hot water to the top.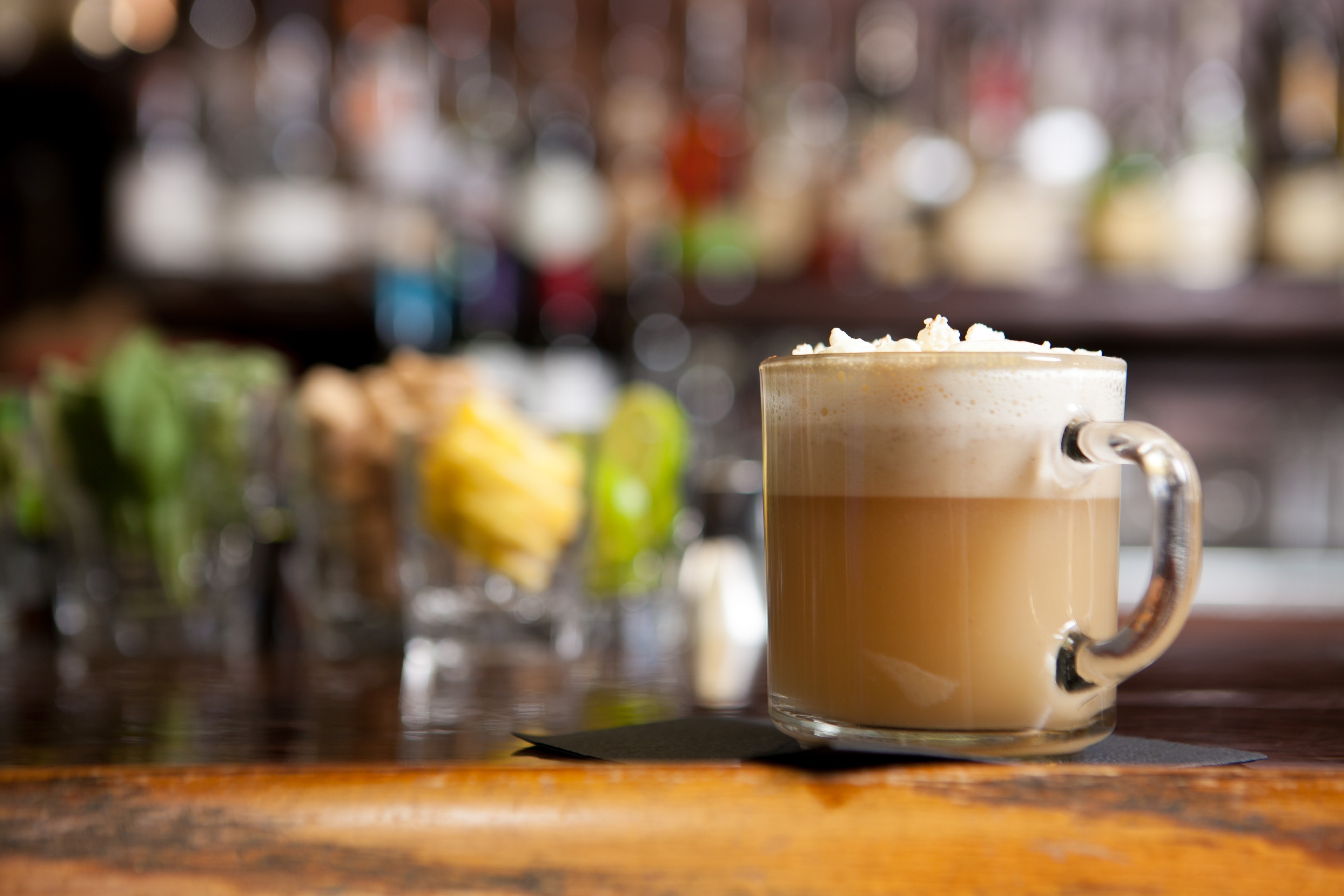 Merchant's Saloon Rotten Apple
This cocktail, another trademark at Merchant's, is a tougher take on the Washington Apple. Using the same flavors as the original, the Rotten Apple's distinction lies in its extremely high alcohol content, which can be useful for taking the edge off very, very quickly.
• Combine in a highball glass with ice:
2 counts of the highest-proof whiskey available (Jenkins used to use 103-proof Fighting Cock Bourbon)
1 count of DeKuyper Sour Apple Pucker Schnapps
1 count of cranberry juice.
• Top with a float of Bacardi 151 Rum
Festering Scab
"I know it sounds disgusting," Jenkins said. "But it's one of the best tasting ones." This cocktail is made to look the way it sounds, like a week-old wound being disinfected with some of the strongest hooch around.
• Combine in a glass:
1 part Everclear
1 part egg drop soup.
• Top with bacon bits.
Black Eye
This is the perfect drink if you really want to check out (as in, fall asleep on the couch between courses of the holiday meal). Best of all, it's very easy to make!
• Combine in a glass:
Equal parts Jägermeister and Nyquil.
Merchant's also serves The Turkey Colada during the holiday season. Foregoing the delicate language so common in today's cocktail scene, Jenkins describes this Merchant's staple as a "bastardization of a piña." While he wouldn't divulge the exact recipe, he did tell me that the Turkey Colada includes stuffing and cranberry sauce, which has to be put in a blender unless you have boba straws handy. If you feel ambitious and end up with leftover turkey fixings, it might be fun to try and recreate this unholy union of sweet and savory, but I recommend going into Merchant's to try the real thing. Indeed, all of these recipes are best in their natural habitat, where the barroom setting will provide a totally different experience from drinking at home, and perhaps a welcome respite from the holiday dinner table.