Oakland's first "cat cafe" is no longer just a well-funded dream project of two local animal lovers. Cat Town Cafe — where people will be able to play with cats and drink coffee under one roof — announced today that it has secured a permanent home in Oakland and plans to open its doors in September. Adam Myatt, also known as the Cat Man of West Oakland, told me that Cat Town Cafe will officially be signing a lease later this afternoon for a 2,200-square-foot space at 2869 Broadway, at the corner of 29th Street in Uptown Oakland. (Eater SF first reported the news today).
"I'm incredibly, horrifyingly excited," said Myatt, who is taking on the cafe project with Ann Dunn, founder and president of local rescue organization Cat Town.
[jump]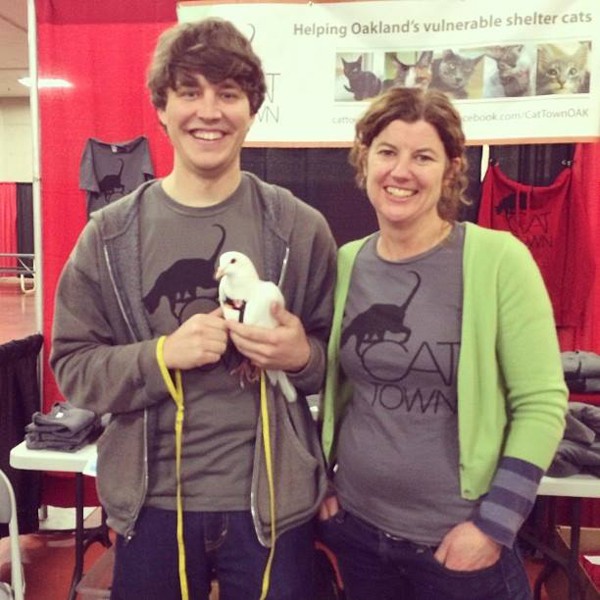 Courtesy of Myatt
Adam Myatt and Ann Dunn.
Myatt said construction will start immediately at the space, which has apparently been vacant for some time but previously housed an office supply store and, prior to that, was home to a dance studio.
Now, 2869 Broadway will have cats and tea. Based on its Indiegogo success — more than 500 funders raised $40,000 total earlier this year — it's likely to be quite popular. The cafe is also in a great location near Oakland's Auto Row, which has experienced a surge in activity over the last year.
Cat Town Cafe is about more than petting cats. The central goal of the project is to help facilitate adoptions, in line with the mission of Cat Town, which helps find homes for vulnerable cats and kittens who may otherwise be euthanized; the rescues come from Oakland Animal Services, the city-run shelter that has been plagued by understaffing and a lack of resources.
Here's how we described the cafe's planned operations when Myatt and Dunn first announced the project back in January:
Unlike many cat cafes around the world, whose main purpose is to allow humans to pet cats (often for a fee), Cat Town Cafe's main goal will be to facilitate adoptions. Dunn said they'll work with Oakland Animal Services to identify socialized, highly adoptable cats that will live at the cafe, cage-free, attended to by staff and volunteers. The space will be divided into two separate areas: a cat-free cafe, which will sell coffee, espresso drinks, and, potentially, food prepared off-site; and the "cat zone," which will take up the majority of the space and will allow humans to play with the felines. Although the goal is to encourage adoptions, Myatt said he also wants the space to be a "playland for cats."
And here's a sneak peek at the new space via Myatt's popular "Hoodcats" Instagram account: