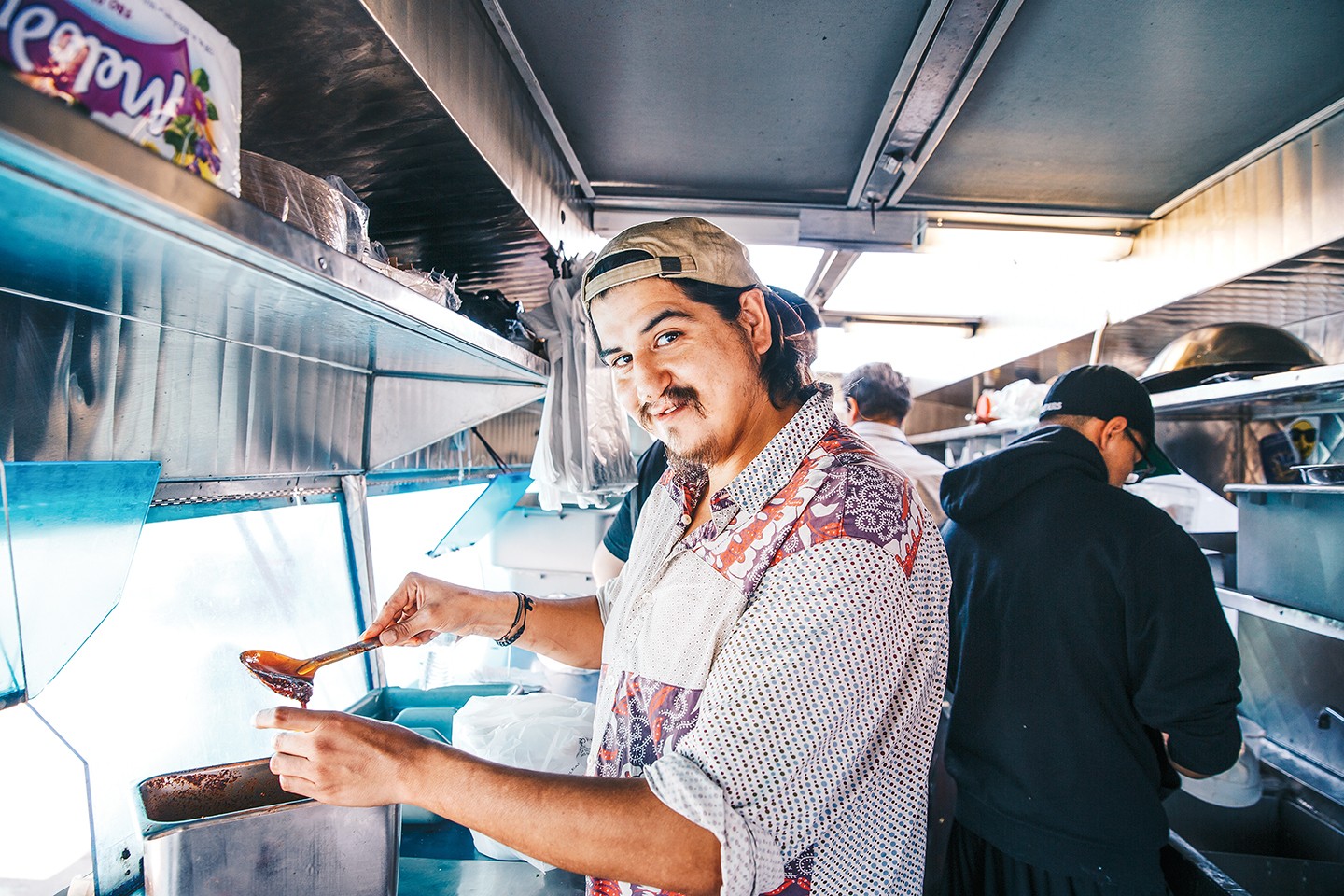 While most people are still sound asleep, Enrique Soriano is already getting ready for a busy weekend. His Saturdays and Sundays usually begin at 3 a.m., preparing food that he'll sell at his truck later that day. The pots, pans, and grill need to be piping hot by the time his hungry clients start showing up at 7 a.m.
Although demanding, this weekend ritual is one that Enrique truly enjoys. He is, after all, carrying on the Soriano family business name in an increasingly competitive Oakland food scene — and trying to cement his place in the rapidly changing Fruitvale district.
Enrique recently took over his parents' food truck, Tacos Los Michoacanos, located at the corner of International Boulevard and 35th Avenue. Do not let the name fool you, as this is no ordinary taco truck. It's only open on weekends, and instead of the usual menu of tacos, tortas, and burritos, you will only find two items here: birria and menudo.
Los Michoacanos has been around in the Fruitvale for more than 20 years, thanks to its faithful clientele. While Enrique is now behind the counter, most of his clients remember him and his siblings from when they were little kids helping their parents clear tables and ensure the surrounding areas were clean.
"The secret to stay afloat [is] we are so connected to the community," Enrique said. "People know us."
Enrique owes his "hustling" mentality to his parents, Enriqueta and Flaviano Soriano, who emigrated from Michoacán, Mexico, in the '70s. Both his mom and dad have always been business-oriented. One of their first ventures upon arriving to the United States was selling homemade clothing at the Coliseum Flea Market. From there, they opened a retail shop on International Boulevard at 31st Avenue. Thanks to their clothing business, they could afford to buy the taco truck. Enriqueta still operates a clothing store that specializes in quinceañera, baptism, first communion, and weddings gowns just a block away from the food truck.
The Sorianos are part of the original group of Oakland taco truck pioneers. In fact, back in the '90s, Los Michoacanos was only the third truck in Fruitvale that would stay open late, allowing for partygoers to get their food fix after a night of fun in San Francisco. Flaviano became a well-known figure among musicians touring the East Bay; they were some of his most loyal visitors whenever they came through the area.


[pullquote-1]
An unfortunate incident changed this schedule. Flaviano was robbed at gunpoint, and in thinking of his family's safety, he decided that it was best to start closing the truck earlier.
Another change came when the economy crashed in 2008. Business slowed down dramatically, but rather than give up on the taco truck, the family decided to shift business models. That's when their menu changed from the typical selection of tacos, burritos, and tortas to a weekend menu consisting only of birria and menudo.
They were not sure if this shift would pan out, or if they would have to close or sell the truck. But they decided that it was worth the risk.
Since then, business has boomed. Their clientele includes Oakland families who have been customers since the truck first opened as well as people who drive from Modesto, Vallejo, and as far away as Los Angeles just to taste the famous birria and menudo. The truck sells out regularly every weekend, and if you come after 8:30 a.m., expect a long line. The lot where the truck is located allows for communal-style tables and chairs where customers can comfortably sit down to enjoy their food.
What makes the family's birria — a spicy stew made from goat, carefully marinated with spices and simmered for more than three hours — and menudo — a velvety soup made with beef tripe, stomach, tendons, and feet, blended with a mellow red chili — stand out are the homemade tortillas and Michoacán-specific style.
Enrique gleams with pride over the family business. He is determined to elevate the business model so the truck can continue being successful, despite a growing and rapid change in the neighborhood.
"I want to start serving accessible organic food in the Fruitvale to Latinos," he explained. "I feel like I can do that better than my parents."
He sees the food truck as an opportunity to introduce organic, local, and sustainable food to the Latinx community — food that is rarely available at local restaurants in the Fruitvale. He says organic businesses don't cater to people of color, and he wants to change that.
That's why waking up at the crack of dawn will never be a burden for Enrique. To the contrary, the early mornings will continue to serve as an opportunity to keep pursuing his vision — educating the Latinx community and preserving the roots set forth by his parents — despite the changing landscape of his neighborhood.
"Fruitvale is ground zero for gentrification," Enrique said. "I want to make sure that I carry on with my family legacy."