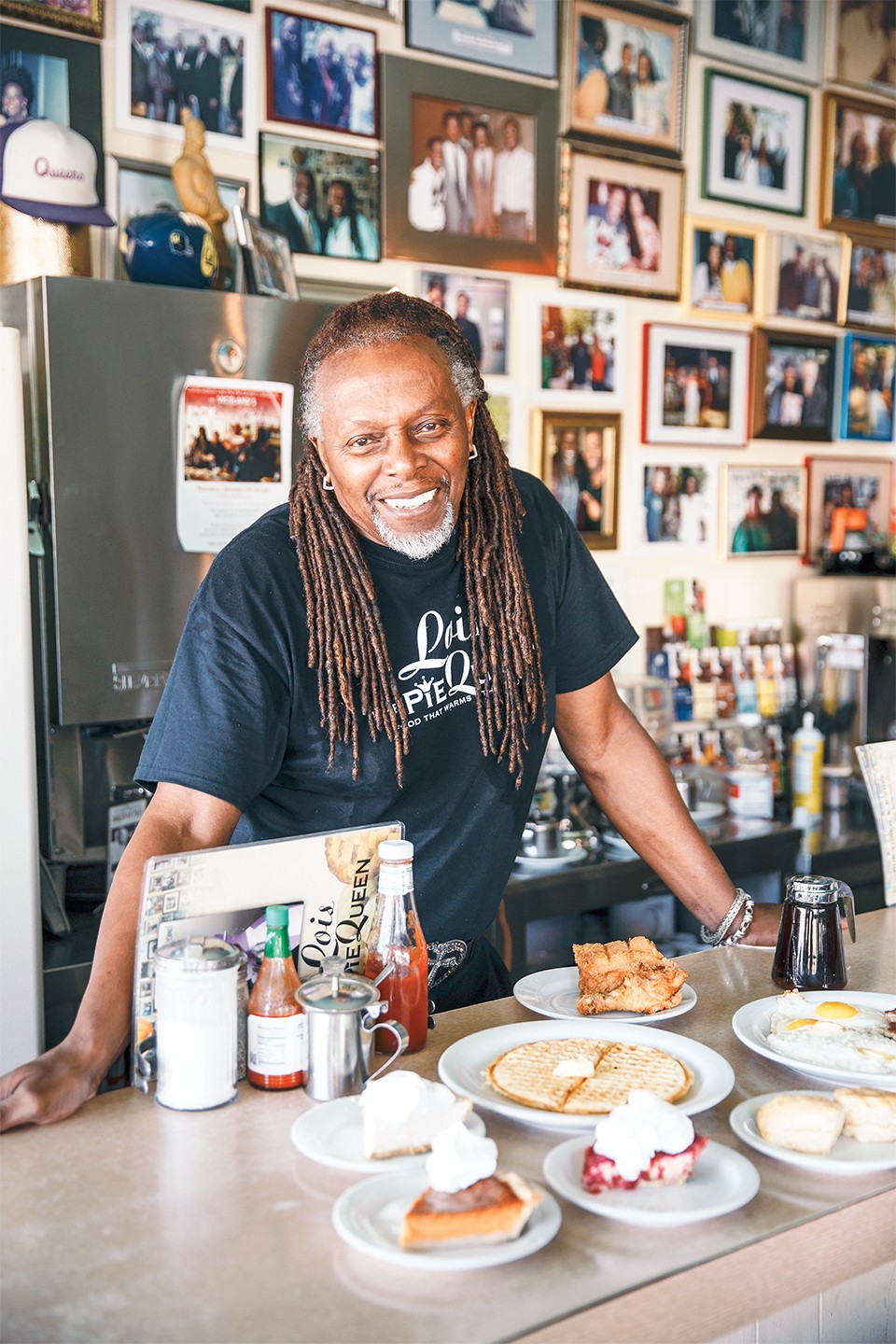 Brunch is one of those meals that feels obscenely American. Maybe it's the enormous portions: the pancakes, eggs, bacon, and hash browns piled onto one plate. Maybe it's the long lines, a testament to our persevering spirit. Or maybe it's that we hate deciding between coffee and booze, and brunch is a prime excuse to order both at the same time.
There are a lot of brunch spots in the East Bay that have been around for decades. Perhaps it's tied up in nostalgia or our American identity or whatever, but these restaurants have lasted for a good reason and remain as popular as ever. Here's a non-exhaustive list of some of our favorites, listed in chronological order.
Ole's Waffle Shop
Let's be honest. Ole's doesn't make the best waffles in the Bay Area, but people line up down the block for them every day anyway. With its neon signage, brown leather booths, and old-fashioned friendliness, the downtown Alameda spot is most fun for offering a charming time warp all the way back to 1927. The classic American diner menu has barely budged over the years, though the owners have gotten on the branding bandwagon recently. Now you can buy Ole's coffee, Ole's waffle mix, and even an Ole's version of Dutch stroopwafels. Pro tip: The morning wait times are intense, but Ole's serves breakfast all day.
1507 Park St., Alameda, 510-522-8108, Facebook.com/oleswaffleshop
Lois the Pie Queen
This institution's story goes back to 1951. Lois Davis started making pies for her church, which proved so popular that she opened up a brick-and-mortar in Berkeley. Lois the Pie Queen has since moved to North Oakland, and these days, her son Chris runs the show. Even without Lois, the place continues to churn out wonderful pecan waffles, fried chicken, and other Southern brunch favorites — all of which recently nabbed a shout-out on Action Bronson's show Fuck, That's Delicious. Don't be a fool and leave without a slice of pie.
851 60th St., Oakland, 510-658-5616, Facebook.com/lois-the-pie-queen-118166941529472
Royal Cafe
Royal Cafe manages to balance kitsch with taste, showcasing all kinds of vintage memorabilia: a jukebox, a typewriter, '60s Coca Cola ads, and even old kitchen appliances. The Albany brunch favorite opened in 1973 and feels like a true neighborhood staple, with its hormone-free chicken, organic tofu, and house-smoked bacon. Bready brunch items like banana coconut pancakes and cinnamon-swirl French toast are lovely, but you also shouldn't miss the simple currant scone paired with lemon curd.
811 San Pablo Ave., Albany, 510-525-6066, RoyalCafeAlbany.com
Mama's Royal Cafe
Last year, longtime owner George Marino announced his intention to sell Mama's Royal Cafe. Fortunately, the notorious breakfast spot continues to thrive as it has since 1974. The sale should officially happen any day now, and the new owners don't plan on making any significant changes soon. That means the menu remains enormous and eclectic, with diner basics as well as breakfast burritos, croque madames, and intriguing farm-to-table specials that change every week. Mama's inclusion of Spam hasn't gone anywhere. And the space still feels funky, with vintage knickknacks and napkin art on display. Thank goodness.
4012 Broadway, Oakland, 510-547-7600, MamasRoyalCafeOakland.com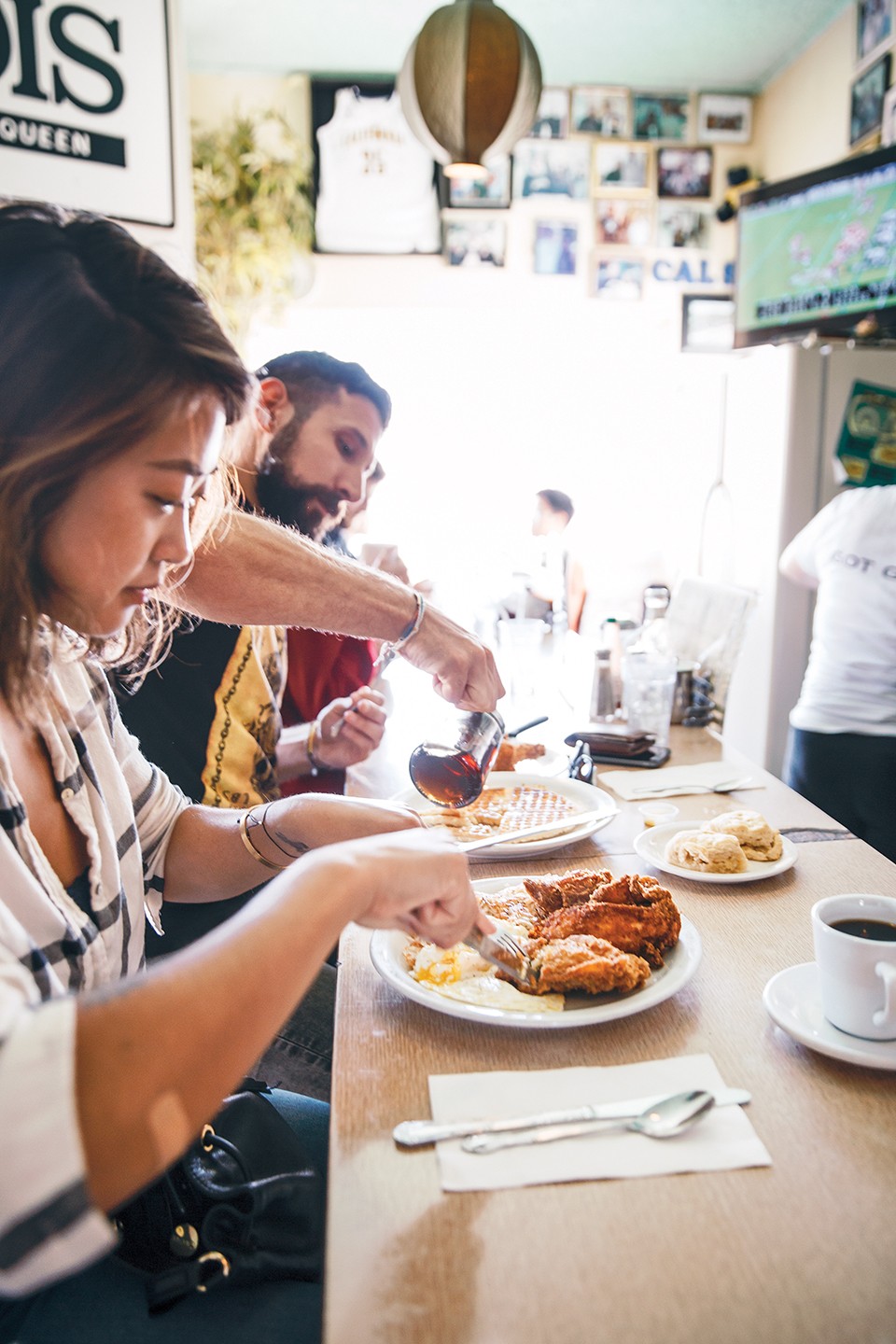 Bette's Oceanview Diner
Bette Kroening died earlier this year, but her beloved diner is still family-run and plugging along. Though Alice Waters gets all the credit, Kroening also focused on sustainably farmed ingredients at a time when few people cared — 1982, to be exact. With black-and-white tiled floors and a jukebox that's always on blast, Bette's provides the old-school atmosphere along with diner basics. But unique items like the soufflé pancake (a cloud-like, baked version studded with fruit) and house-made scrapple (a Pennsylvanian-Dutch creation of pork scraps and cornmeal) keep the crowds coming back.   
1807 Fourth St., Berkeley, 510-644-3230, BettesDiner.com
Marti's Place
Going to Marti's feels like brunching at your grandma's house. There's tacky wallpaper, frilly curtains, adorable knickknacks, and what seems like hundreds of mismatched mugs performing both functional and decorative purposes. It looks like it opened long before 1986. Marti's does egg dishes well, but the main attraction is the Swedish pancakes. They're super thin, similar to French crepes, and come covered in melted butter and powdered sugar with a side of tart lingonberry jam.
1905 ½ Encinal Ave., Alameda, 510-521-4600
Rick and Ann's Restaurant
You've probably seen the lines across the street from the Claremont Club & Spa on weekends. The culprits are Rick and Ann Lauer, who have been dishing out wonderful brunch staples since 1989. It's hard to go wrong with the challah French toast, potato-cheese pancakes, or the Red Flannel Hash, which gets its vibrant hue from beets. But the scrambled egg dishes show the kitchen's finesse. They're prepared in a wet, custardy style, with zero danger of rubbery edges. The baked goods are no afterthought, either.  
2922 Domingo Ave., Berkeley, 510-649-8538, RickandAnns.com
La Note Restaurant
The relatively young La Note is distinguished for its French techniques, beautifully restored historic building, and floral back patio. It was an immediate hit when it opened in 1998 and remains one of the most enduringly popular brunch spots in the Bay Area. Do yourself a favor and go with a group, sit in the yellow-and-brick courtyard, and split a basket of flaky pastries before your meal formally begins. The pancakes are particularly good: fluffy and delicate with intriguing flavor profiles, such as crème fraiche, lemon gingerbread with poached pears, and oatmeal raspberry.
2377 Shattuck Ave., Berkeley, 510-843-1525, LaNoteRestaurant.com