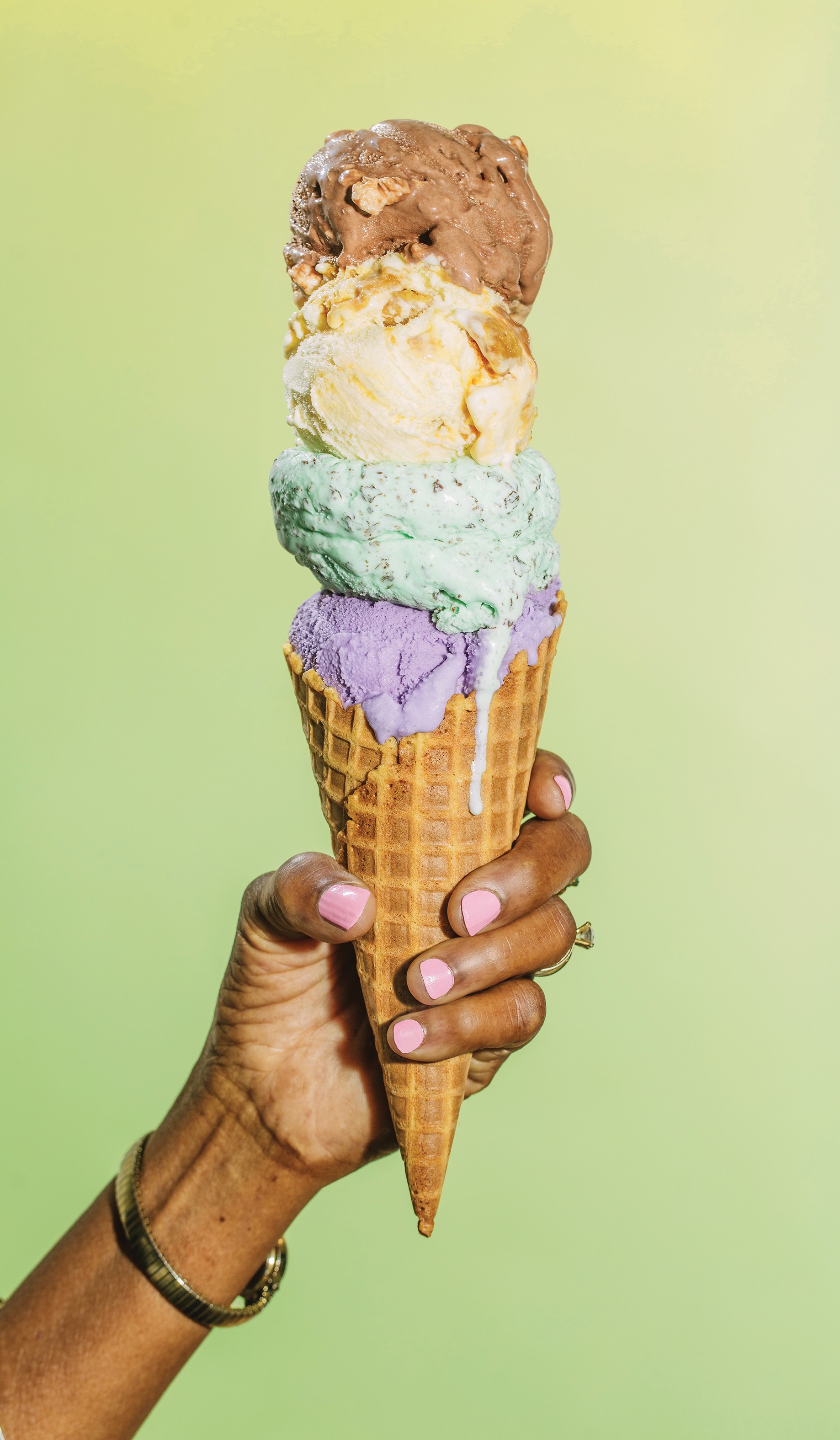 Fentons Creamery
Back in 1884, Elbridge Seth Fenton launched Fentons as a straight-up creamery, delivering milk to Oaklanders by horse-drawn wagon. It was his grandson Melvin who would eventually encourage ice cream production, and the family added a restaurant and soda fountain in 1922. Of course, Fentons changed ownership and locations and it's no longer in the Fenton family, but Melvin's original recipes for the likes of Toasted Almond and Rocky Road ice creams are still in use today. Speaking of Rocky Road, Fentons claims to have invented the flavor during the Great Depression, even though Dreyer's gets all the glory.
4226 Piedmont Ave., Oakland, 510-658-7000, FentonsCreamery.com
Tucker's Super Creamed Ice Cream
Perhaps more than any other longtime ice cream shop, Tucker's innovates with interesting, seasonal flavors year round. The downtown Alameda destination offers more than 30 flavors at a time, with past specials including bleu cheese, zinfandel, and jalapeno. The perennial new favorite, though, is salted butter caramel — something that definitely didn't exist when it opened in 1941. In 1990, it moved into the spacious parlor it currently enjoys, with vaulted ceilings, an outdoor patio, and plenty of seating for youth soccer teams to celebrate their victories.
1349 Park St., Alameda, 510-522-4960, TuckersIceCream.com
Loard's
Dreyer's is technically a local company, but we tend to ignore it when we think of East Bay ice cream chains in favor of the much less corporate Loard's, which started out in 1950 in Oakland's Dimond district. Over the next 20 years, founder Russ Salyards expanded to nearly a dozen stores and a production facility in San Leandro. The first location at 2825 MacArthur Blvd. is still alive, along with that production facility and nearly 20 more shops throughout Northern California, including in Alameda and San Leandro. Some stores stock up to 50 flavors at a time, but regardless of location, chocolate mint is always among the most popular.
various locations, 510-351-4131, Loards.com
Clancy's Ice Cream Parlour
From the outside, Clancy's looks a bit like a portal into a Twin Peaks-esque dimension. It's dark and lonely, with bars on the windows and a sea of parking spots out front. And inside, the place gets trippier — in a good way. The yellowing, shamrock wallpaper is covered with old maps of Ireland, war depictions, and the sort of glass lamp fixtures you'd find in an Irish pub. Otherwise, there's nothing Irish about the shop's history or the ice cream. Opened in 1975, Clancy's serves your standard flavors in giant portions. One scoop costs less than $3 and is easily the size of two at new hipster spots. Kids love the ube (purple yam) for its neon purple color; parents love it for its not-too-sweet, mild flavor.
1234 Manor Blvd., San Leandro, 510-352-5422
Honorable Mention: Yogurt Park
We can't talk about frozen treats in the East Bay without at least mentioning Yogurt Park. Marty Piscovich opened Yogurt Park in 1977, long before fro-yo was called "fro-yo" and self-serve shops became the standard. Piscovich slowly expanded to five locations, but wound up selling or closing all of them except the original Berkeley shop, which he still runs alongside his son Ryan. For the past 15 years, Piscovich has been working with Dannon to make its extra dense, creamy flavors, which are more ice cream-like than any other frozen yogurt in the region. Six options are available each day: chocolate and vanilla are perennial favorites, but among the four rotating slots, Thin Mint cookie and cookies and cream reign supreme.
2433 Durant Ave., Ste. A, Berkeley, 510-549-0570, YogurtPark.com