The likelihood of California cannabis legalization increased dramatically Saturday night when the leading initiative — the Adult Use of Marijuana Act — garnered crucial endorsements from community leader Tim Blake, organizer of the world's biggest outdoor organic cannabis competition, The Emerald Cup.
"You know what, I'm going to endorse this thing," Blake said, to a mix of applause and outrage among activists assembled for a legalization debate at the Cup in Sonoma County.
A united effort to legalize adult use cannabis in California has a 55-percent chance to succeed in 2016,
experts conclude
, while an effort fractured by in-fighting would almost certainly fail.
AUMA's official proponents are noted physician Donald Lyman and environmentalist Michael Sutton, and the proposal is rapidly gaining momentum.
Leading reform groups Marijuana Policy Project, Drug Policy Alliance, and the California Cannabis Industry Association have endorsed the measure.
Last week, rival group ReformCA
withdrew from the race
, with at least six ReformCA board members endorsing AUMA.
One of the cultivation's community's biggest leaders, Blake, joined them Saturday — stating that AUMA is the only chance for progress in 2016. No other group has the funds or coalition to run a winning initiative in 2016, he said. Ten groups have filed initiatives.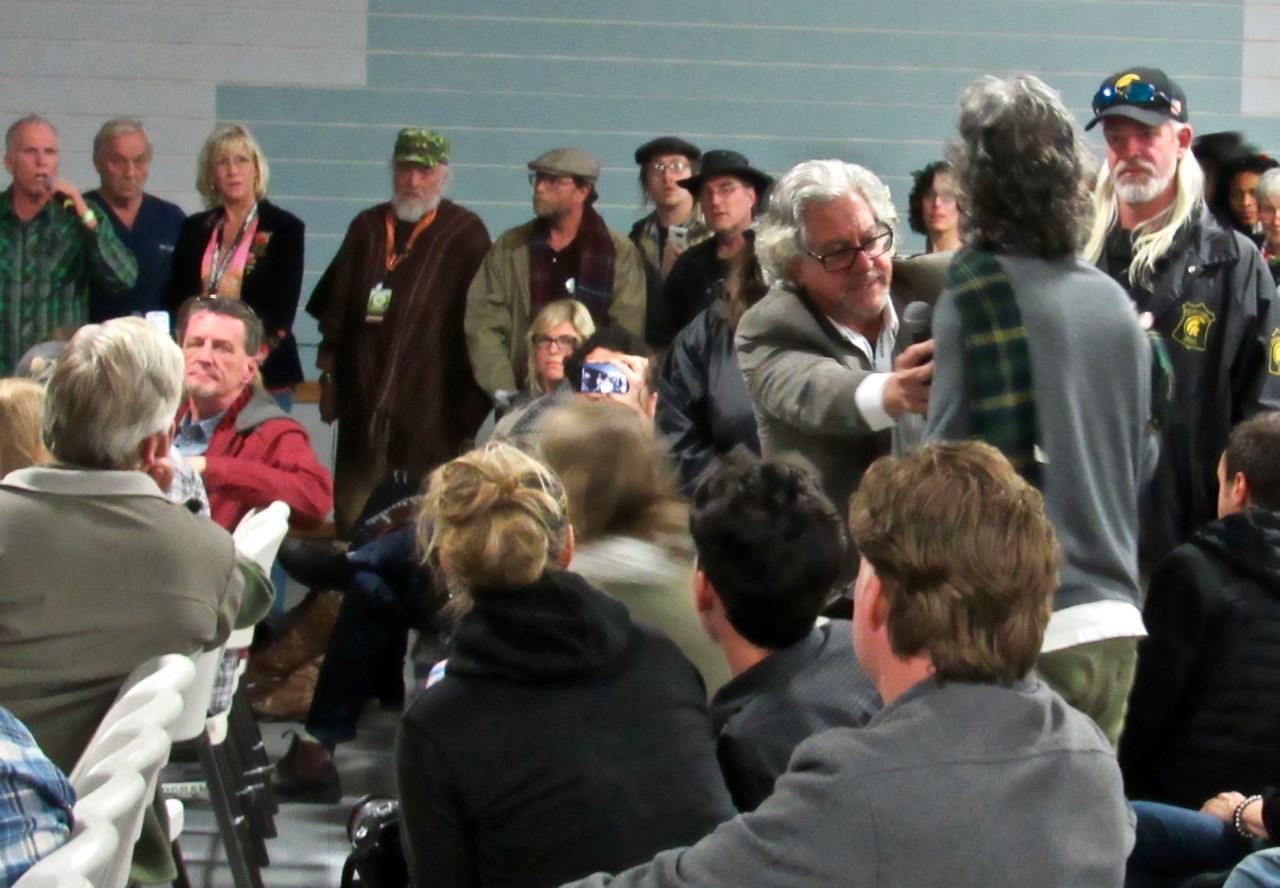 "I'm for an initiative where we should get more, but … you're still dealing with the cops and the
counties that want to opt in and out
, the Chambers of Commerce, and all those people and they're not going to bend," he said.
"So then it comes down to, 'those [other groups] don't have a chance.' I like them, [but] … they don't have a chance in the next ten years to get it done.
"We have a chance right now to do this, and I'm not thrilled with some of the aspects," he continued. "But I'm going to end up endorsing this. "
[jump] Blake said he will await a title and summary for AUMA "before I finalize that, but I'm going to endorse this, because we're going to stop the people raiding people. We're going to make this legal."
Scattered applause met Blake's comments. About half of the audience polled said they would vote for AUMA. Half of the die-hard cannabis crowd did not.
San Jose activist Kevin Saunders, working for a rival legalization camp, stood up and shouted at Blake "your credibility is at stake! One ounce?! Six plants?! This is a giveaway!" he said, referring to the
personal possession and cultivation limits in AUMA
.
Attorney Matt Kumin jumped down from the stage to help escort Saunders away from the debate.
California Cannabis Industry Association Executive Director Nate Bradley said incremental reform will win the day. "We're not going to get everything all at once," he said. "[AUMA] is not perfect. It's right in the middle."
Competing initiative writer and Sacramento attorney George Mull also voiced his grudging support for AUMA Saturday night — leaving just a few fringe legalization groups actively opposing the initiative.
Rival legalizer Dave Hodges of San Jose said he will wait to see the official title and summary for AUMA before endorsing it or not, but "we're going to support an initiative that moves us forward."
Hodges said his group had "no champion" with $20 million in the bank to support his alternative. "Raising money on a grassroots effort is very difficult," he said.
One word hurled around like an epithet by activists Saturday night — "Sean Parker" — a multi-billionaire technologist/philanthropist whose support ignited AUMA's lift-off and polarized some existing players. Activists said they don't know Parker, fear his intentions, or just feel left out of the historic process.
Kumin said the multibillion-dollar cannabis industry had a decade to get organized and fund a more liberal alternative and can only blame itself.
"You could have gone out into your backyards and dug up the millions of dollars you have buried out there, but you didn't," he said.
"It's not child's play here, you guys," said Kumin. "You need the money."
Kumin asked for a show of hands of who would give $1,000 to an AUMA rival. One person raised their hand. "See," said Kumin. "[The community] looks like children who can't cut their way out of a wet paper bag."
"Bottom line is George [Mull] and Dave [Hodges]," said Blake, "you know your initiatives are not going to go through. This is the only initiative that has a chance."
###
In other news, the California Attorney General estimates that adult use legalization could generate up to
$1 billion per year in tax revenue
.
The
amended text of AUMA
has also been posted to the state's website.