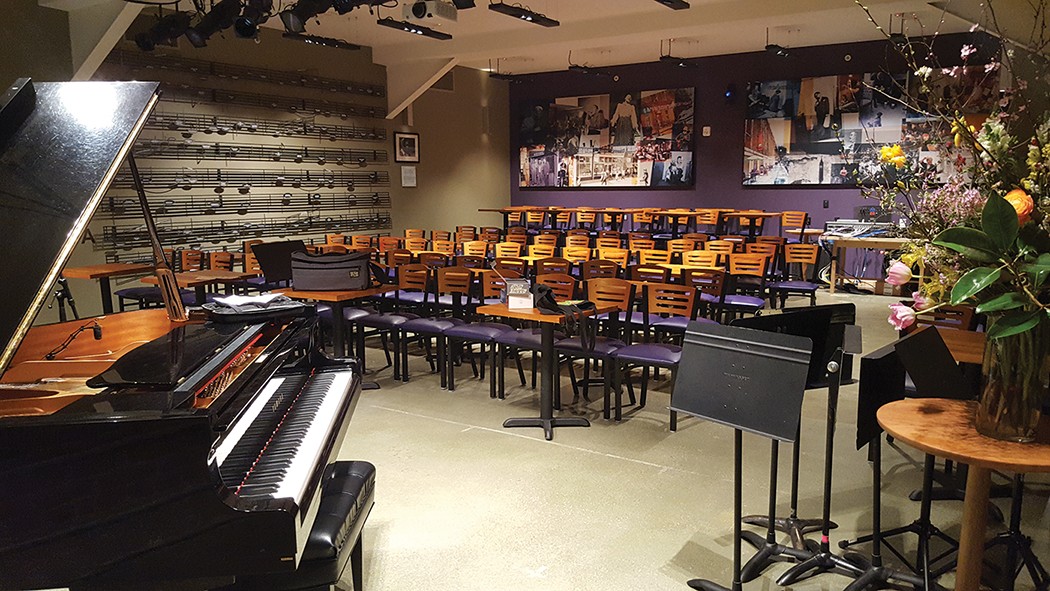 Sitting in her office at the brand new Jerry Fiddler Annex, an expansion of Berkeley's California Jazz Conservatory, Susan Muscarella lifted the phone from her desk.
"See? Still no dial tone," she said, laughing. The new expansion, located directly across the street from the CJC's original location, is still a work in progress. But even though it's only been open since the end of February, it's already given immense resources to local jazz musicians. Doubling the size of the conservatory's facilities, the addition includes new practice rooms, a student lounge, a large rehearsal space, a keyboard lab, a listening library, and a new 100-seat performance venue, Rendon Hall.
Muscarella, a jazz pianist and teacher, opened her jazz school 20 years ago. Originally located in the downtown Berkeley building that now houses country-French bistro La Note, the Jazzschool offered year-round community music classes. The school quickly outgrew the space, however, and it hasn't stopped growing since. In 2009, it attained college accreditation and became the California Jazz Conservatory. Today, the Jazzschool remains, drawing 600 students to its Addison Avenue space, located down a narrow staircase reminiscent of a basement New York jazz club. But it's the conservatory that draws students from around the world.
"We'd like to be the Juilliard of jazz on the West Coast," said Muscarella. This may seem far-fetched, but New York and New Orleans are not the only cities with a strong history of jazz. In fact, one of the first publications of the word "jazz" was in a San Francisco newspaper.
In addition to growing educational opportunities for musicians, the conservatory has a new performance space for the Bay Area jazz community. Muscarella said the CJC's parent venue, Hardymon Hall, could be noisy at times because of the bookstore upstairs, but Rendon Hall provides a more formal space, perfectly suited for quieter concerts. It's modeled in the spirit of renowned Harlem nightclub Minton's Playhouse, and showcases jazz as an art form worthy of the audience's full attention. The Electric Squeezebox Orchestra, a 17-piece ensemble that includes some faculty members of the conservatory, just began a Sunday-night residency at Rendon Hall. The band used to play regularly at Doc's Lab in North Beach, a small jazz club that closed last fall.
"We have much more space on stage than we had at Doc's Lab," said bandleader and trumpeter Erik Jekabson. "And now we're performing for a listening audience — it's more like a concert than a nightclub."
Professional spaces like these are hard to come by in today's struggling jazz scene. Yoshi's closed its San Francisco venue in 2015, and venues that used to be solely dedicated to jazz have had to switch up their programming to stay afloat. When freelance musicians do find gigs, the compensation is measly. Add to that the Bay Area's skyrocketing costs and it's essentially impossible to make a living off of playing jazz. One institution that does seem to be doing well is SFJAZZ, which borrowed from the classical music model to build a thriving institution with world-class facilities. However, many local musicians have grown frustrated with its focus on mainstream players rather than local jazz artists, according to Andrew Gilbert in the San Francisco Classical Voice. The music venue held a town hall-style discussion late last month to address complaints.
About 80 musicians gathered in the SFJAZZ Center's Miner Auditorium to express their concerns and give suggestions to a panel of SFJAZZ executives. The conversation was productive, and an initiative that focuses on funding new jazz works seems possible. More than anything, it's encouraging that SFJAZZ is willing to listen to local voices.
"It would be great if [SFJAZZ] could find ways to help support the independents and struggling locals and find a way to spread some of that largess," said Jon Herbst, program director of Jazz in the Neighborhood, which is specifically focused on supporting local jazz musicians. Trumpeter Mario Guarneri created the nonprofit in 2012 as a solution to the worsening economics of the Bay Area jazz scene. Jazz in the Neighborhood presents affordable concerts and pays musicians a guaranteed wage, ensuring they earn at least $150 per performance.
"It's much better than the tip jar and a slice of pizza," said Herbst, not quite joking about the unfair compensation jazz musicians often receive in a landscape of declining union representation and the increasing availability of free music online. The nonprofit also helps younger artists with its Emerging Artists program, offering mentoring and performance opportunities.
Jazz in the Neighborhood has been a friend of the conservatory for a while now. The program has even taken up residency at Rendon Hall on Wednesday nights. Last week, organist Midori Ono, saxophonist Lyle Link, guitarist Calvin Keys, and drummer Akira Tana performed against an exposed brick backdrop, grooving in perfect synergy to a nearly full house. Everyone was seated quietly, with some nodding their heads or nursing beers they'd purchased from the concession stand outside. But when Ono, freshly arrived on a flight from Japan, rocketed through a solo on Frank Sinatra's "Fly Me to the Moon," the crowd met her with uproarious applause. And when featured emerging artist Tom Pagano, a trumpeter and student at the conservatory, exchanged fluttering brassy words with Link's saxophone, the room turned from tame to ecstatic.
The unforgiving climate for Bay Area jazz remains, but a new venue may be just the shot of energy the community needs to survive.
"There can never be too many jazz venues, sort of like there can never be too many coffee shops," said Muscarella.
A sultry saxophone solo might not hang around as long as a coffee stain, but it's certainly more memorable. As long as people like Muscarella keep exposing the Bay Area to the niche community she's dedicated her whole life to, jazz just might have a chance.