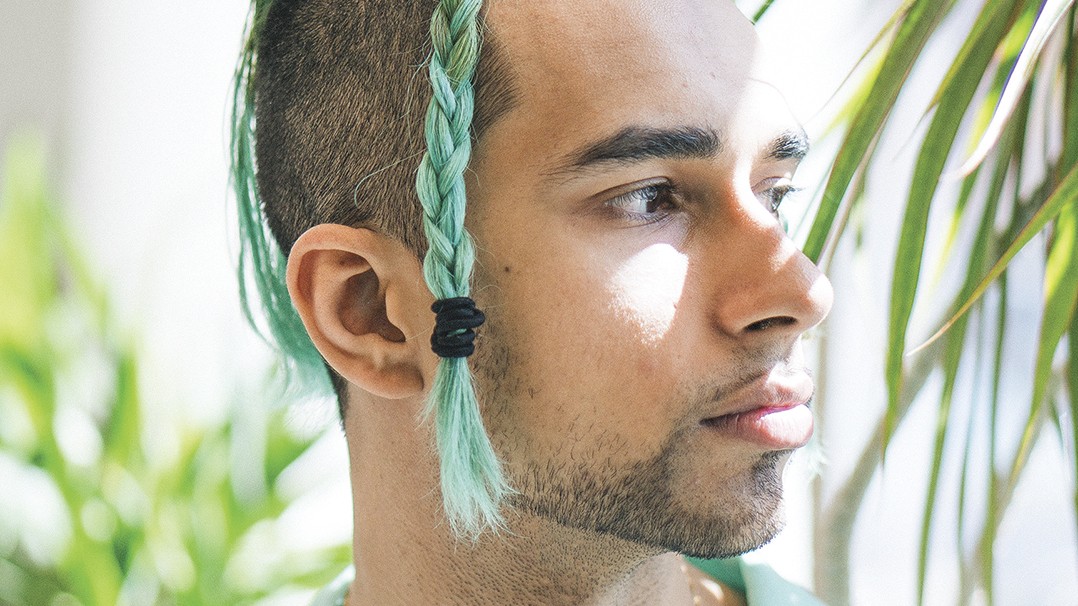 Noah Gokul grew up in what he describes as Oakland's "Funktown" neighborhood, just blocks from rapper Ezale, who created the infamous "5 minutes of Funktown" video. He listened to local rappers like Too $hort, Mistah F.A.B., and The Jacka, and started rapping himself at age 16. But while Gokul listened to hyphy with his friends on the streets, at home it was a different story: His parents played a mix of jazz, Cuban, African, reggae, dancehall, and soca music.
He admits he didn't always love the popular music of his parents' homeland, Guyana, but now the rapper and producer is embracing the many facets of his upbringing. His music, which he releases under the name Bindiram, is a fusion of his Indo-Caribbean and American upbringing — a mix of dancehall, neo-soul, and hip-hop. His forthcoming EP is full of steel drums, dancehall rhythms, and laid-back rapping.
Gokul began taking music seriously after enrolling in BUMP Records, a program of the Bay Area Video Coalition that gives students an opportunity to make their own music. Like many young artists from Oakland, he began to use music as a way to process the violence he witnessed in his neighborhood. "I started making [music] to talk about issues I was going through," he said. "I didn't see it as something I could take into the music industry back then. For the first part, it was about healing myself, because there was a lot of violence in my neighborhood. I felt like I needed to express myself, and hip-hop was my way to talk about that."
Gokul moved to Washington state, where he studied psychology at Evergreen State College. Meanwhile, he was a member of an alternative hip-hop band called Third Eye (whose name he now rolls his eyes at). "[In college] I started working with more punk and metal because that was really the influences up there in the Pacific Northwest," he said. "But I was still experimenting with blending both hip-hop and punk."
After moving around the United States, Gokul returned to the Bay Area. Now he's embracing the in-betweens of his life, part of which means coming back to his roots. With Bindiram, Gokul dreams of putting Guyana on the map by highlighting that South American country's mix of cultures. In the 1800s, Guyana was a large exporter of sugarcane, having been colonized by the British, who brought laborers from India and Trinidad to work on the farms. This created a unique music, style, and language.
But growing up in the Bay Area, Gokul had to alter his identity to be understandable in other people's narratives. "I really didn't get to identify as Guyanese growing up, besides with my family," he said. "It didn't have as much influence on my upbringing because in the Bay there are so many brown people, but very few people who were Indo-Caribbean…. Most were Punjabi or Pakistani.
"So I identified with South Asian people because I didn't really have a choice, because otherwise people wouldn't understand who I was," he continued. "So many people don't know where Guyana is and still don't, so I had to explain it like I was Indian. But I also identified with South Asians because they welcomed me into their community."
In Gokul's eyes, that kind of shared experience extends beyond South Asian cultures. "There's a huge disconnect between the groups that are in the U.S…. A lot of the ambitions of Guyanese people are education and working hard so you have enough for your own family, and that's universal. If we can tap into that — that so many immigrant families connect on that level — there would be so much more unity."
Music is one way to bring people together. Working with Caribbean rhythms and instruments like the bongo and tabla, Bindiram channels his roots into his live performance, wearing the typical hip-hop clout glasses and breezy floral shirt. "One of the biggest problems I had when performing hip-hop was that I would notice that everyone was in their heads trying to dissect my lyrics," said Gokul. "I realized that's not what I want with my music…. I want people to dance and move with me, and do everything that keeps you going. That is what Caribbean culture is about — keeping the vibes going and not worrying too much."

[embed-1]

Gokul said Caribbean sounds have been co-opted by the mainstream thanks to a few artists. "It started with Shabba Ranks, Buju Banton, and Yellowman — all these great artists that paved the way for people like Drake and created space in the mainstream for dancehall-type tracks."
But for Gokul, this sound is embedded in his culture. His tracks adopt a relaxed Guyanese sound, using a mix of digital beats and traditional instruments as the backdrop for his gentle raps.
Using music to heal continues to be important to him. As a peer counselor, Gokul runs sessions where he often uses hip-hop as a means to let others express themselves. He hopes his music will also make a difference. "I think there's a lot of need for healing this in world," he said, "and I want to contribute to that healing with something that's authentic to me, which is my music and my art."