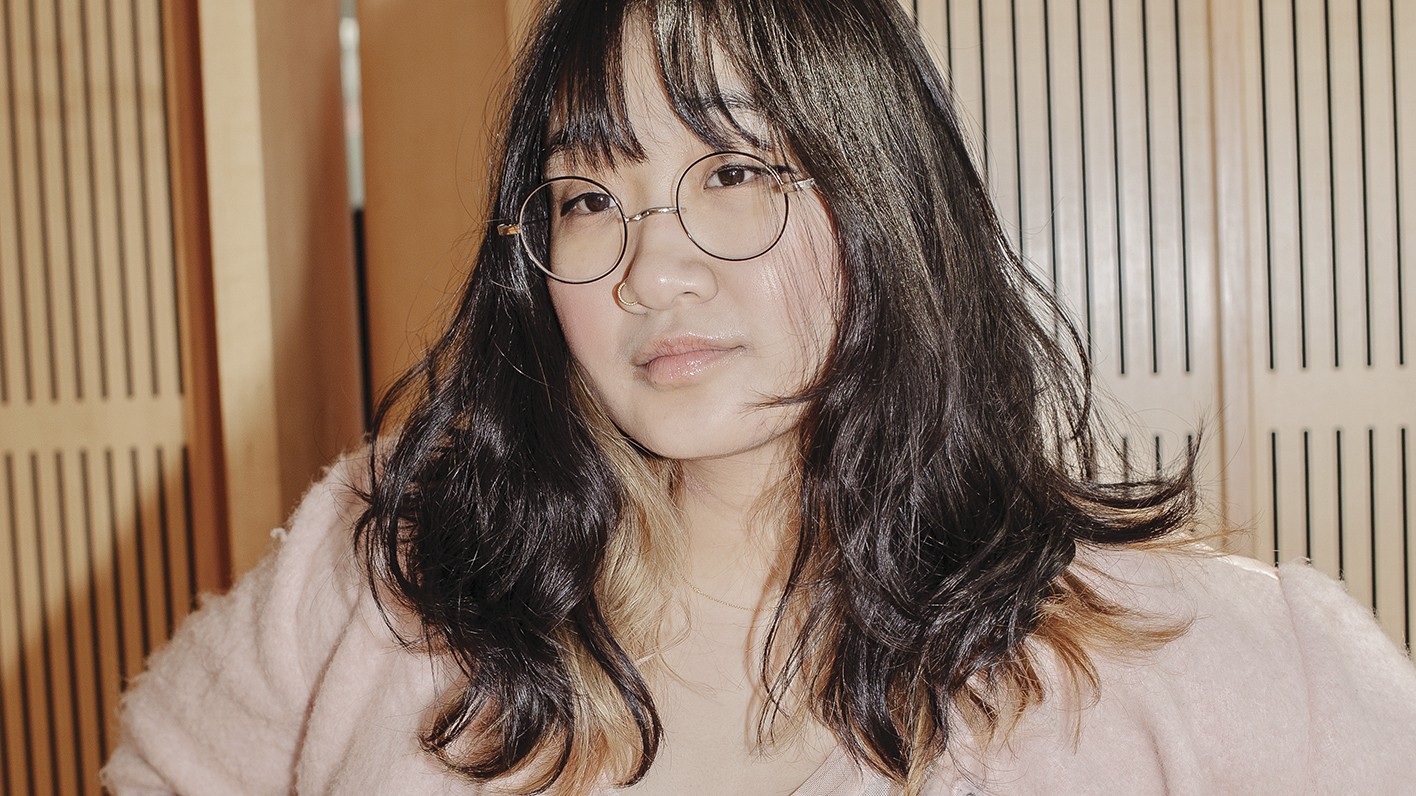 It was one of those restless Sundays, when you tuck your legs into your chest and stretch your faded Fiona Apple T-shirt over your knees while taking 20-minute breaks in between sentences for a deadline that's clawing at your back. I had finally settled into my most productive state when the sun faded away and the only light that remained was the glow of my laptop screen.
As I was perusing YouTube, a blast of deep bass suddenly emanated from my computer. On the screen in front of me was a shadowy, blazered figure riding a bicycle in a darkened Chinatown alley. The young woman in round, wire-rimmed glasses and loose-fitting white T-shirt delivered gentle vocals, mostly in Korean, but I was rapt. The song, "Drink I'm Sippin On," clearly slaps. And the responsible party is Kathy Yaeji Lee, who simply goes by Yaeji.
"Your life is a banger," she tweeted last year. This sentiment, with such economy of words, perfectly sums up what her music will do to you and for you. That night, I made my life a banger, and then I made my deadline, too. Yaeji became the official soundtrack to my dreaded graduate school application process. My 6 a.m. wake-up calls for work became a banger. The 5 p.m. traffic jams on Shattuck Avenue became a banger. De-clogging the shower drain? A banger. Braving the grocery shoppers at Berkeley Bowl? Not quite a banger, but pretty damn close.
Everything about Yaeji is unassuming, from her fashion sense to her music, and deliberately so. Her aesthetic derives from a variety of sensibilities, but altogether it's something all her own. Take the staple item in her video for "Drink I'm Sippin On": a relaxed-fit blazer with statement shoulders that exudes both the empowered working woman of the '80s and the chilled-out vibe of someone who knows the late-night plots. The back of the blazer is emblazoned with custom Korean lettering. What does it say? I'm not sure, but I like that it exists as a secret message between Yaeji and her Korean-speaking fans. (Editor's note: It's actually the Korean phonetic spelling of "drink.")
Yaeji has roots in Seoul and New York, as well as Atlanta and Japan for short stints, and to shamelessly quote her Twitter account again, she's "into it all." She's signed by godmode and produces, deejays, raps, and sings (although her background is in visual arts). In stark contrast to the cookie-cutter stars of K-pop, Yaeji is an exciting model for young Asian-American women — and for people like me, a fellow first-generation kid trying to make the clash of cultures work in her favor. So, whenever Yaeji's English lyrics melt into Korean, I don't reach for a translation app the way I might with another artist. Her music imbues a particular mood that's enough for me. The essence of what she's saying is apparent, even to non-Korean speakers.

[embed-1]
Some of her better known hits — such as "Raingurl," with the memorable cheeky line when the sweaty walls are bangin'/I don't fuck with family planning, and her soothing cover of Drake's "Passionfruit" — showcase Yaeji's range, but "Feel It Out" is the song I return to again and again. Its structure is repetitive like the tedium of a workweek and, at first, it appears to be an ode to manic Mondays when she says, open up in a new way/open up on a Monday. However, the repetition begins to comfort you and it becomes clear that this is about more than just managing workplace apathy.

The music video features Yaeji in an apartment full of appliances undergoing some sort of anthropomorphism: The kitchen stovetop flickers on and off, a houseplant shimmies across the room, and dancing pineapples take over the space. Meanwhile, Yaeji casually makes a call on a rotary phone. The way she handles the chaos, coupled with the general attitude of the song itself, suggests that Yaeji believes in embracing the tumult of it all. I'm enamored by her ability to make dance-inducing club tempos feel quiet and cozy. Whether you're reconciling with colliding cultures or experiencing an existential crisis, her music is an emollient. These days, we need that more than ever.
Yaeji performs on Wednesday, April 18, at Starline Social Club, 2236 Martin Luther King Jr. Way, Oakland (sold out), and Thursday, April 19, at 1015 Folsom, San Francisco (sold out, but waitlist available).