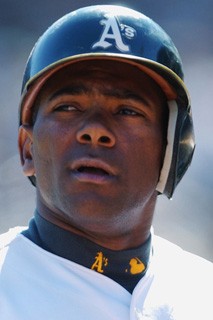 The A's have spent a full 50 seasons in Oakland, where they've earned 18 postseason berths, captured six American League titles, and won four World Series championships. That gaudy on-field success places them in rarefied air — they're rivaled only by the New York Yankees and St. Louis Cardinals in postseason success since the A's moved to Oakland 1968. When current A's President Dave Kaval took over two years ago, he and his new-and-improved A's front office immediately showed they understood the value of recognizing the overabundant lore of Oakland baseball. All throughout 2018, they've been honoring the A's' 50th anniversary in The Town, highlighting
the franchise's greatest players
and moments.
I've been itching to do the same, even while knowing the hardest part would be selecting just 50 memories. Some worthy players and highlights, unfortunately, won't make the list. That's a testament to the franchise's rich history. All that said, below is Part One of my three-part list of the Top 50 moments in Oakland A's history.
50 — A's win 1972 ALCS
: This tense, volatile matchup was equal parts fall classic and punk rock concert, performed in two historic ballparks — the orange-yellow October sunshine of the Coliseum and the blue-hued autumnal shadows of cozy Tiger Stadium. It was revolutionary Oakland vs. blue-collar Detroit — a dramatic, chaotic, and sometimes even violent series starring Al Kaline, Mickey Lolich, Reggie Jackson, Rollie Fingers, Catfish Hunter, and many legends. Three of the five games were decided by one run, and two ended in extra innings. A Game Two beanball war ended with A's shortstop Campy Campaneris hurling his bat at Lerrin LaGrow, the Detroit pitcher who'd hit him in the ankle with a fastball. It then took an army of umpires to restrain enraged Tigers skipper Billy Martin from charging the A's dugout. Eventually, some baseball was played, too. The decisive Game Five was a pitcher's duel in front of a raucous Detroit crowd that peppered the field with debris in the 9th inning. The final at-bat was delayed when a Tigers fan ran onto the diamond. Amid all that tumult, an exhausted A's bullpen turned to the previous year's MVP and Cy Young Award winner, Vida Blue, to finish the game. He did, closing a taut 2-1 A's win that clinched the team's first trip to the World Series after moving to Oakland. It was an amazing American League Championship Series. But the best, of course, was yet to come.
49 — Mark McGwire breaks rookie home run record in 1987
: Few rookies have captured the nation's attention the way that Mark McGwire did in '87, when he mashed 49 homers and 118 RBIs. The A's first baseman with a lumberjack's build had 33 bombs by the All-Star break, inviting hopes of breaking Roger Maris' home run record. And the 23-year-old was doing it just a year after another A's slugger, Jose Canseco, was named American League Rookie of the Year. McGwire's first season was Reggie Jackson's last and going to A's games that year felt as if Mr. October, who returned to Oakland for his swan song season, was passing the franchise's mantle of A's superstardom to the Bash Brothers.
48 — Harry Caray hired as A's announcer in 1970
: The legendary broadcaster spent a self-imposed, Don Draper-like year in Oakland, away from the life he'd built — and nearly destroyed — in the Midwest. From 1945-1969, Caray was the voice of the St. Louis Cardinals and had become baseball's best-known play-by-play guy west of New York City. But a rumored affair with the Cardinals owner's daughter-in-law (yes, seriously) abruptly ended his days in St. Louis. Caray spent the '70 season at the Coliseum nursing his wounds (and reputation) by calling games for the up-and-coming A's ¬— when he wasn't sampling various beverages in Oakland's finest watering holes. Caray eventually landed in Chicago, working White Sox games before finishing his wonderful career as the beloved Cubs announcer for 16 seasons. A's owner Charlie Finley would later hire other notable announcers for brief stints with the A's, including Oakland native Curt Flood, who'd been blacklisted after suing MLB to gain free agency; and a young Jon Miller, the Hayward kid who later became the voice of the San Francisco Giants.
47 — Eric Chavez wins sixth Gold Glove in 2006
: Long before Oakland's Matt Chapman reigned supreme at the hot corner, the A's had Gold Glove third baseman Eric Chavez. The slick fielder's soft hands and cat-quick reflexes helped him vacuum ground balls, and his foot speed allowed him to track down fly balls in the Coliseum's expansive foul territory. Before injuries cut short his excellent A's career, Chavez won six consecutive Gold Gloves from 2001-2006, making him one of the top players in the Moneyball years.
46 — Catfish Hunter wins the Cy Young Award in 1974
: Jim "Catfish" Hunter was the most likable and reliable player of Oakland's Mustache Gang dynasty. Catfish threw a perfect game in 1968 and won 20 games in four consecutive A's seasons, when he was a fixture in the A's 1970s glory years. And Catfish was such an indelible part of big-time sports, Bob Dylan wrote a song about him in 1975. Catfish burnished his legend in 1974 by winning the Cy Young Award, earning a 25-12 record and a 2.49 ERA for an A's squad that won its third consecutive championship.
45 — Tony La Russa wins Manager of the Year in 1988, 1992
: Everyone forgets how down in the dumps the A's were in the middle of the 1986 season, when the A's hired Tony La Russa as manager. The move solidified what had been a dissension-filled clubhouse. And within 18 months, La Russa's A's would start a five-season run of baseball dominance highlighted by winning the 1989 World Series. La Russa, considered one of the sport's best leaders throughout his career, was named American League Manager of the Year in 1988 and 1992 while with the A's.
44 — Reggie Jackson's mammoth 1971 All-Star Game home run
: Some individual athletic feats are so unforgettably awe-inspiring, they etch themselves into the lore of the sport. Such was the case with Reggie Jackson's towering home run off of Dock Ellis in the 1971 All-Star Game in Detroit's Tiger Stadium. Jackson hit Ellis' pitch onto the stadium's roof in right field, a shot considered one of the longest ever hit at the fabled ball yard. The monster homer also served notice to the rest of the league that the A's, led by Jackson and star hurler Vida Blue, were going to be a force for years to come. That year, Oakland won the first of five consecutive American League West Division titles.
43 — Mike Norris' excellent 1980 season
: Oakland ace Mike Norris was robbed in 1980. He should have won the Cy Young Award but was beat instead by a bad case of East Coast media bias. Norris was the franchise's best pitcher in a fun, wild season that kicked off the BillyBall era, in which A's manager Billy Martin almost overnight transformed a squad of 100-game losers into winners. Norris outperformed all other American League pitchers in nearly every category that season, and he did it for a division winner. Inexplicably, the Cy Young Award went to Baltimore's Steve Stone, even though most of Norris' 1980 stats — including a 2.53 ERA and an amazing 24 complete games — bested Stone's. Norris' dominant season, with a 22-9 record, was the peak of an intriguing, sometimes brilliant career.
42 — Dave Henderson makes center field "Henduland"
: Dave "Hendu" Henderson, spent six wildly entertaining seasons with the A's. From 1988-1993, Henderson knocked a total of more than 100 homers and roamed center field with such unabashed joy that A's fans named their Coliseum bleacher section, "Henduland." In between winning a World Series in 1989 and an All-Star nod in '91, Henderson became the ultimate fan favorite in Oakland, where he'd chat with bleacher bums during games or flex his muscles at fans between pitches to get a laugh. One July, some fans greeted him in the outfield with a cake and candles and serenaded Hendu with a rousing rendition of "Happy Birthday." The game of baseball today sorely lacks characters like Henderson. A's fans miss him even more.
41 — A's win 2006 ALDS
: The last of Barry Zito's six-plus seasons in Oakland yielded a lot of big wins and unforgettable highlights. Zito joined A's stars Dan Haren, Nick Swisher, Milton Bradley, Huston Street, and Comeback Player of the Year, Frank Thomas, to win the AL West. With heroics from the likes of clutch utility man Marco Scutaro, the A's defeated the Minnesota Twins in the American League Division Series before the Tigers ended their season with a four-game ALCS sweep. The win over the Twins remains the A's' only playoff series victory in the 20-year Billy Beane era.
40 — Herb Washington, Designated Runner
: Charlie Finley was a genius and an innovator. He had a great eye for young talent and built the A's into a World Series dynasty. He also grabbed headlines with his P.T. Barnum-like flair for promotions and offbeat experiments. One of the oddest was the so-called "Designated Runner" — an innovation never tried before or since. For this role, Finley signed track star Herb Washington, who did not hit or field. As his job title suggested, he only served as a pinch runner who stole the occasional base. He appeared in 92 games and stole 29 bases in 1974, when the A's won the last of their three consecutive World Series rings. Washington lasted about a month into the '75 season before Finley pulled the plug on the designated runner experiment. Washington was fast, but he couldn't outrun the uselessness of this particular innovation.
39 — Miguel Tejada wins MVP in 2002
: Of all the stars the A's talent-rich farm system churned out in the early 2000s, A's shortstop Miguel Tejada may have soared the highest. The hard-working competitive leader was a virtual highlight reel and something of an iron man, playing in all 162 games in several seasons. Tejada endeared himself to fans by wearing his emotions on his sleeve. He also came up big in many high-pressure situations, delivering the winning walk-off hits in games 18 and 19 during the A's' then record-breaking 20-game win streak. Tejada's numbers that year — 34 HRs, 131 RBIs, and a .308 average — led to a well-deserved Most Valuable Player trophy and a warm spot in every A's fan's heart.
38 — Dwayne Murphy wins sixth Gold Glove in 1985
: For A's fans who came of age in the 1980s, outfielder Dwayne Murphy still embodies Oakland baseball. Murphy could run, throw, hit for power, had plate discipline, and, perhaps most important of all, he was unselfish. He never got enough credit for batting behind Rickey Henderson and taking a lot of hittable pitches, which allowed Rickey to steal a record-setting number of bases. Murphy was best known for his defense. He often positioned himself in shallow center field because his speed allowed him run down balls hit well past him. Any A's fan from that era can remember Murphy's Kelly green cap flying off of his head as he chased down liners, turning sure doubles into outs. He patrolled the Coliseum grounds from 1978-1987, joining Henderson and Tony Armas in one of baseball's most formidable outfields.
37 — Joe DiMaggio named A's bench coach in 1968
: Joe DiMaggio's Bay Area roots — born in Martinez and raised in San Francisco — made him the perfect hire when the A's moved from Kansas City to Oakland. DiMaggio served a two-year stint as bench coach for the A's, which was the only franchise besides the Yankees to put the baseball superstar in an MLB uniform.
36 — A's win AL West in 2013
: This A's team followed up the miracle finish of the previous regular season and proved they were the deal by winning 96 games and capturing the AL West. They were led by Yoenis Cespedes, Josh Donaldson, Brandon Moss, and Coco Crisp. And the rotation was anchored by 40-year-old Bartolo Colon, who went 18-6 with a 2.65 ERA. Two midseason call-ups, Sonny Gray and Stephen Vogt, were the heroes of Game Two in the ALDS against Detroit. Unfortunately, Detroit beat the A's in five games, ending Oakland's playoff run for the third time in eight seasons. (That entire paragraph makes me want to drink. Let's move on.)
35 — A's pitcher Bob Welch wins Cy Young Award in 1990
: Overshadowed in most years by A's leader Dave Stewart and Hall of Fame closer Dennis Eckersley, reliable starter Bob Welch finally enjoyed his moment in the sun. After winning 17 games each in 1988 and 1989, Welch just kept winning and winning in 1990, going 27-6 with a 2.95 ERA. He led the A's to their third consecutive World Series, where they came up short against the Cincinnati Reds.
34 — Announcers Bill King and Lon Simmons hired in 1981
: Nobody understood the power of great marketing better than the Walter Haas ownership group, with whiz A's exec Andy Dolich leading the way. They took over the A's in 1981 and immediately displayed their PR smarts by hiring Bill King and Lon Simmons as the new voices of the A's. King was best known then as the Warriors and Raiders announcer, and Simmons had forged a great career with the 49ers and Giants. Both King and Simmons were so popular with Bay Area fans, the move gave the franchise instant credibility. King's signature "Holy Toledo" and Simmons' "Tell it Goodbye" home run call quickly became like Lake Merritt or the Tribune Tower — proud Oakland institutions. From 1981-1995, the pair were the voices of countless A's highlights and arguably the era's best baseball broadcast duo.
*****************************
Next up is Part Two, which will list great A's moments No. 33 through No. 16. Until then, feel free to share your favorite Oakland A's players and moments in the comments section below or anywhere this column is posted on social media.
Chris De Benedetti, a co-founding member of Baseball Oakland, writes a regular sports column for the
Express.