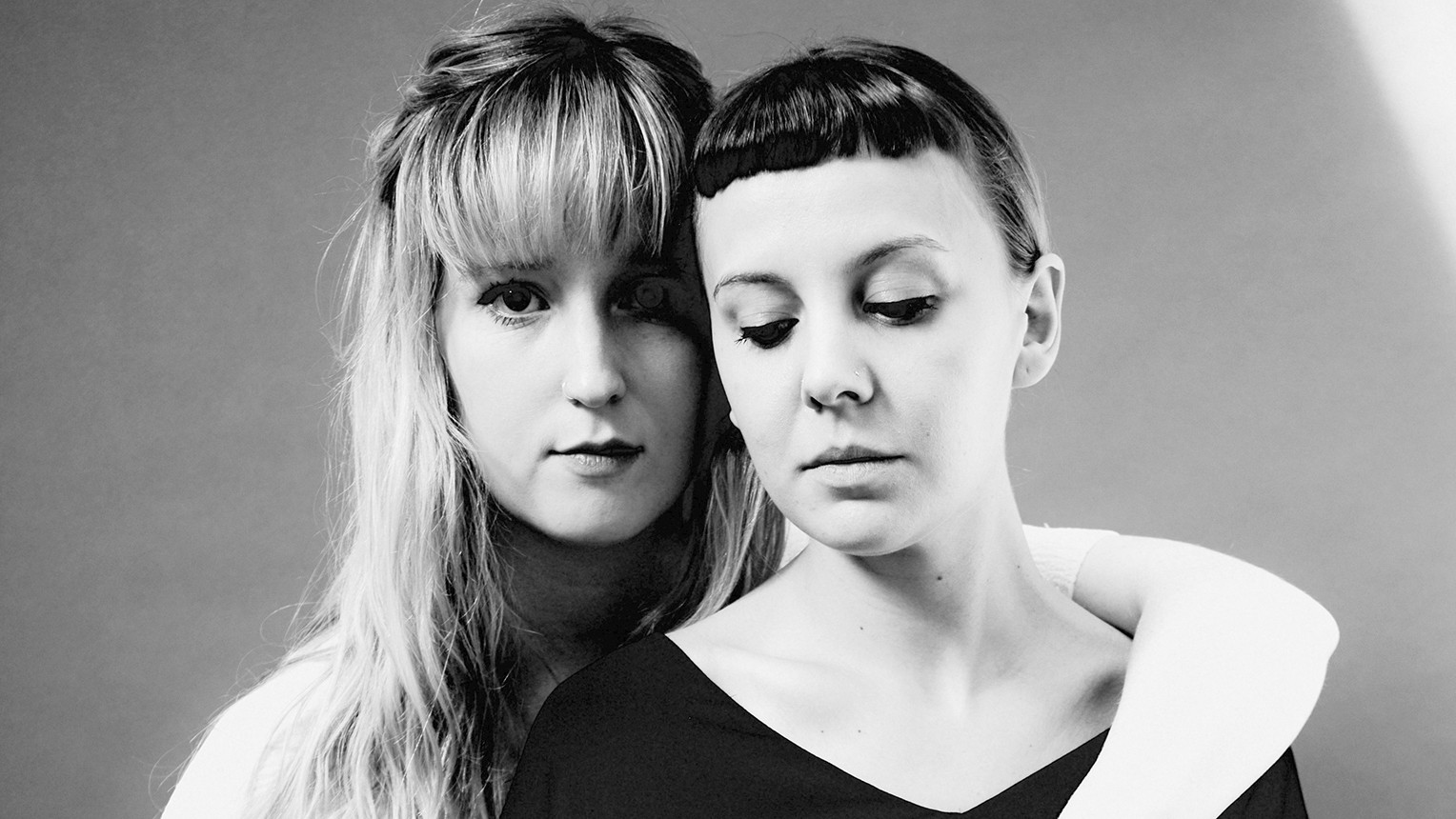 Gracie Coates and Rachel Ruggles may have moved to Brooklyn to start their music careers, but that doesn't mean they've forgotten their East Bay roots. As the orchestral pop duo Gracie and Rachel, they once covered Oakland rapper Kreayshawn's "Gucci Gucci" a cappella while strolling down a shadowy hallway. In the video, they're draped in flowy gowns and turning lyrics like "one big room full of bad bitches" into heavenly cascades of choral harmonies. The effect is a little silly, but they seem in on the joke, dancing animatedly and trading knowing glances.
The pair met in dance class at Berkeley High School — at the same time as when Kreayshawn was a student, it turns out. When their teacher encouraged students to collaborate on a score for one of the pieces, Coates and Ruggles were thrown into their first artistic union.
"It was an arranged marriage," Coates said jokingly. "And the rest is history."
Growing up in Berkeley was instrumental to their early immersion in creative pursuits. As teenagers, Ruggles played violin at the San Francisco Conservatory of Music while Coates wrote songs and took piano lessons.
"Music education was really embedded in elementary school and on, and the general appreciation for the arts is really ripe in the Bay Area," Ruggles said. "We benefited from being encouraged to be musicians and artists at an early age."
Aside from music, Ruggles practiced gymnastics and Coates danced ballet — two forms of movement fairly confined to strict routines. But their musical relationship blossomed under the freedom of a dance class where they were encouraged to create their own choreography. Coming from the classical world, Ruggles wasn't accustomed to writing her own music, but working with Coates got her thinking outside the box. She started listening to more film scores, as did Coates, and the cinematic influence manifested in their dark, baroque sound.
The two friends parted ways for college: Coates attended Berklee College of Music while Ruggles attended the Jacobs School of Music at Indiana University. But unlike many tenuous high school friendships, they didn't drift apart and even managed to preserve their musical collaboration. After four years of rehearsing together over Skype and sharing what they'd learned with each other over breaks, they took the next big leap: moving to New York together.
Leaving California was hard, but getting out of their comfort zone felt essential to them. "We wanted to get into an environment that would hopefully stimulate new and exciting material for our music," Ruggles said.
The pair channels duality in their music, and being Californians in New York is just one of many contrasts. Coates writes with contemporary pop flair, which feels distinct against Ruggles' classical background. In their visuals, Coates dresses in white while Ruggles wears black. Their mesmerizing, black-and-white music videos deal heavily in these contrasts of light and shadow.
Lyrically, their 2017 album juxtaposes deep anxiety with cathartic moments of self-assurance. They hesitantly tiptoe out from the shadows on opener "Tiptoe" with fragile violin plucks and piano arpeggios, Coates breathlessly repeating the frenzied thoughts, What's she gonna play, got nothing to say. But they end on a defiant note with "Don't Know," where Coates demands, rather than asks, Who do you think you are looking at us that way/Who do you think you are telling us what to say.
The "Don't Know" music video, released earlier this year, paints a visual portrait of this relentless anxiety. Rapid shots of a dreary, concrete cityscape accompany seas of downturned heads staring at cellphones and paranoid glances up at hidden cameras. Coates and Ruggles manage to break out of the surveillance state and isolating humdrum of modern life by running headlong into the forest, at which point the landscape shifts from black and white to dazzling shades of green. It's a reflection of apathy in today's political climate. "We're influenced by the era of robot culture," Ruggles said. "We're getting dealt the puppet on the left and the puppet on the right, and we're not really participating as much in how we're dealt things."
[embed-1]
"Don't Know" is a resistance against this complacency, a song of empowerment in the face of a government's totalitarian attempts to control its citizens. As a duo, Gracie and Rachel's engagement in the political stratosphere is no coincidence, considering where they're from.

"I think the political landscape of Berkeley is really important," Coates said. "We had parents who were encouraging us to speak our minds and say things that hopefully will feel empowering to other people."
While they have no plans to perform in California in the near future, they often find excuses to visit on tour. Currently, they're in the studio working on new material before embarking on the next leg of their tour with folk rock musician Ani DiFranco. Gracie and Rachel also recently played at SXSW in NPR Music's Slingshot showcase — they've been favorites of NPR's Bob Boilen since playing a Tiny Desk Concert last fall.
Their star power is definitely rising, but at the end of the day, they're two Bay Area natives who grew up dancing to hyphy music like E-40 and Too $hort. They miss home, but they need the "anxiety-inducing madness" of New York, as Ruggles jokingly referred to it, to fuel their creativity.
"New York is something that's so drastically different and really challenges this background that we came from," Coates said. "But we will always have California as something we can go back to."