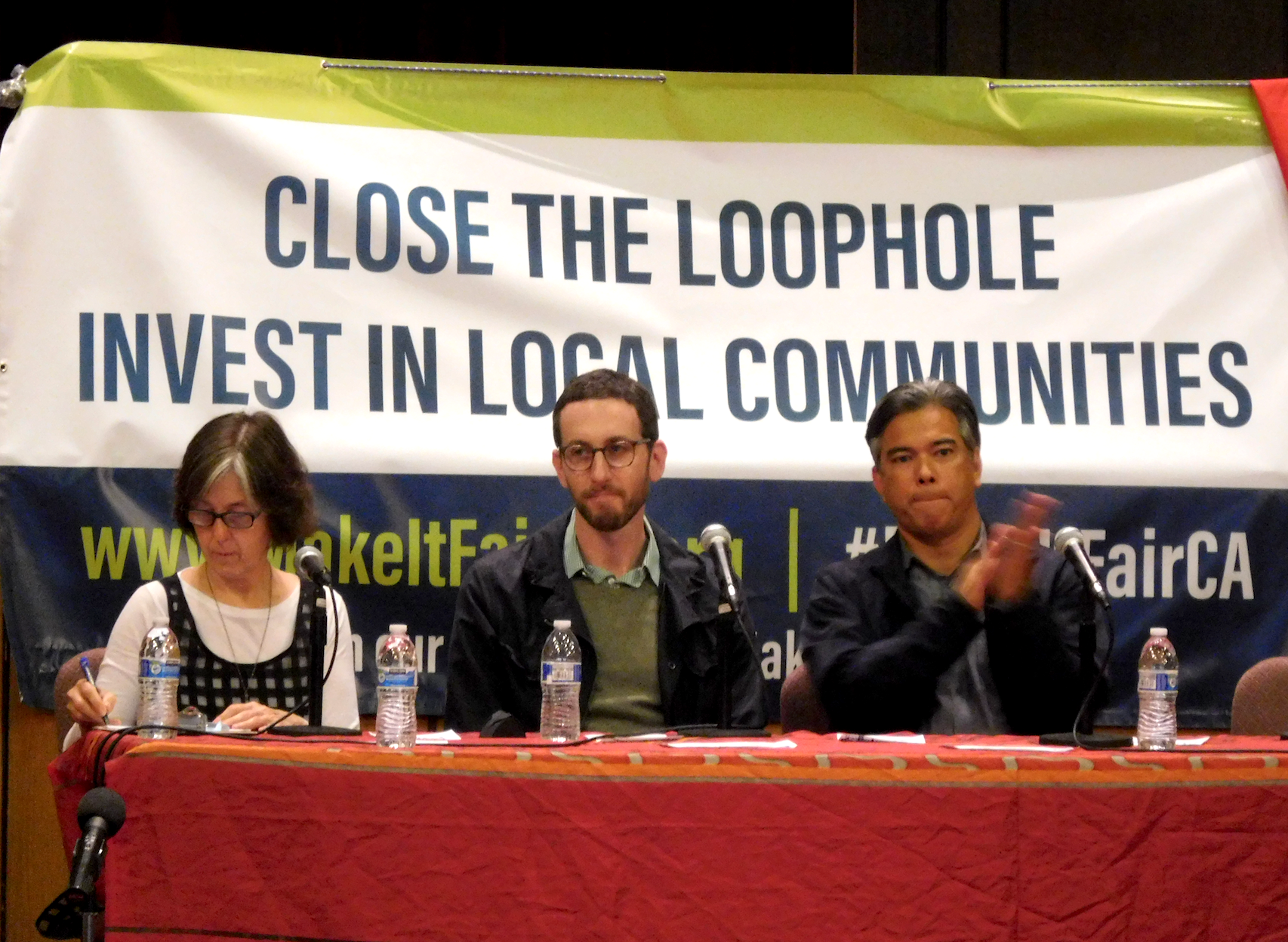 Bay Area elected officials and activists gathered in Oakland on Saturday calling for Proposition 13 to be reformed.
State legislators, county officials, and city councilmembers in attendance announced their support for a "split roll" property tax system that would assess commercial real estate at its full and current market value, while retaining the existing Prop 13 method of assessing residential real estate — whereby reassessment only happens when a home is sold.
The change could raise as much as $9 billion in new revenue a year, according to the group Make It Fair.
State Sen. Nancy Skinner, D-Berkeley, told about 250 people at the gathering, which was held in Oakland's First Congregational Church, that Prop 13 still has "an aura of untouchability," but that in fact, it's time to amend the law.
"It was a bad measure and has denied our schools significant funding," she said. "Prop 13, from day one, was designed as a corporate giveaway, but it was sold as a protection for homeowners."
State Sen. Scott Wiener, D-San Francisco, said it has been difficult to challenge Prop 13 because of widespread cynicism of government that has led many voters to support extreme restrictions on revenue. "There's been a 50-year campaign from the radical right, well before the tea party, to de-legitimate government," he said.
But Wiener added that it could be difficult to fix Prop 13 for another reason: if commercial real estate is taxed at higher rates than residential properties, it might exacerbate the fiscalization of land use that has dis-incentivized cities from building new housing. This could worsen the state's housing crisis, said Wiener.
Assemblymember Rob Bonta, D-Alameda, rallied the audience, asking them "Are you ready to fight for people over profits?" He said amending Prop 13 is "not an easy battle," and that "opposition will be fierce," but he said the time is ripe because California has a super-majority of Democrats who can pass progressive tax measures.
According to Ben Grieff, executive director of the nonprofit EVOLVE, companies like Chevron are paying disproportionately lower property taxes because they have owned their buildings and land for decades and structured transactions to acquire new real estate in ways that avoid triggering a reassessment. Amending Prop 13 to trigger reassessments of corporate property at full market value would raise taxes on many large businesses. Grieff claimed that smaller businesses wouldn't be significantly impacted.
Melvin Willis, a city councilmember in Richmond, where Chevron's Bay Area refinery has been located for over 100 years, said Californians are "picking up the buck for a multibillion-dollar corporation." He said his city is a good example of what happens when companies pay low property taxes. Richmond has struggled in previous years to balance its budget, and city residents routinely complain of poorly maintained services and infrastructure.
Alameda County Supervisor Keith Carson said Alameda County loses as much as $550 million a year in revenue it would otherwise collect had Prop 13 not sheltered commercial real estate from being assessed at its true value.
Opponents of changing Prop 13 say the greatest beneficiaries of the law are homeowners. They warn of any tampering with the constitutional amendment and say that a split roll would be unfair to corporations and increase an already burdensome tax load on the private sector.
According to the
California Taxpayers Association
, "Opponents of Proposition 13 continue to advocate for higher taxes on business property in a state that continually ranks as having one of the most difficult tax and regulatory climates for businesses."
As to when voters might see a ballot initiative to change Prop 13, Grieff said his group is "keeping options open" in order to wage the most effective campaign.