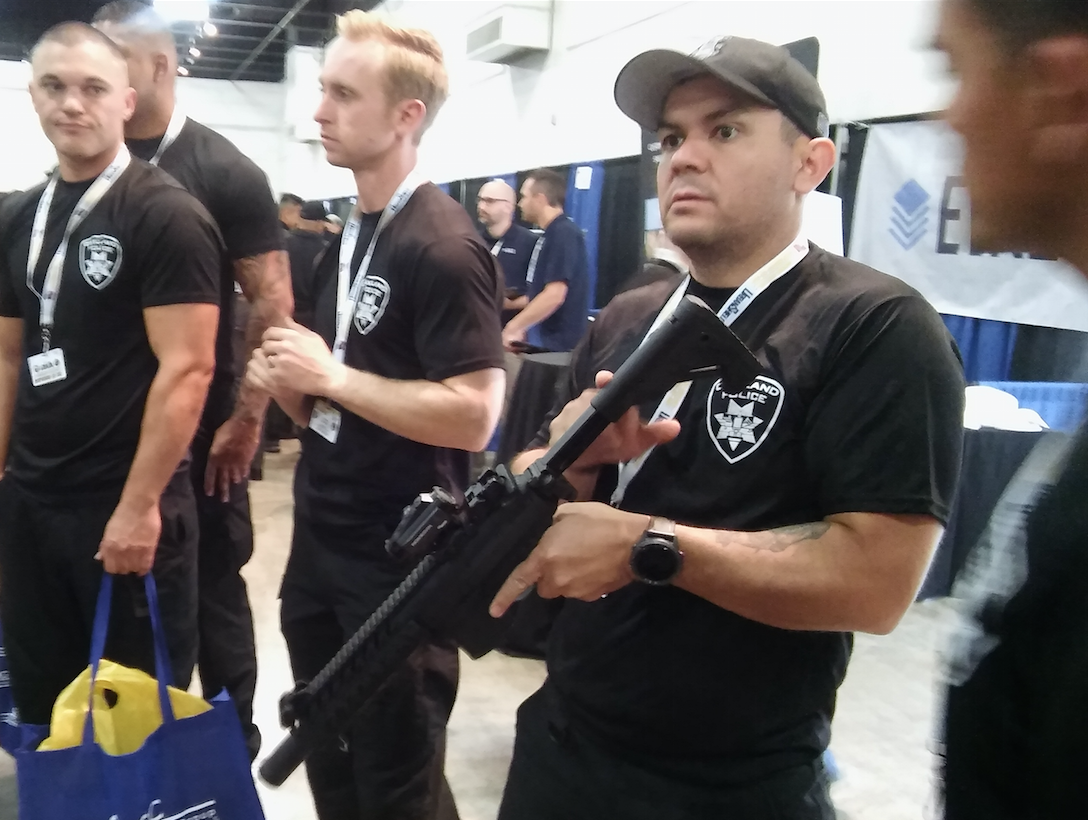 Drones, assault rifles, facial recognition cameras, and body armor are some of the weapons and technologies on display at the Alameda County Fairgrounds this weekend as Alameda County Sheriff Gregory Ahern convenes the annual
Urban Shield
event.
One of the largest training exercises for police, firefighters, and paramedics in the country, Urban Shield is designed to prepare local governments for natural disasters and terror attacks.
But the event has drawn criticism over the years from activists who say it militarizes the police too much.
Law enforcement officials say Urban Shield is necessary, however, because it improves inter-agency communication.
[embed-2]
This year's event began with about 300 SWAT team members, mostly men in tactical uniforms from various regional police agencies (but also a team from the Netherlands and another from Taiwan), gathered in a hall to receive a safety and medical briefing before heading to training sites.
"We have to remember, there's evil out there," Ahern told the officers.
A short video with a dramatic cinematic musical score flashed through news reports of disasters and terrorist attacks, including the recent white supremacist attack in Charlottesville involving a car driven into a crowd of counter-protesters and Oakland's deadly Ghost Ship fire.
Alameda Sheriff's Deputy Brian Frazier warned the SWAT officers never to pass the muzzle of their weapons across anything that "you are not willing to destroy," during the exercises. He briefed them on ammunition rules and how to tell which weapons are intended for use at the various sites where the mock emergencies will occur.
Afterward, the officers all received medical examinations before being permitted to take part in the SWAT competition.
In a nearby cavernous hall, dozens of vendors displayed weapons, surveillance technologies, armor, and other goods. SWAT teams perused tables and tried out guns.
[embed-1]
One company, Gemalto, showed off its real-time video and facial recognition surveillance system. A representative of the company said the software can analyze thousands of hours of video to quickly pick out people's faces and identify them against government databases.
According to the Gemalto rep, the company wants to install facial recognition systems in jails to scan the faces of visitors. Those with outstanding warrants are identified and arrested.
Multiple firearms manufacturers showed off sniper rifles, assault rifles, and pistols, allowing police officers to try out the guns.
Other vendors displayed body armor, drones, body cameras, chemical sensors, vehicles, emergency medical kits, and more.
John Lindsay Poland of the Stop Urban Shield coalition said the event focuses too much on police responses to violence and doesn't emphasize prevention of emergencies. He said Alameda County's own emergency plans show that the most likely disasters to strike the Bay Area aren't terror attacks; they will be earthquakes, fires, and floods. He said the county should focus more on empowering the community and discontinue Urban Shield.
Alameda Sheriff's Sgt. Ray Kelly countered that Urban Shield does emphasize community-oriented forms of disaster planning. He pointed to this year's "Grey Command" exercise that will connect police, fire, and EMS crews with the public and train people for how to respond if a major earthquake hits the region. "It will take the pressure off first responders if people are empowered and can be responsible to deal with certain things," said Kelly. "It allows first responders to focus more on the actual emergencies."
Correction: The Alameda County Sheriff's Office said it doesn't use facial recognition on jail visitors, as was claimed by a representative of Gemalto.