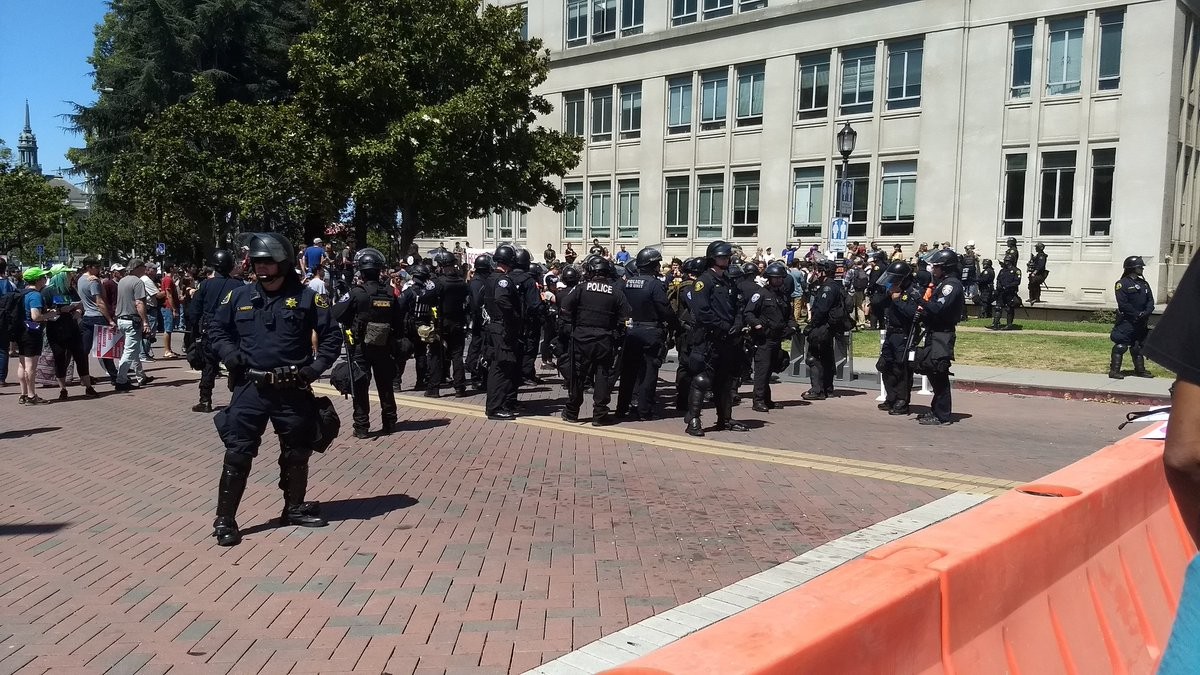 Stories you shouldn't miss for Sept. 11, 2017:
1. Protests in Berkeley, most of them in response to alt-right events in the city, this year have cost East Bay police agencies
more than $1.5 million
, reports Kimberly Veklerov of the
San Francisco Chronicle
$, citing public records. UC Berkeley has spent the most: $700,000, and the campus is preparing to spend a lot more this month to deal with far-right speeches planned for Ben Shapiro and Milo Yiannopoulos.
2. California may change its
presidential primary from June to March in 2020
—a move that could make the state relevant again in choosing presidential nominees, Politico reports. The state legislature is expected to approve the change this week and send it to Gov. Brown for his signature.
3. More than 1,000 demonstrators
protested peacefully in downtown Oakland on Saturday
against President Trump's decision to end DACA—an Obama-era program that protected undocumented young people, reports Annie Sciacca of the
East Bay Times
$.
4. Thousands of people
turned out for Oakland's annual Pride event
in downtown on Sunday, reports Lizzie Johnson of the
San Francisco Chronicle
.
5. An online video of
a UC Berkeley cop harassing a hot dog vendor during Saturday's Bears' game
at Memorial Coliseum went viral, attracting millions of views, reports Emilie Raguso of Berkeleyside. The video showed the officer rifling through the vendor's wallet.
6. The Berkeley City Council
finally agreed to allow a small, three-unit housing complex to be built on Haskell Street after being sued multiple times by a pro-housing group
, reports Tracey Taylor of Berkeleyside. In July, a judge ruled that the council had no legal right to block the housing project because it complied with city zoning laws.
7. Prosecutors plan to charge a 19-year-old San Leandro man with
vehicular manslaughter, stemming from a high-speed, drunken-driving crash on Memorial Day weekend on Park Street in Alameda
that killed three passengers in his truck, reports Angela Ruggiero of the
East Bay Times
$. Jaime Africano was reportedly driving three times the speed limit.
8. The intense heat wave that struck during the Labor Day weekend
inflicted severe damage on Northern California wine grapes
, reports Esther Mobley of the
San Francisco Chronicle
$. The record heat left many grapes shriveling on the vine.
9. And about
6 million Floridians are without power
after Hurricane Irma plowed through the state on Sunday, the
Washington Post
$ reports. Much of Florida also endured significant flooding.
$ = news stories that may require payment to read.