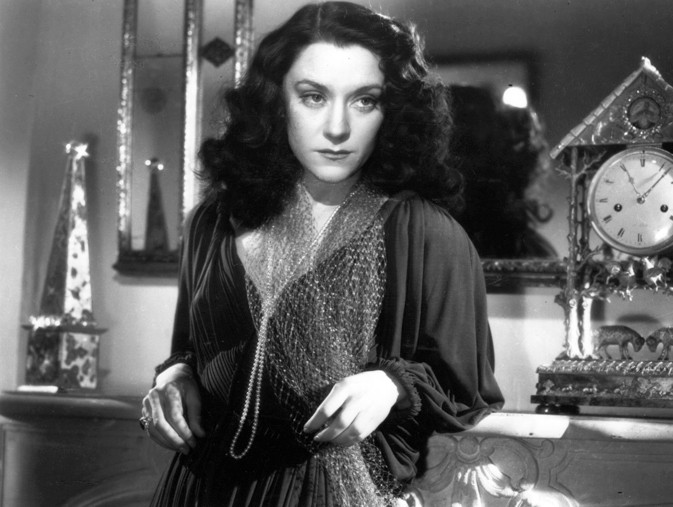 A few random notes on Robert Bresson's
Les Dames du Bois de Boulogne
, playing the Berkeley Art Museum Pacific Film Archive on Sunday, March 12, as part of a series devoted to Bresson.
Sometimes all it takes to plunge us head over heels into a melodrama is a face, in this instance the face of actress María Casares. The Spanish-French actress stars as Hélène, the jilted lover of a playboy named Jean (Paul Bernard). To gain her revenge Hélène recruits Agnès, a cabaret dancer and part-time prostitute (Elina Labourdette), to seduce Jean and humiliate him. Bresson adapted Denis Diderot's 18th-century novel with Jean Cocteau, so we know it will be borderline delirious.
Hélène is a Parisienne she-wolf, bored and contemptuous and on the verge of murder, yet silently smoldering in her cocoon of furs. As she prowls in her black hooded cape, she reminds us of other dark-haired femmes fatales: Setsuko Hara in Akira Kurosawa's
The Idiot
, Gloria Holden in the Universal horror quickie
Dracula's Daughter
, et al.
Danceuse
Agnès will never put Eleanor Powell out of business, but there's an uncomplicated, almost innocent sexuality about her after the show as she makes her assignations for hire, still in her skimpy nightclub costume, trolling for suckers. Meanwhile Hélène bides her time, alone with her cigarette at the center of her spider web, hatching her intrigue. Her gaze could freeze water.
Playing love games takes a toll on Agnès, despite the expensive gifts. "These flowers ruin everything," she complains. She's still a whore, as Jean's bouquets uncomfortably remind her. Jean goes batty for Agnès, all the while confiding in Hélène, who keeps the perfect poker face. And yet Hélène never issues explicit instructions to Agnès on how to break Jean's heart. It just happens. Each character follows the rules as they understand them. Cocteau's dialogue is magnificent. In this 1945 film, Bresson has not yet fully developed his trademark stylistic touches – very little shoe-gazing, reasonably lifelike body language, etc. Yet he shoots a barroom scuffle Surrealist-style, making it look as if the drunk that Agnès shoves is falling backward into a hole in time. Very Cocteau-esque.
This is a film some audiences may find it difficult to relate to. We recognize Hélène and Agnès differently depending on our own personal experience. You're at the table, rolling the dice, your face is hot and flushed and your heart is racing. When you're young you don't have time for a middle-aged woman's games of obsession and heartache. But relax, be patient, you will.
Les Dames du Bois de Boulogne
will be waiting for you.