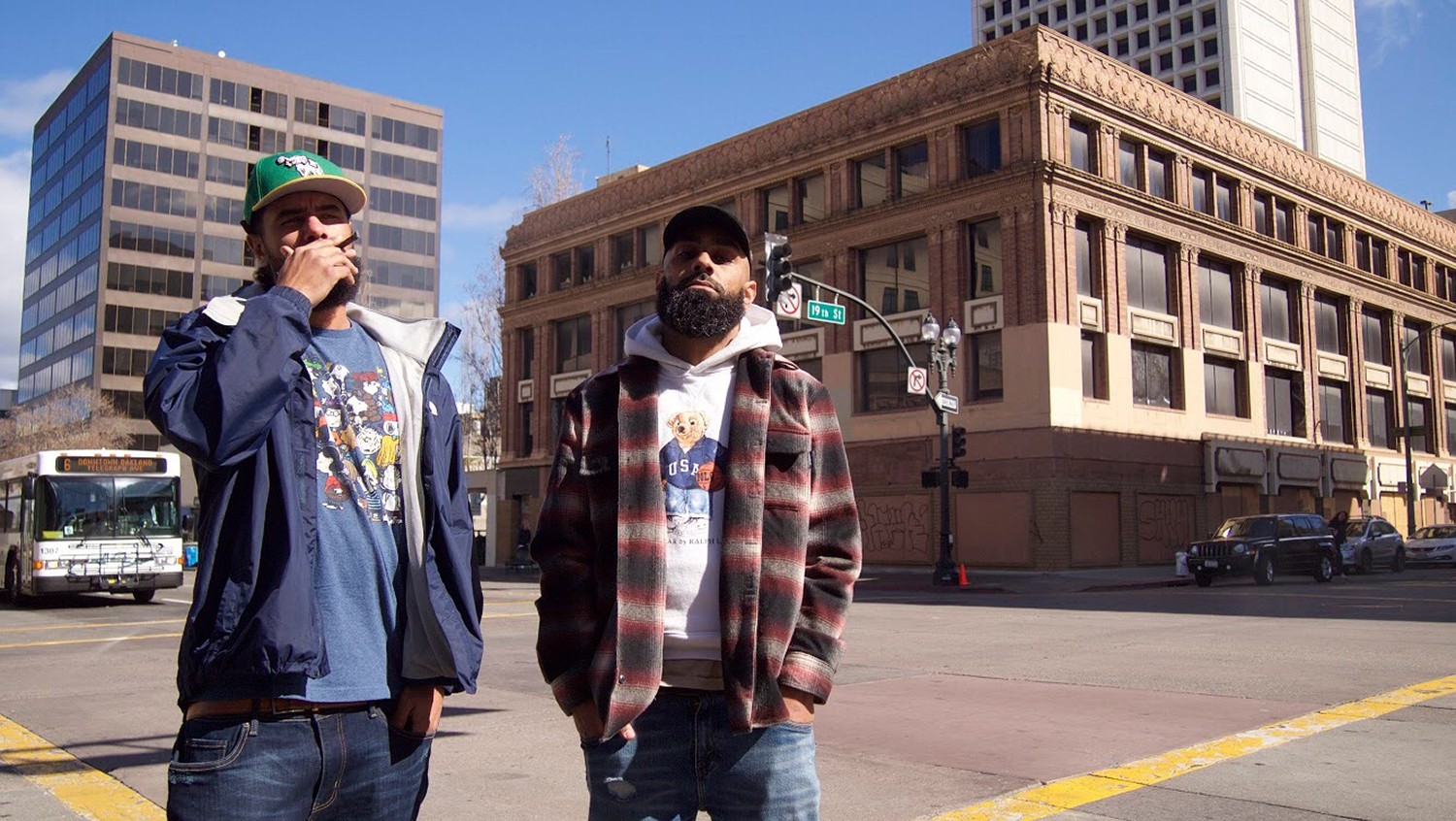 The opening line of the song "Pay Me Digital" serves as an accurate thesis for the music that Oakland-based rap duo ANML PLNT is currently making: I'm tryna paint a picture of The Town.
This, though, is a monumental undertaking given the immensely varied cultural backgrounds and lived experiences in The Town. Despite their undeniable lyrical prowess, Jordan Jennings, who raps under the name Apes, and Alex Jenney, known as Pass, agree that they, at best, are presenting an image of Oakland relative to their own experiences as born-and-bred natives of the city. "Certain types of people see Oakland in certain types of ways," Jenney explained. "If you're artistic, you think about Oakland and think about the art. If you're on some hood shit, you think about Oakland's criminal reputation. If you're activist-minded, then you think of Oakland as a hub for activism."
That's how ANML PLNT views the city. "We are a representation of all that," Jennings said.
From this intersection of art, activism, and violence, the duo hopes to portray Oakland in a nuanced and unique light.
The pair met in the early 2000s at St. Mary's College High School in Berkeley. They stood out as two of the only brown-skinned students enrolled and had many of the same classes together. It wasn't until they found themselves taking the same BART train back to Oakland, though, and realizing they lived within half a block of each other that they became friends. "I straight-up thought this dude was following me," Jennings said.
In 2004, Jennings came up with the name ANML PLNT for a potential rap group. "It sounded cool," he noted as a primary reason for the title. "Being from Oakland, we grew up in our own world, and people from the outside tend to look at us a bit savagely."
This sense of persecution permeates their music, especially in regards to police. On ANML PLNT's only released single, "Weigh Out," Jenney raps, Yelling fuck the police / 'cause the OPD want to put us in a cage like slaves / G-O-D so I shoulda' been praised not appraised.
There are plenty of high-profile examples of police brutality against unarmed people of color in Oakland that back up this sensibility, but the rappers have their own personal experiences to draw from as well. Jennings relayed an experience from high school when he and Jenney were stopped by police in Berkeley for no apparent cause. "I got pulled out of the car by my belt and had a gun shoved into the back of my head," he said, adding that the pair were unarmed and hadn't been behaving suspiciously. "It was racial profiling, and what's crazy is, as a Black man, it took me a second before I realized I wasn't doing anything wrong."
Aside from the name's creation in 2004 and a mixtape released in 2007, ANML PLNT has remained dormant as a collective until now. "I consider this project coming up to be our first official release," said Jenney.
The two have remained close friends since meeting in high school, but as far as making music together, Jennings explained that the two have been "busy living life" up until this point. In late 2016, they connected with their longtime friend and producer Marcus Turner, who produces under the name MARCUSMADEBEATS, and began the undertaking of creating an EP titled The Breakdown, which is slated for release at the end of September. Over the past year they have also performed numerous times in an effort to promote the ANML PLNT name, even rocking a set at SXSW, and have been backed by the newest addition to the group, Kyle Orpilla, who DJs under the name Backwood Onedr.
There is a tension that runs beneath ANML PLNT's music, and it makes sense given its mission to create a sonic sense of place within Oakland, which has seen its fair share of tension on the social, political, and — especially in recent years — economic fronts. Turner's production is spacious, futuristic, and somehow both an homage to and subversion of the beats of the hyphy era. On the intro section of "Weigh Out," for example, Jennings raps over a chopped, filtered piano sample that has the same carnival-esque flair one might hear on a mid-2000s Mistah F.A.B. track. Just as it feels like the section is building up to a bass-riddled, dread-shaking drop, the bottom falls out and gives way to a floating, smooth verse section levied by the steady pulses of an 808. The result is the feeling as though ANML PLNT is rapping from a haunted spaceship: slick, progressive, and futuristic, but filled with the spirits of an older Bay Area sound. "I'm not sure we thought it out that far," Jenney said with a laugh. "But we are always trying to do something different with the sound. We want to make music that sounds new."
Over these skewed beats, Jennings and Jenney are a force to be reckoned with. The lyrics are dense in content and form, switching rapidly from slow delivery to rapid-fire patterns and then imploding in on itself in a flurry of bent cadences and internal rhyme while addressing everything from the standard hip-hop bravado and marijuana to racism, mental health, self-medication, and violence. Bars are delivered with a sense of frenzy and urgency. This is perhaps because the Oakland that Jenney and Jennings are trying to preserve is also the Oakland that is disappearing at an alarming rate. "We are speaking to the experience of people from before the gentrification came," said Jennings. "All the old neighborhoods are getting smaller, and there is a desire to hang onto that sliver that is still there."
Given the mission to "paint a picture of The Town," it seems as though ANML PLNT couldn't have picked a better time to start putting serious effort into making music. Although the future of Oakland remains in flux, the fresh and original presence of Jenney and Jennings signifies that the right people are working toward preserving its history and culture.


[embed-1]
Editor's Note: A previous version of this story misspelled the names of Alex Jenney and Jordan Jennings.