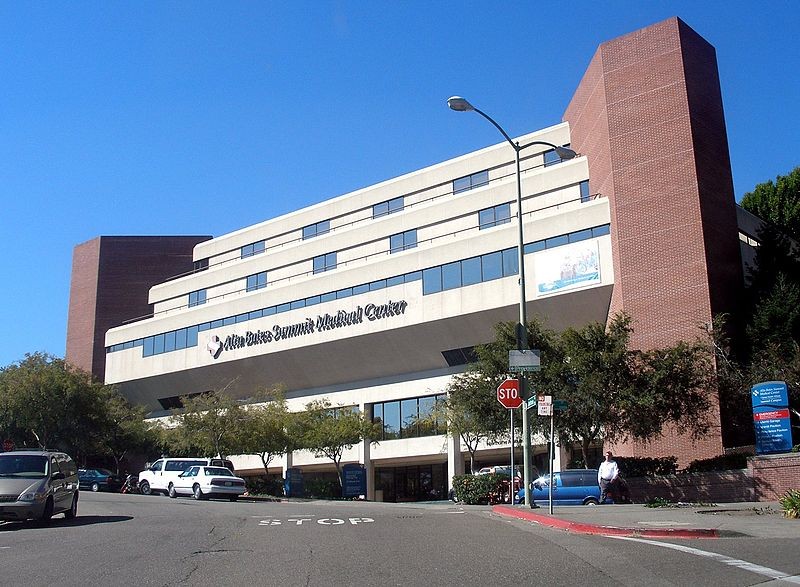 Alta Bates Summit Medical Center in Oakland has agreed to pay a $71,000 settlement after state regulators cited the hospital for safety violations regarding its infectious disease protocols. The settlement agreement announced this week comes nearly two years after California's Division of Occupational Safety and Health (Cal-OSHA) issued three citations against Alta Bates covering six violations, including failing to place suspected tuberculosis patients in airborne infection isolation rooms.
According to the state's two-month investigation at the end of 2012, Alta Bates, which is part of the nonprofit healthcare organization Sutter Health, placed at least 23 patients believed to have airborne infectious diseases in seventeen different rooms that were not properly set up for isolation. Those rooms were in the hospital's intensive care unit and cardiopulmonary unit. As a result of these placements, the
California Nurses Association
, the nurses' union, has argued that Alta Bates put patients, staff, and visitors at risk of potential exposure and infection.   
[jump] Cal-OSHA reported that the hospital had failed to regularly test the ventilation systems in the infection isolation rooms and had not followed proper ventilation testing procedures when the rooms were occupied by patients with suspected infectious diseases. The state further determined that Alta Bates did not ensure that its employees were using what's known as a "powered air purifying respirator," which is designed to protect staff from possible exposure during high-risk procedures on patients believed to have infectious diseases. The state found that employees were not using those respirators when performing intubation on infectious disease patients. 
See More: 
Department of Justice Investigates Berkeley Health Center
Kaiser Still Failing Mental Health Patients, State Finds
You can read the full details on the original
citations, which were issued May 10, 2013, here
. Sutter Health appealed the citations, leading to recently concluded negotiations between the state, the hospital, and the nurses' union. As a result of those negotiations, the hospital agreed this month to pay $71,275 — a reduction from Cal-OSHA's originally proposed fine of $142,970.  As part of the settlement, Alta Bates has also agreed to take a number of steps to correct the violations, including revising its disease exposure control plan; ensuring that all "high hazard procedures" on suspected or confirmed infectious disease patients happen in proper isolation rooms; making sure that all employees have proper respirators during those procedures; revising its policies for determining the number of respirators each hospital unit needs; and working toward establishing an operational airborne infection isolation room in its intensive care unit within ninety days. 
Regarding the latter agreement to establish a working isolation room in the Alta Bates intensive care unit, the nurses' union, in a statement, criticized the hospital for failing to establish a firm timeline to complete this process. The hospital has not built an isolation room in its newly opened hospital wing.
"As the Ebola crisis in recent months has reminded us, the incidents of infectious diseases are increasing," Zenei Cortez, California Nurses Association co-president, said in a
statement yesterday
. "It is critical that all hospitals have fully functioning isolation rooms to protect public safety or epidemics can easily spread out of control." The nurses' union further noted that this latest fine comes after the state issued a 
fine of $84,450
 in 2012 related to an incident of meningitis exposure. 
In a statement that a Sutter Health spokesperson sent to me this morning, hospital officials argued that "no patients or staff were put at risk" and said that Alta Bates immediately took steps to correct the violations. You can read the
full settlement agreement here
and more about the ongoing concerns from the
nurses' union here
. And here's the full statement from Sutter: 
The State of California Division of Occupational Safety and Health (Cal/OSHA) notified Alta Bates Summit Medical Center of a Citation and Notification of Penalty, following an inspection opened in November, 2012. Cal/OSHA has cited the medical center for failure to follow Airborne Infection Isolation Room (AIIR) protocols. We immediately took steps to correct these violations.

It's important to note that review of the clinical data demonstrated that no patients or staff were put at risk.

We welcome these types of regulatory reviews by Cal/OSHA and other regulators and take them very seriously.

We have a committed and knowledgeable team including Infection Control and Prevention, Engineering, Nursing, Risk Management, Employee/Occupational Health and Safety working to ensure a safe hospital environment at all times. We are also reviewing our policies and procedures – as we regularly do — to ensure we consistently implement best practices and procedures in maintaining and ensuring the safety and health of our staff and patients.