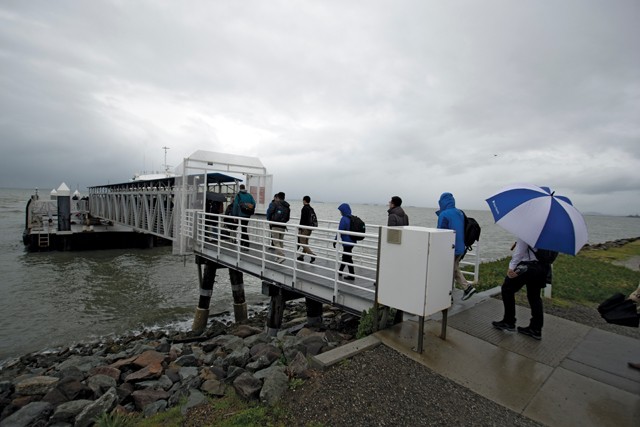 Christine Lok is part of a growing trend of commuters who live on Alameda's East End or on Bay Farm Island and take the Harbor Bay ferry to San Francisco. But Lok also has young children, and recently she and many other working parents who ride the ferry have become frustrated with the city's decision to end parking on residential streets near the Harbor Bay terminal — without providing realistic alternatives.
"I'm with people who take the very last boat from Harbor Bay in the morning because their kids need to get dropped off at school," Lok said, explaining that she has a 5- to 10-minute window, after dropping off her children at 8:20 a.m. to drive to the terminal, park, and catch the last ferry, which leaves at 8:30.
But last fall, that window became even tighter, when the city banned ferry riders from parking on residential streets near the terminal — a move that eliminated about 100 spaces. At the time, the city and the Water Emergency Transportation Authority, or WETA, which operates the regional ferry service in the Bay Area, estimated that 350 riders drive to the Harbor Bay terminal, on weekdays. But the parking lot only houses 250 cars, causing overspill into residential neighborhoods.
The city downsized parking for the ferry terminal after area neighbors complained. "We protect our property values and make sure that this is a safe place for residents and homeowners," said Dawn Jaeger, executive director of the Harbor Bay Isle Association.
Under the city's new rules, four homeowners associations received parking permits for residents of the area. Ferry commuters aren't allowed access to the permits.
The city's decision on ferry parking comes as the Harbor Bay ferry has been experiencing a surge in popularity. The ferry's ridership has surged by 68 percent in the past five years, according to a city report last fall.
Lok said the city provided information about taking alternative transportation to the ferry terminal, but many proposed options proved impractical. "Before the LimeBikes were around, I'd take a scooter with me and scoot my way back to the harbor," Lok said, referring to a popular bike-share program that the city introduced last year. But Lok noted that the bikes don't work for everyone, especially parents who need to drop off their kids at school.
Sometimes, when she's afraid she'll miss the boat, Lok drives all the way across town to the Main Street ferry terminal on Alameda's West End, which runs boats throughout the day, has a spillover parking lot, and free street parking. "My impression is a percentage of us are starting to use Main Street as a backup option," Lok said, indicating that parking shortfalls are triggering patterns that run counter to the city's aim of reducing drive-alone trips across the island.
Lok is not alone in her frustration. Jennifer Jeffers, who also lives on the East End and has young children, recalls having difficulty finding parking near the terminal even before the new permit parking kicked in. "It's obviously been an issue that's been on their radar for years," Jeffers said.
Jeffers has tried taking the AC Transit Line 21 bus to the terminal, but finds the service, which is not synchronized with ferry schedules, unreliable. "When people talk about taking the bus or walking or taking your bike, it's just not realistic for people who have children," she said.
Jeffers was outraged when a city staffer suggested folks take Uber or Lyft to the terminal. "I looked into the cost, and it's $8 to $10 one-way," she said. "With the ferry, you're looking at a $25 commute cost, per day. That's ridiculous."
Working dads are outraged, too. Bay Farm resident Scott Daley started taking the ferry five years ago and started biking to the terminal last year. He thinks folks who choose to live near a ferry terminal should accept the consequences of their choice. "It seems unneighborly," Daly said of the ferry parking bans on residential streets. "It's affected the working moms and dads the worst."
And now these working parents are pushing back: 200 ferry riders signed a petition that Lok drew up, demanding that the city and WETA work together to expand access to the Harbor Bay ferry to accommodate its growing ridership. Jeffers wrote to the city and WETA, outlining their concerns. And in February, Lok, Jeffers, and Daley sent the city a list of proposed solutions. These included leasing or buying vacant land adjacent to the terminal to use for parking; adding additional street parking on Harbor Bay Parkway, Adelphian Way, and Mecartney Road; changing Mecartney's street-cleaning schedule; and increasing AC Transit's Line 21 service. But their preferred option was for WETA to charge a terminal parking fee and use those funds, with the city, to develop a dedicated shuttle to and from the ferry.
WETA Planning and Development manager Kevin Connolly said the ferry authority aims to start collecting parking fees this fall. "But it's more delayed than we'd like it to be," Connolly said. He warned that there are "liability issues involved with shuttles," and parking fees would not be sufficient to cover shuttle costs. "The fees could contribute to the cost, but the balance would have to come from somewhere else," Connolly said, indicating that if the Regional Measure C bridge toll-hike initiative passes in the June election, it could help, since it aims to improve ferries as part of a Bay Area traffic relief plan.
Jennifer Ott, Alameda's director of Base Reuse and Transportation Planning, said research indicates a shuttle would cost $130,000 to $200,000 annually, and she was not sure the city could use parking funds that WETA collects to compete with AC Transit's Line 21. "You might see some benefits from a shuttle, but it's not a silver bullet," she cautioned. "So, we are trying to focus on making AC Transit as successful as we can."
Councilmember Jim Oddie agreed that AC Transit should fix Line 21. "The ferry access problem is a super complex issue, but the buses have to be on time," he said. "You can't have people late to work, 20 percent of the time."
But Councilmember Marilyn Ezzy Ashcraft said a dedicated shuttle — ideally an emissions-free shuttle — "makes a lot of sense." She noted that AC Transit's Line 21 only carries about eight people to the Harbor Bay terminal. "So, if we were able to get AC Transit to agree to end that line, so the 21 bus still comes from the East End but doesn't go to the terminal, and that makes it more economical for AC Transit, then we could come in with a shuttle," she said.
To facilitate this plan, Ezzy Ashcraft is exploring dedicated parking at the Greenway Golf/Chuck Corica Golf Complex on Island Drive (Oddie said he's also open to the idea of a shuttle from the golf course). The city recently amended the complex's lease and contributed $100,000 to repave the lot. "So, I would want to direct city staff to go back to Greenway and say, 'Let's make this arrangement,'" she said.
The city is also looking for an additional 70 street parking spaces, but Ott doubts the San Francisco Bay Conservation and Development Commission, or BCDC, will allow more shoreline parking. "But given folks' interest in having more parking, we'll be resubmitting an application in the next couple of weeks," Ott said.
But Lok worries that without proper planning, any proposed solution could make things worse. "The plan is to ramp up this terminal so ferries would leave every half hour, basically doubling the service," Lok said. "That is great, but in my head, I'm thinking, 'Oh my gosh, this is going to continue to be a problem, if we do not plan for it.' "
This report was originally published by our sister publication,
Alameda Magazine.