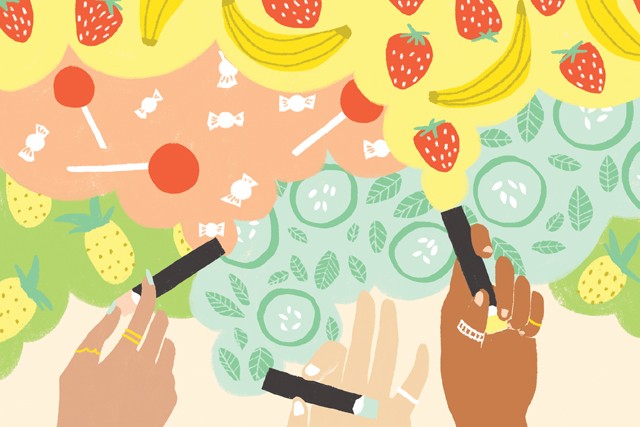 Smokin' in the boys' room — or girls' room — used to be the summit of juvenile mischief. Not to mention the launch of lifelong nicotine addictions for entire generations.
But that's so old school. These days, teens think it's cool to juul.
If you haven't heard, a JUUL is an e-cigarette that's so hot right now it's become a verb. It's a nicotine-delivery vaporizer from San Francisco-based JUUL Labs with a sleek, slim design — distinctive yet subtle, resembling a flash drive — earning it the moniker, "the iPhone of e-cigs," with flavor pods in everything from Virginia tobacco and mango to cool mint and crème brûlée.
The JUUL was invented for adult smokers who want to replace their messy, smelly, cancer sticks. In California, you're supposed to be over 21 to buy one. But that doesn't stop teenagers in the Bay Area and beyond from getting their mouths on them anyway, worrying parents and health advocates who say vaping nicotine is addictive and can be harmful to developing brains.
But as teens will be teens …
"[Juuling] is really easy to hide. If you didn't know what one looked like, you'd think it's a flash drive," said Samuel Getachew, 15, an Oakland Technical High School sophomore who does not vape or use other nicotine products himself but says lots of kids do.
"It's a problem everywhere," said Jason Krolikowski, principal at San Ramon Valley High School in Danville, who frequently confiscates JUULs and other e-cigs. "How big of a problem? It depends. Parents think it's happening on a minute-by-minute basis. We're not seeing that, but it is definitely pervasive. I believe it's happening at every school in the U.S.A., the same way kids in my generation would sneak in the bathrooms and smoke cigarettes."
Indeed, a whole "culture" of juuling has developed at some schools, students and administrators say. Teens will sometimes even juul during class on a challenge, to see how quickly they can blow the vapor away and hide the device under the desk before the teacher can see.
A recent report from the Centers for Disease Control and Prevention found more than 2 million U.S. middle and high school students used e-cigarettes during a 30-day period in 2016, representing 4.3 percent of middle school students and 11.3 percent of high school students.
Many teens who juul say it's not for the sensation or the nicotine, so much as for the "smoke" tricks, catching vapor in their mouths, puffing rings, then posting the effect in memes and jokes on social media.
But the nicotine is still there. And a hearty dose of it at that.
Electronic cigarettes are battery-powered devices that convert liquid into a vapor, which you inhale. Nicotine levels vary with different vaping systems. With JUUL, the nicotine content in one pod is about the same as a pack of regular cigarettes — higher than many other vape devices. JUUL device kits start at about $35 and a package of four JUUL pods is $15.99.
"Our concern is addiction and potentially negative health effects for youth," said Dr. Gideon St. Helen, an assistant professor of clinical pharmacology at UC San Francisco. He recently participated in research from the National Academies of Sciences, Engineering, and Medicine on the public health consequences of e-cigarettes.
The report, released in January, examined all forms of vaping, not specifically JUUL devices, and is considered one of the most detailed reviews on the subject so far.
"Our report did conclude that — for adults who are already smokers — completely substituting with e-cigarettes reduces exposures to toxins and carcinogens in combustible tobacco products," St. Helen said. "At the same time, for youth and young adults, there is substantial evidence that e-cigarette use increases the risk of moving on to traditional cigarettes.
"Nicotine in any form is addictive," he continued. "For teens, it's a bigger concern because it can be harmful to the still-developing adolescent brain."
Researchers don't yet have a clear picture of the long-term effects from various other chemicals in flavored vapors and propellants, such as glycerol and propylene glycol, said Dr. Susan Adham, a pediatrician with the Sutter East Bay Medical Foundation. "The health effects of inhaling these ingredients aren't well-known," she said. "We may be looking back in 20 years and realizing how bad these things were."
Company officials at JUUL say they're on the same page when it comes to preventing underage use of their products. "What gets lost sometimes is that the company's entire goal is to eliminate cigarettes from the world by giving adult smokers a true alternative," said Christine Castro, JUUL Labs' vice president of corporate affairs.
"But our products are not intended for anyone else," she said. "We can't be emphatic enough. We do not want youth ever touching or using our product, and we're deeply vested in keeping nicotine products out of the hands of kids."
To that end, Castro said the company has employed a staff of former educators working on outreach to school districts and partnering with anti-smoking advocacy groups. On its website, JUUL uses state-of-the-art ID-matching and age-verification technology. It's more than just an "I'm over 21" click-through, requiring a multi-step ID process that is checked against public records. In addition, the company works with law enforcement and employs a secret-shopper program to curb illegal sales to minors at vape shops and convenience stores.
"None of this is foolproof, though," Castro acknowledged. "Kids are very smart. They may get someone older to buy for them. But we do everything we can to prevent it."
School officials are also trying to intervene where they can. "Every district is struggling with consequences for students [who vape]," Krolikowski said. "We're approaching it the same way we educate our youth on tobacco or other dangerous drugs. We try to go at it with a mildly punitive, restorative approach so students can receive help like counseling in lieu of suspension. By the time we get them in high school, though, we don't know how long they've been doing it, and it may be a harder habit to break."
Not all teenagers are vaping or juuling, of course. "There's a split," Samuel said. "There are people who think it's cool, and then a lot of people who look down on people who juul."
Interestingly enough, anti-smoking education seems to have soaked in for many Bay Area students as far as traditional cigarettes go. "No one I know smokes cigarettes," Samuel said. "Seems to be this common understanding that cigarettes are bad."
This report was originally published by our sister publication,
Oakland Magazine.