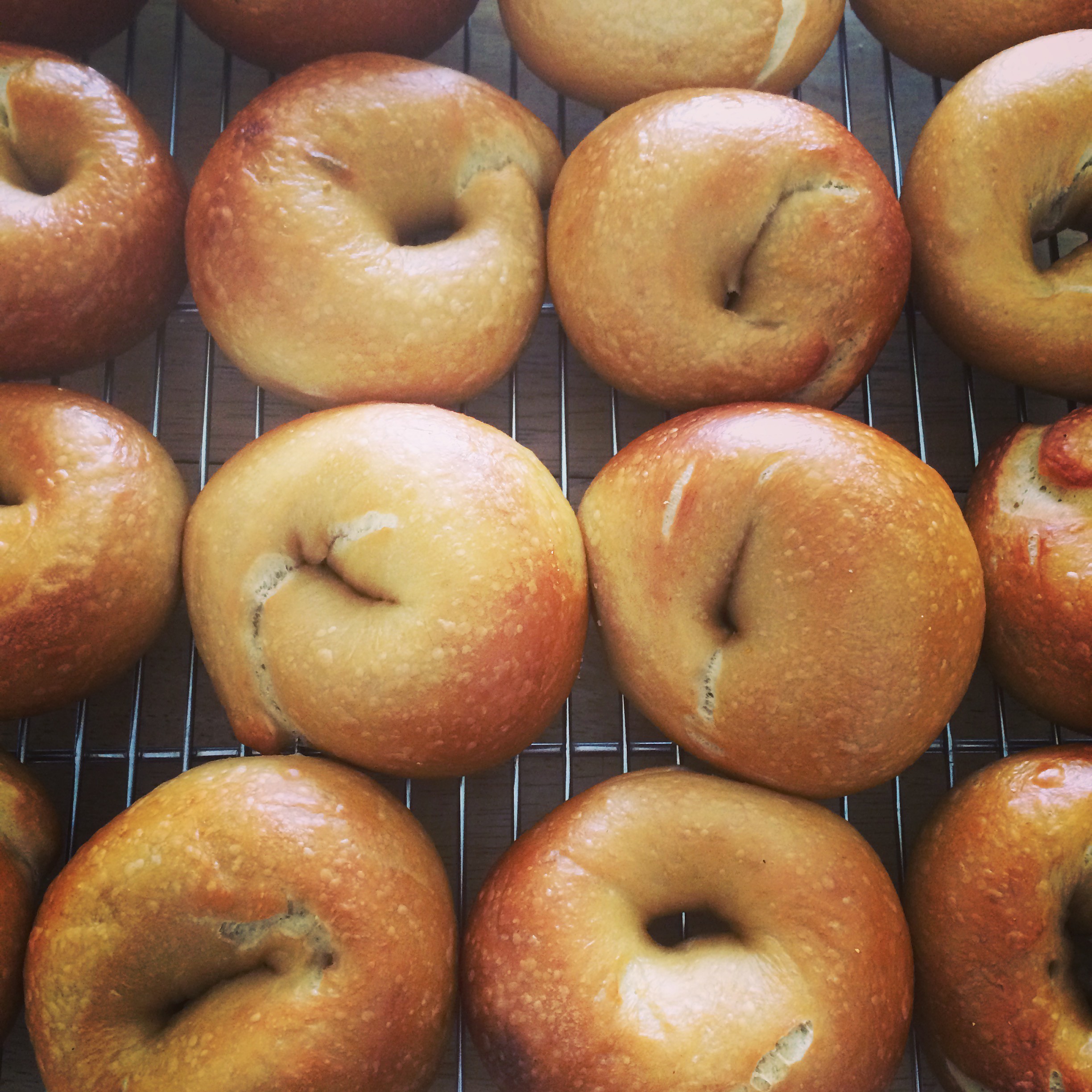 Boichik Bagels makes the best bagel in the East Bay, and I don't say this lightly.
Granted, there isn't a ton of competition. At this point, most folks point to Baron Baking, Beauty's Bagels, or Authentic Bagel Company as their choice for morning carby goodness. For years, I didn't hesitate in naming Baron as my go-to in all of California. Boichik is a game-changer.
Boichik officially debuted at September's Eat Real Festival. Alameda's Emily Winston had been working on her bagel recipe for seven years in the hopes of recreating New York's most famous bagel.
Winston grew up in New Jersey surrounded by good bagels, but every so often, her father would make a pilgrimage to New York City and return with something from H&H Bagels. When Winston moved out to California for grad school at UC Davis, she stopped eating bagels and instead looked forward to H&H-filled visits back home.
"It just had the most delicious flavor to me," she said. "It was perfectly chewy … and particularly sweet."
But in 2011, H&H closed. Where was Winston going to get that perfect bagel?
With zero experience cooking or baking, Winston decided to bring her favorite bagel back to life. Many failed experiments later, Winston landed on a process that includes a pre-fermentation period and slow retard in the fridge for up to 24 hours. And then she boils and bakes them, unlike commercial brands out here such as Noah's Bagels.
For now, this is all done out of her home kitchen via a cottage food license. She is only just getting Boichik off the ground after trying to determine whether there is even demand for a super-premium bagel in the Bay Area.
If Eat Real was any indication, the answer is yes.
"People were crazy about them," she said. "Even picky New Yorkers didn't have anything bad to say."
I've never tasted the original H&H bagel, so I can't say whether Winston has achieved a true replica. But compared to other East Bay bagels, Boichik bagels taste significantly sweeter and more malty. With a smaller frame and tighter texture, it also boasts a great chew and blistered crust — untoasted, of course. There is no need to toast a bagel this good.
The only wrinkle is that Boichik doesn't have a shop yet, nor any wholesale clients, nor a real bakery where Winston could produce some real volume. For now, interested parties should sign up for Boichik's mailing list at BoichikBagels.com to receive information on future pop-ups and delivery opportunities. Fair warning: At $3 a pop, these are pricier than other bagels in the region.
Winston's big vision, though, would bring something very new to the local bagel scene. She wants to open a brick-and-mortar, but it would only be secondary to a large-scale delivery service similar to a CSA — only this
would be CSB, as in "community-supported bagels." Folks would create an account online and set up a recurring order, such as a dozen bagels with cream cheese every other Sunday.
"New York brunch in a box, delivered to your doorstep," Winston said.
Ideally, she'd cover the entire Bay Area out of one central facility — because San Francisco doesn't have a bagel this good, either.