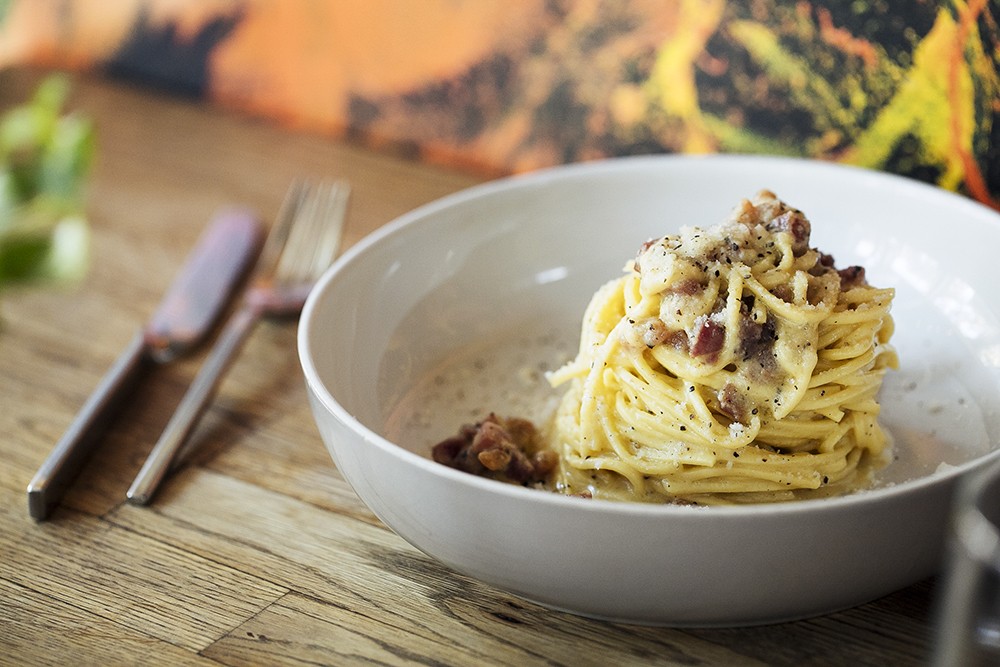 You probably know the feeling when you've just finished a meal that was overwhelmingly underwhelming.
It's disappointing, sure, but it's also confusing. You expected a certain level of pizazz for a reason, so you begin to question your lackluster experience. Did you order the wrong things? Was it just an off night?
But when you spend more than $70 per person — after tax and tip, without any beverages — you're not likely going back to find out.
That's how I felt after my first time dining at Contrasto, a new Italian restaurant on Grand Avenue in Oakland. It's the second restaurant from Alessandro Campitelli, an affable and clearly talented chef from Rome.
Campitelli opened his first restaurant in San Francisco at age 26 — a mere two years after moving to the Bay Area from Italy and as soon as he felt his English was strong enough to run a business. It wasn't just any ol' restaurant, either. Chiaroscuro was a fine-dining destination located in the shadow of the Transamerica Pyramid — and it lasted nearly a decade.
Last year, Campitelli closed Chiaroscuro for a change of pace. He had already been living in Oakland for seven years and wanted to serve his community. His new concept: Contrasto, a more casual affair with a family-style tasting menu featuring Roman cuisine.
It took shape in April, when Kitchen 388's owner handed the restaurant keys to Campitelli after closing earlier this year. For about three months, Contrasto operated as a pop-up "test kitchen" with a menu that changed every day. In July, Campitelli fully committed to the space, switching to a more manageable weekly menu with brunch and happy hour.
In Oakland, the price point — $55 for four courses — makes Contrasto a special occasion sort of place, but the service and ambience don't match. That wouldn't really matter if the food were outstanding. Unfortunately, most dishes from that first dinner tasted instantly forgettable. But it was my job to return, and so I did. And I'm glad. At brunch, I tried two pastas, which were both exquisite. It also made my dinner experience all the more confounding.
It began with promise. Mussels escabeche mingled with perfectly cooked octopus — a three-step process that finishes on the grill — in a gorgeous saffron-tomato broth. Prosciutto and buffalo mozzarella proved that Campitelli knows how to source top-notch ingredients, although the flatbread they sat on reminded me of brittle matzo.
I was impressed by the cloud-like gnocchi coated in an heirloom tomato sauce with crispy bursts of eggplant — all bright flavors and lovely textures. The truffle-scented cannelloni stuffed with ground meat, however, tasted pedestrian and one-dimensional.
The main courses steered the meal from pretty good to hopelessly underwhelming. A chunk of seared salmon showed no finesse. The chef managed to overcook it until one side was crisp while leaving the skin hopelessly flabby. The pork chop, also overcooked, was served with bland chard and potato gratin — a plain and tired combination.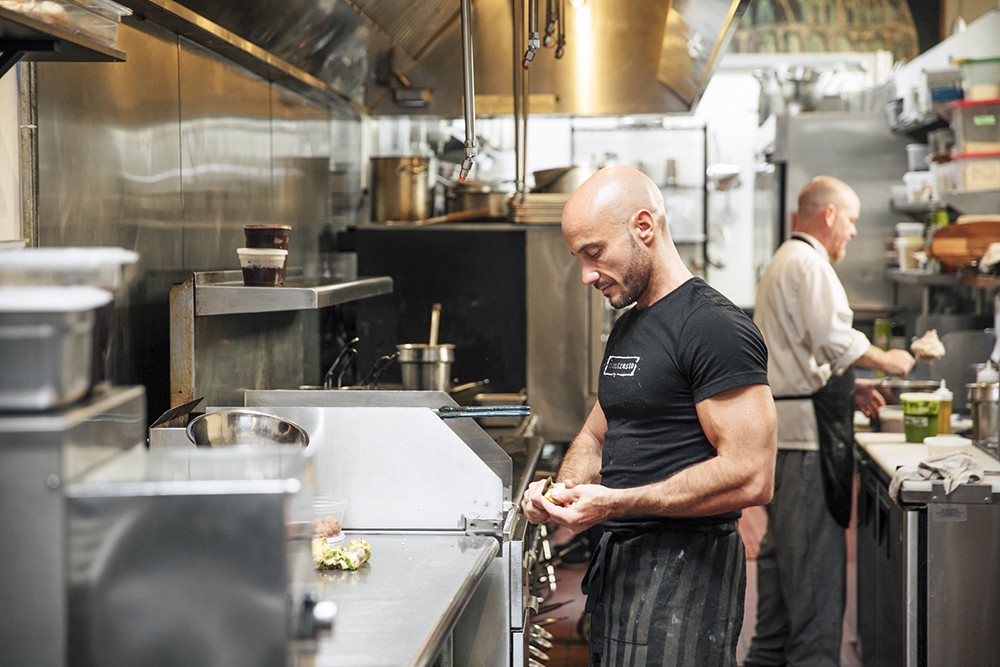 Dessert was a chance to leave things on a positive note, but they didn't. I typically expect a few layers from mille foglie, the Italian version of mille feuille, so it was a bummer to instead receive a sandwich: two small pieces of puff pastry enclosing coffee-flavored cream. The peach tiramisu hardly resembled its namesake dessert — four small bites of sponge cake topped with mascarpone cream and finely diced, under ripe peach.   
All the while, the service felt frazzled. One course took almost 30 minutes to come out. A server handed me a new plate that was still visibly wet. The most illustrative example, though, relates to the small silver disc that sat on our table all night.
At one point, I asked a server why it was there. She said that's where a bottle of water was supposed to sit, but because our table was small, servers would just come by to refill our glasses instead. Funny, because that silver disc still sat there, taking up just as much space on the table as a bottle of water would have — plus, every other table of the same size had a bottle of water on it. None of this would have mattered had they simply refilled our water glasses, but by the time our salmon and pork were taken away, our glasses sat and remained empty for the rest of the evening.
I left puzzled. The meal felt like a practice round, and I wanted to try the real thing.
Perhaps that's the problem with restaurants that dramatically change their menus so frequently; there isn't enough time to fully test each dish, and not every idea is going to be a winner.
Campitelli said 90 percent of diners choose to do the family-style tasting menu, but folks can order à la carte or request an individually portioned tasting menu if they dislike sharing. Normally, I'm all about the tasting menus and sharing, but if I return to Contrasto, it will just be for pasta — and probably at brunch.
One reason why brunch was so much better might be because the menu never changes. It offers Italian riffs on American morning staples as well as a couple of pasta dishes at prices that are more accessible than dinner. I tried the carbonara and fettuccine al ragu, which were both simple but flawlessly executed. The latter particularly demonstrated Campitelli's delicate handiwork, and the white Bolognese of veal, pork, and chicken tasted surprisingly light yet full of flavor. The carbonara, however, was even better — a perfect version of an often-butchered classic. No cream, just eggs, pancetta, cheese, and tons of black pepper thinly coating each al dente noodle with care.  
That carbonara is Campitelli's signature dish from his Chiaroscuro days — the reason he was able to keep the restaurant open for so long, he said. At Contrasto, it's an off-menu constant if you know to ask.
Campitelli first started making pasta at age 16, learning how to roll and cut dough by hand from his grandmother. It's no surprise, then, that you feel the passion and expertise in his pasta today. If anything, it's a wonder why pasta isn't featured more prominently on Contrasto's menu — especially since Campitelli is fully aware it's his specialty. He even wants to sell fresh pasta for home cooks, perhaps at Contrasto or a farmers' market before eventually opening his own little shop.
Until then, saddle up to Contrasto for that carbonara. It will not disappoint. And, unlike some other dishes, it will make complete sense.
Contrasto
388 Grand Ave., Oakland
510-918-3205
ContrastoSF.com
Hours: Thu.–Fri. 5:30–10 p.m.; Sat. 11 a.m.–3 p.m., 5:30–10 p.m.; Sun. 11 a.m.–3 p.m., 5:30–9 p.m.
Cash, all major credit cards
Sample Menu
Tasting menu $55
Carbonara $15
Gnocchi al Pomodoro $19
Seared salmon $26
Peach tiramisu $12