In what may have been the most effective act of civil disobedience in the East Bay since the Ferguson grand jury verdict, members of an activist group called the
BlackOut Collective
, staged a protest on the morning of Black Friday at the West Oakland BART station, shutting down the station and service to San Francisco. At approximately 10:30 a.m., a member of the group used a bike lock to secure himself — by the neck — to a stopped train. Four others then formed a human chain secured by another member locked to a bench on the platform. Police arrived shortly after to clear and lock down the station.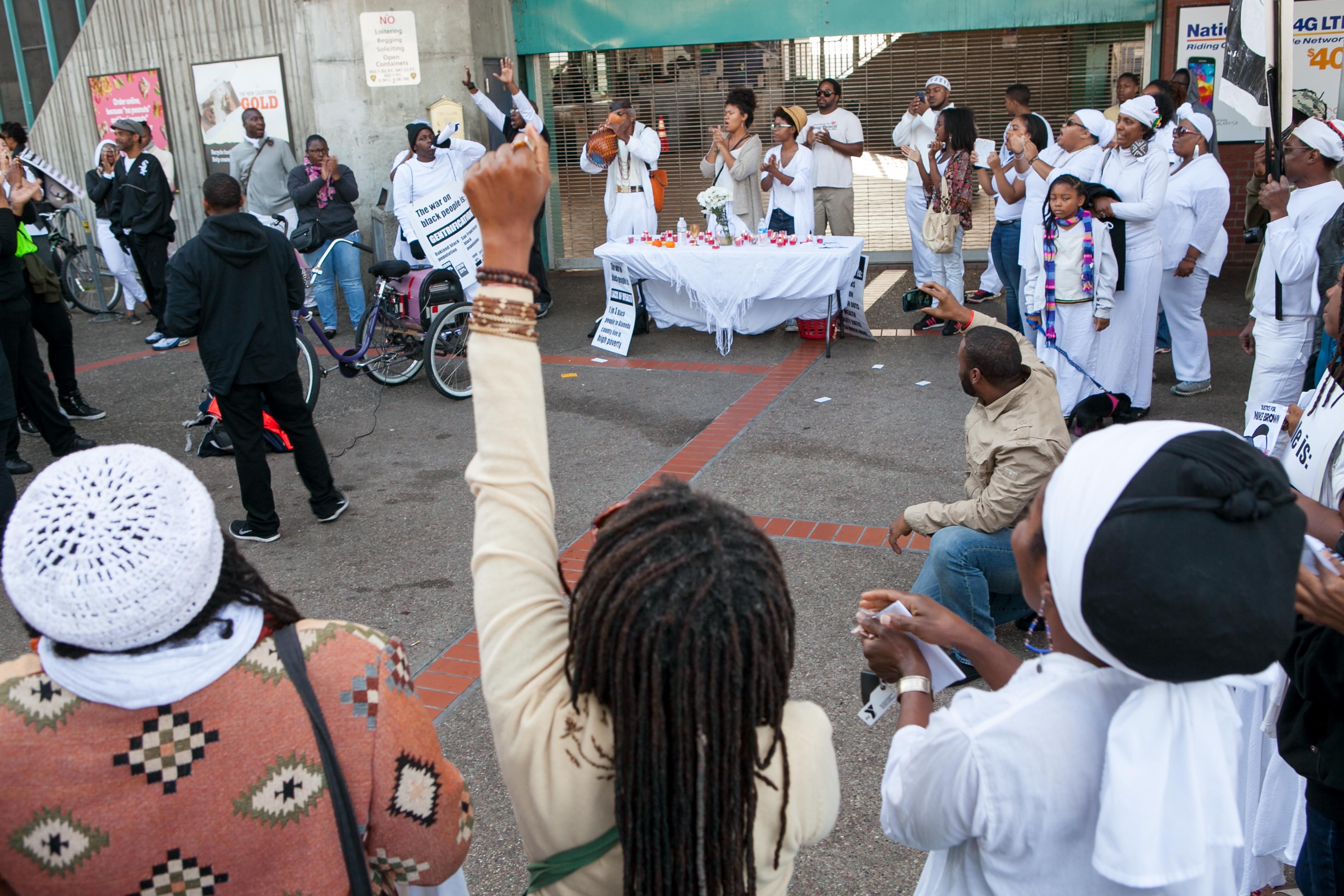 Outside, about 200 protesters gathered for a peaceful rally. Most had heard of the gathering through a Facebook event called "
The Fire This Time; END THE WAR ON BLACK PEOPLE.
" Participants mainly stood in a circle chanting, singing, and sharing words of solidarity. A table placed in the center held candles and a poster of Mike Brown's face. 
[jump] Shortly after noon, police arrested those chained to the train as well as nine other activists on the platform, and service to San Francisco was restarted, although the station remained closed until around 12:30 p.m. Shortly after the arrests, protesters received word that the activists in custody were being taken to the police station at Lake Merritt BART. By the time a group formed there, however, they were informed that those arrested had already been transported to Santa Rita Jail in Pleasanton. Following a group prayer, the gathering dispersed around 1:30 p.m., with some supporters heading to Santa Rita.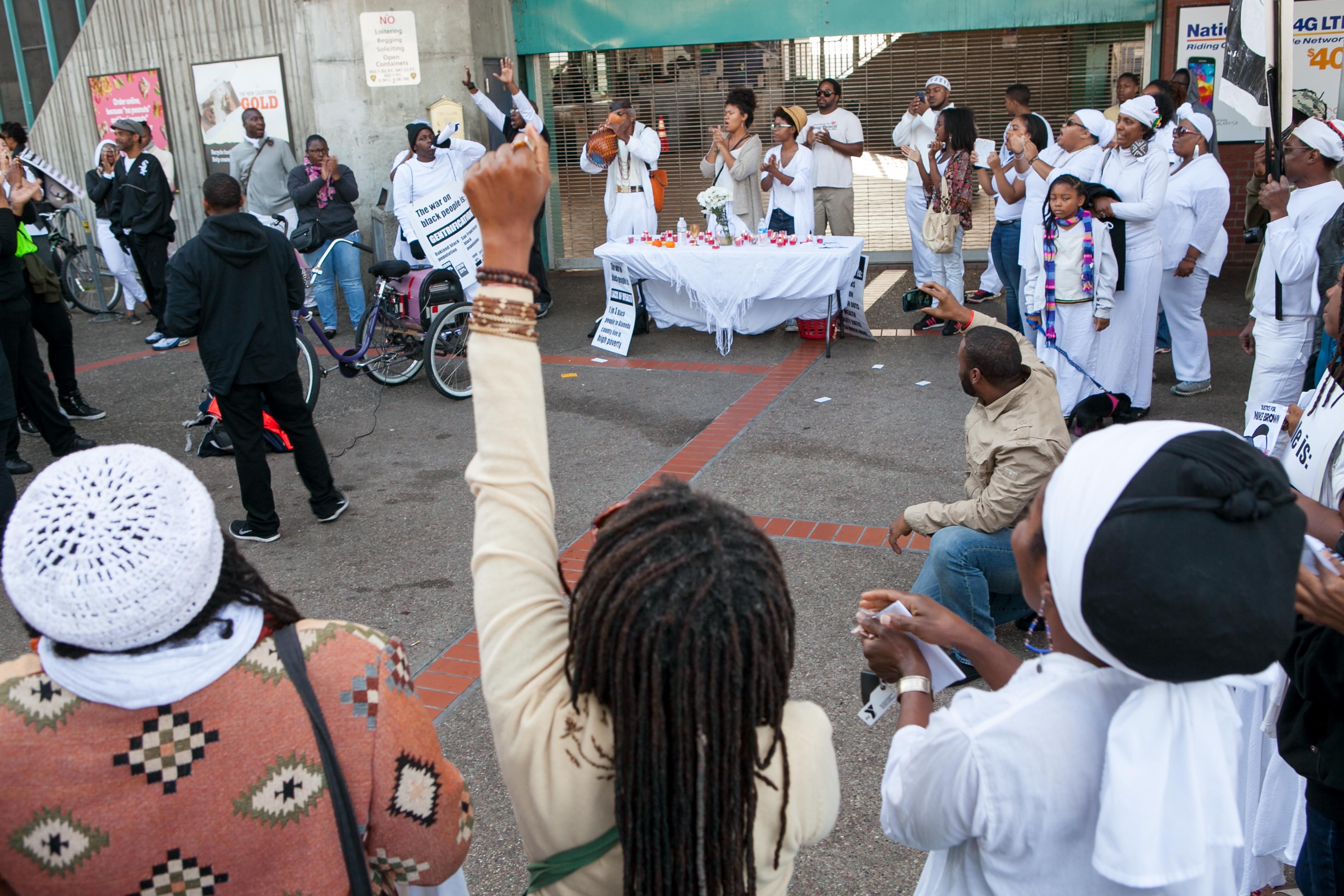 Overall, the short but effective gathering looked unlike any others that the East Bay has seen since the grand jury's decision not to indict Police Officer Darren Wilson on Monday. Protesters were impassioned, yet calm and collected. Also, anyone not identifying as being of African descent was consistently asked to stand far outside of the central gathering.
"We wanted to create a space for black people to come together and be able to deal, and to heal, and create sacred space, because that is what we need," said BlackOut organizer Chinyere Tutashinda. "Organizing space in the Bay Area has gotten very difficult to participate in as black people so we wanted to create a space specifically for our community."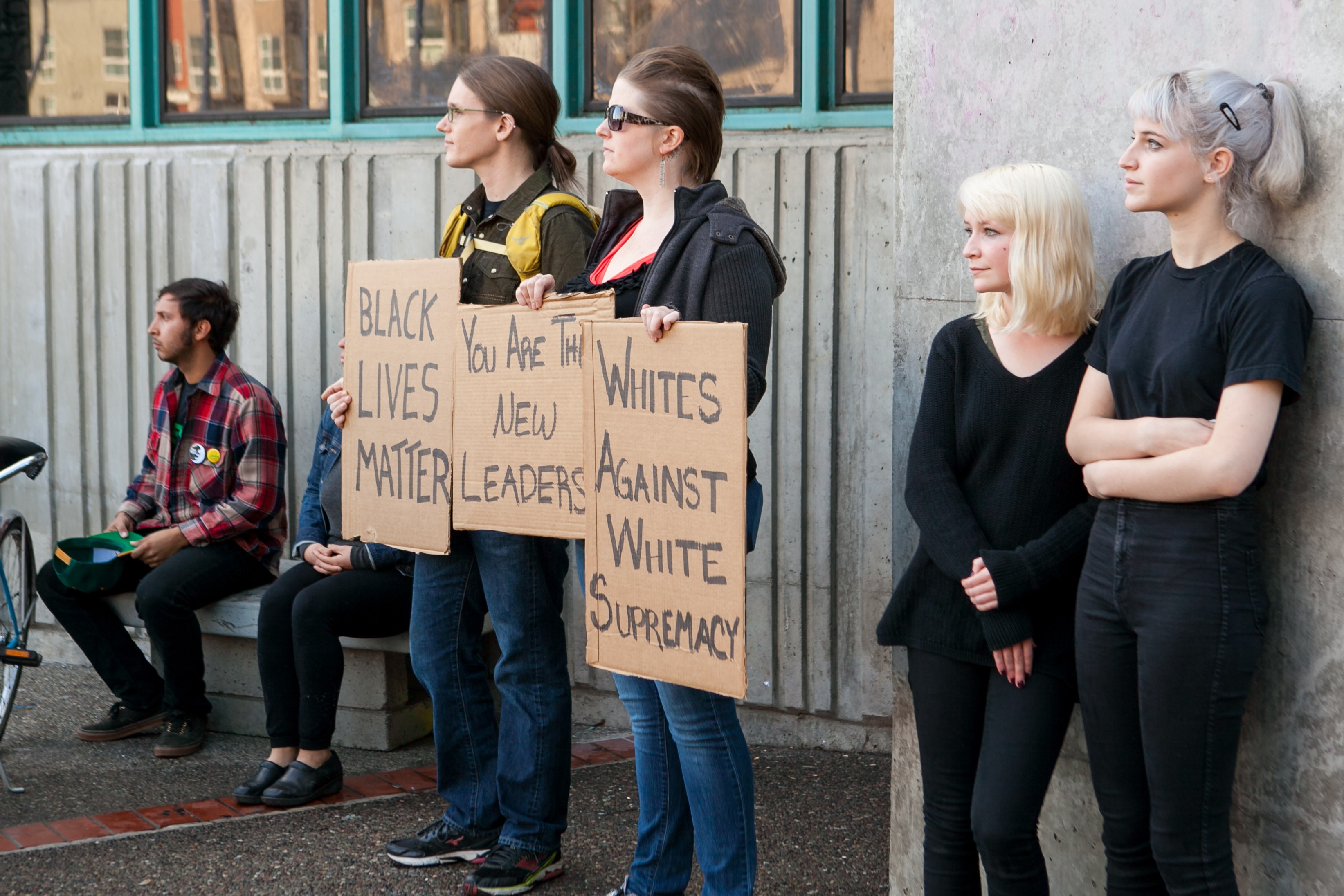 Nineteen-year-old Oakland resident Erin Clark agreed that the space was necessary for Oakland's black community. She expressed frustration with anarchists turning downtown protests this past week toward violence and illegal action, saying it was giving the black movement an undeserved image. "That's why I came here, because I wanted to be a part of something peaceful," she said. "To be able to know that this is the kind of movements that are happening from within us rather than the kind of movements that are happening from outside of us shows me that we're on the path to getting out of the chains that restrain us today."  
The BlackOut collective asked that supporters donate to an
online bail fund 
that will go toward freeing the activists arrested today, if they are not released without being charged.