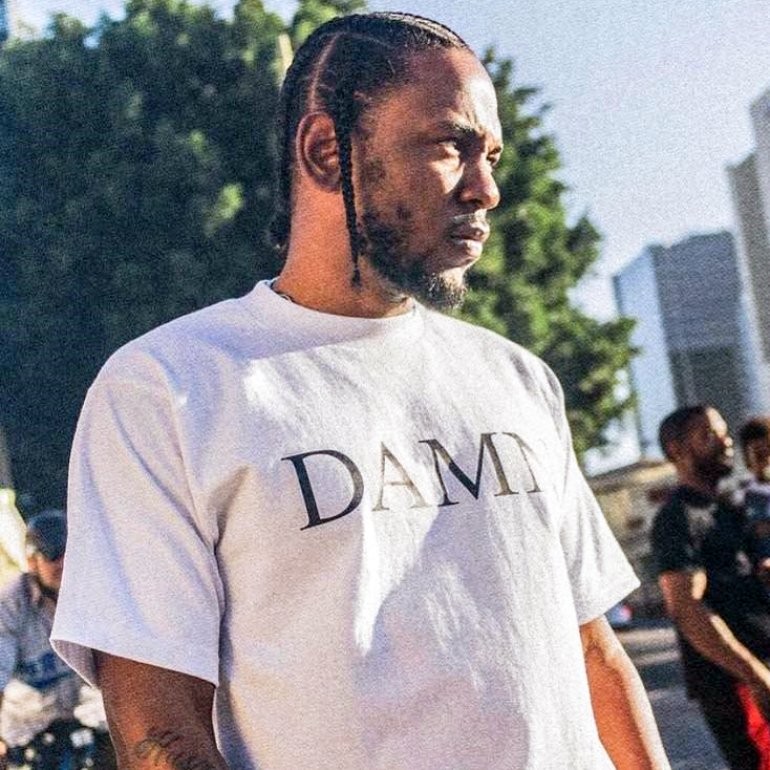 The tunnel that leads from the Coliseum BART station to Oracle Arena boasts some of the most diverse hustles per square foot. There's great live music, reliable hot dog carts, whose sizzling bacon serves as a fragrant flag; unofficial tour merch; and of course last minute tickets. On Friday night, as the
DAMN
. Tour took over the arena, Black Israelites, who Kendrick Lamar name drops in
DAMN.
, his latest album, which is already double platinum certified, joined the tunnel of hustle. Dressed in purple garb, they passed out flyers reciting Lamar's verse on "YAH.": "
I'm a Israelite, don't call me Black no more
."
Over the course of his musical career, spanning four studio albums and five mixtapes, Lamar's central thesis has been Black life in America — its miracles, its traumas, and its quotidian rituals. Through his lyrics and his videos, Lamar elucidates, complicates, and challenges notions of Black joy and suffering at individual, community and systemic levels. His studious dedication also extends to his role as a listener of rap, and his masterful style bears lineage of the likes of Tupac, Nas, and Outkast. These factors combined have distinguished Lamar from his peers in talent, yes, but also in responsibility.
In an interview with Zadie Smith, Chimamanda Adichie spoke of the responsibility she took on with writing her historical novel
Half of a Yellow Sun:
 "I've been a dutiful daughter of literature. I have followed the rules," she said. In contrast, she labels her last novel,
Americanah
, as a "fuck you" book. "By 'fuck you,' in some ways I mean 'fuck you' to another version of myself," she explained. Lamar is not unlike Adichie. The proud son of Compton, the gifted student of hip-hop, he has been dutiful. And on
DAMN.
, he fights and negotiates with that duty.
"I feel like the whole world want me to pray for 'em/ But who the fuck prayin' for me?"
he raps on "FEEL."
DAMN.
is our introduction to Kung Fu Kenny, Lamar's martial artist alter ego, through which he wages battle against his past selves, his vices, his fears and the responsibilities that he carries — some of which he chose and the rest which have been chosen for him.
Friday night, Kung Fu Kenny took on the stage at Oracle in a
Kill Bill
yellow track suit, ready to battle. Accompanied by a live band off stage, he was joined on stage by dancers and martial artists for interludes. His stage arrangement was minimal, and lit to exaggerate the theatre of the battles in
DAMN
. "PRIDE" in particular, which he performed tied to a dancer and suspended horizontally, called to mind the articulated lines of modern dancers.
Noteworthy about Lamar, beyond his ability to be captivating during his live performances, is his ability to convey more nuanced moods than just exuberance. For "LUST.", he made his way to small square stage in the middle of the floor where he performed the song while crouched down— a fitting posture for the sinister spirit of the track. The audience, who had changed their orientation to face the rapper, also calibrated their energy, mumbling lyrics along with Lamar and bopping their heads languidly.
Kung Fu Kenny did make space for Lamar to harken back to older songs. For his day-one fans, he chose to perform "Swimming Pools," the lead single from
good kid, m.A.A.d city
that was unmissable on the radio the last half of 2012. (In my estimation, it's more like a day-three fan song.)
Kung Fu Kenny closed the night out with "GOD": "
Everything I do is to embrace y'all/Everything I write is a damn eight ball/Everything I touch is a damn gold mine/ Everything I say is from an angel"
he sang.
Some duties, it seems, are hard to shake.
The DAMN. Tour continues with upcoming dates in Sacramento, San Jose and southern California.