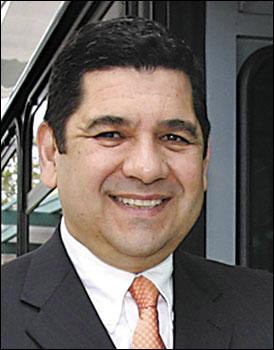 AC Transit General Manager David Armijo abruptly resigned Thursday after leading the day-to-day operations of the East Bay transit authority for three years.
A special meeting of the AC Transit Board of Directors scheduled for Friday was cancelled soon after Armijo resigned. There was widespread speculation Thursday afternoon that the seven-member board was going to fire Armijo on Friday.
AC Transit Board Director Elsa Ortiz said Friday's special meeting was intended to discuss Armijo's annual job evaluation. "We were going to discuss the evaluation and figure out what we wanted to do," said Ortiz, "and then we found out he submitted his resignation."
[jump]
Ortiz declined to comment on the possible reasons for Armijo's abrupt resignation, but added, "We wish him the best."
In the resignation letter, Armijo, who was hired in March 2012, said his "goal of providing safe, reliable and sustainable transit service in the East Bay has been accomplished." Armijo's resignation is effective today, according to the letter.
AC Transit COO James Pachan will be named as the short-term interim general manager, according to Ortiz. But, the board plans to name a long-term interim executive shortly while it seeks a permanent replacement over the next few months.
Over the past three decades, Armijo had served in various public transportation roles in California, New Mexico, Texas and Florida, according to his profile on the AC Transit website. Before his stint at AC Transit, Armijo was fired in 2011 by the Hillsborough Area Regional Transit Authority in Tampa, Florida.
According to news accounts at the time, Armijo was accused of manipulating the pay structure of certain employees and changing job titles without the approval of the authority's Human Resources Department. In addition, Armijo was also alleged to have intimidated some employees.