The ingredients for a successful taco crawl are simple: a light breakfast, loose-fitting pants, and, if possible, an entourage of non-finicky eaters — so that the ordering and sharing of tacos don't turn into a prolonged exercise in multi-front negotiation. Most important: You need a worthy destination. And right now there might not be a Mexican food scene in the Bay Area more vibrant than the one centered on Richmond's 23rd Street, where the concentration of high-quality taquerias and taco trucks is second to none, though they may be less famous, collectively, than those in Oakland's Fruitvale district.
On a bright Sunday afternoon in early September, there was a languid feel to the neighborhood; the clusters of beauty salons, laundromats, and tire shops that line the street were mostly closed for the day. Only the restaurants and taco stands hummed with activity, each one just a few doors from the next, so that traveling even one mile's distance — by foot or bicycle, if you want to stave off the encroaching food coma between stops — will take you past dozens of traditional, family-centered places hawking crisp-edged carnitas, steaming bowls of menudo, and so many delicious $1.50 tacos I could barely keep count.
Located in the parking lot of the La Raza Market, just off 23rd Street, Tacos La Raza (2131 Macdonald Ave., Richmond) is your basic taco shack, the facade painted the telltale white, red, and green of the Mexican flag. La Raza offers the quintessential taco experience for the purist who has no concern for amenities. Taco for taco, this is about as good as it gets: The al pastor was exquisite — juicy nubbins of pork that were blackened at the edges, just chewy and fatty enough, and topped with a tongue-searing salsa roja. The cabeza, too, ranked among the best I've had — tender, like any decent cabeza, but also meaty and full-flavored, unlike the blandly soft specimens that are more typical. At La Raza, the adventurous eater can also indulge in harder-to-find cuts: the soft richness of the sesos (cow brains), the crunch of the tripas (fried chitlins), and a version of suadero (aka rose meat) that was reminiscent of lush, slow-braised brisket. The only problem with starting my taco crawl here: Everything was so good, I forgot to pace myself.
Next stop, Tacos Los Primos (550 23rd St.), a taco truck located in a vast parking lot, and parked flush against a blocky building advertising "Tires New & Used." Here, as often as not, the vibe is one of a big family party — a tented area set up with picnic tables seems crowded all the time as upbeat music plays from one of the big trucks parked nearby. As for the tacos, the suadero and the cabeza were solid, but the al pastor — served the traditional way, with the pork sliced off a spinning vertical spit — was the highlight. The meat was a bit leaner and drier than La Raza's version, but it was also more intensely seasoned — a thick coat of adobe-like, bright-red marinade. Pro tip: The $1 tacos on Tuesdays are an incredible deal.
Portumex (721 23rd St.), an old-school spot that has been around for close to thirty years, has more Americanized-Mexican leanings than the other places I visited. That may sound like a drawback unless, like me, you grew up in a place where Taco Bell-style hard-shell beef tacos passed for Mexican food — and still occasionally get a craving for the stuff. Portumex's version was better than anything I had as a kid: a fried-tortilla shell stuffed with fistfuls of lettuce, cheese, and a satisfyingly juicy slurry of well-seasoned ground beef. The place is more sit-down restaurant than taqueria, and the prices — starting at $3 a taco — reflect that difference. I'd skip most of the standard meats, but the freshly fried chips were excellent, and both the classic chile relleño and the sloppy, but very tasty, mayonnaise-dabbed grilled fish tacos are well worth a try. Plus, the restaurant's side patio area, a little garden sanctuary decked out with Catholic paraphernalia, might be the most pleasant place in the area to enjoy a quiet lunch.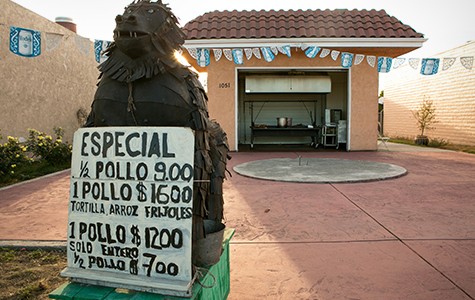 When the taqueros at Los Mexicanos Deli (779 23rd St.) are hitting on all cylinders, the saucy and well-blackened al pastor is as good as any I've ever had. Even on a slightly off day, when everything veered a little too salty, there was still plenty of deliciousness to be found — particularly the little crispy bits in the house-made chorizo and the carnitas, each the recipient of a quick sear on the griddle. Los Mexicanos is also a great place to try a Jalisco-style al vapor-style taco, which comes on tortillas that are steamed rather than griddled, so they wind up soft, slightly-slimy, and lily-white. An al vapor taco is always topped with tender, plainly seasoned meats — in my case, a heap of roughly chopped lengua topped with green salsa. Of all the taquerias I visited, Los Mexicanos offers the most abundant spread of free vegetables: soft, vinegary carrots and little soft-cooked onions, in addition to the usual lime wedges, radish slices, and pickled jalapenos. This would also be a good point in the crawl to quench your thirst: A neon-green agua fresca made with spinach, pineapple, and lime proved to be exceptionally refreshing.
The most charming and idiosyncratic of the places on my taco crawl was La Selva Taqueria (1049 23rd St.), where the first thing you'll see and smell is the long charcoal grill set up in an adjacent garage. On top, a row of whole spatchcocked chickens slowly cook — for hours, completely unattended, it seemed. The interior of the restaurant has a safari/rainforest motif — apes and lush vegetation on one side; lions and elephants on the other, with a panther stalking us from atop the salsa bar. The specialty of the house is that grilled chicken — pollo al carbon — which was delicious beyond expectation, thanks to the sublime combination of the smokiness of the meat and the tangy heat of the excellent housemade salsa verde. Next time, I'll just order a whole chicken to share, and build my own tacos. Other highlights: the al pastor, which had sweet bits of caramelized onion mixed in, and the carne asada, which was cut into little bits that resembled Korean bugolgi instead of the usual big chunks of steak.
Hidden inside the La Granja grocery store, several blocks off the main drag, Tacos y Tortas Carlos (1025 13th St.) is a relative newcomer to the area that's well worth seeking out. Here, amid the fluorescent lights and endless aisles of a supermarket, you'll find this homey little bistro set up to look like someone's colorfully painted living room — complete with a mock window adorned with faux flower pots. As for the tacos, avoid the bland, dry carnitas and go instead go for the al pastor, which turned out to be one of my favorites: chewy, wonderfully greasy, and full-flavored enough that it didn't even need salsa. The specialty of the house is the beef barbacoa — a juicy mass of shredded beef served on corn tortillas that had been pan-fried, until the outer surfaces were crisp and golden. But the most pleasant surprise was the consome de barbacoa, a soup made from the beef drippings, studded with raw onion and tender bits of meat and fat. Served in a blue mug, the consome was rich and restorative, and at just $2, stood as a resounding rebuke to every shamelessly overpriced "bone broth" on the market.
The other specialty at Tacos y Tortas Carlos is the torta ahogada, a kind of sauce-drenched sandwich. But if, after devouring some two dozen tacos, you can stand the thought of eating a sandwich, then you, sir or madam, are a more committed taco crawler than I.