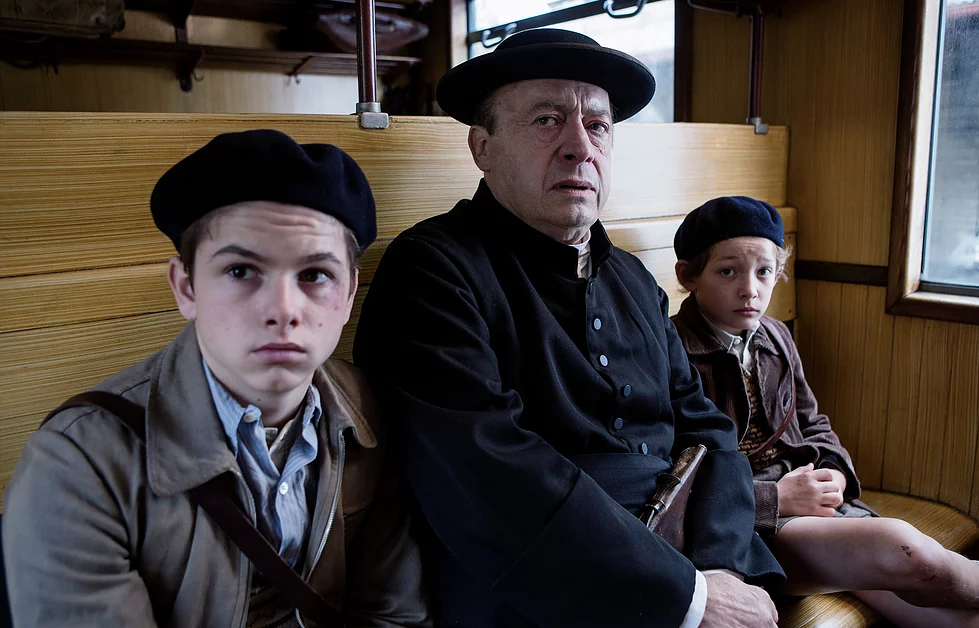 The World War II films keep on coming. When we add in tales of the Shoah, the list grows by leaps and bounds. Christian Duguay's A Bag of Marbles is neither the most terrifying nor the most pathetic dramatic account of Jews' struggles to survive in Nazi-controlled Europe, but it's exciting and true — based on Joseph Joffo's novel Un sac de billes, which was previously filmed by French director Jacques Doillon in 1975.
Young Jo (juvie actor Dorian Le Clech) and his older brother Maurice (Batyste Fleurial Palmieri) are living a relatively carefree life with their family in Paris, circa 1942, when the anti-Jewish edicts come down from the German occupation government. Rather than stick around and await deportation, Jo and Maurice are ordered by their barber father (Patrick Bruel) to travel by themselves to the Vichy-controlled South of France to join up with their two older brothers, who have already fled. This means throwing away their yellow Star of David patches — Jo trades his to a classmate for a bag of marbles — and trying to "pass" as gentiles in a hostile environment.
For a story of desperate flight from the horrors of WWII, the youths-on-the-run adventure — adapted by director Duguay and Benoît Guichard from Joffo's novel, via earlier adaptors Jonathan Allouche, Alexandra Geismar, and Laurent Zeitoun — is disconcertingly sweet and good-natured. The innocent middle-class boys are unaccustomed to living by their wits, and homesick Jo tears up frequently. But they manage to bluff their way through drop-your-pants circumcision checks (by claiming to be Algerian) and other traps and make the journey largely on foot.

[embed-1]
Compared to many dramatized accounts of the Shoah, the Joffo brothers' ordeals in the land of the dreaded Milice have a youthful prankish flavor. The most poignant exception to that occurs in the community of Rumilly, Haute-Savoie, where Jo has taken a job in a book shop owned by a collabo merchant (Bernard Campan) who idolizes Marshal Pétain. Come the liberation in 1945, Jo takes pity on his boss and saves him from a Resistance revenge mob by asserting: "He hid Jews!" Maybe it's Jo's sense of justice, or perhaps it's his feeling for the shopkeeper's daughter. At any rate, the youngest Joffos have to count themselves lucky. Their story is worth seeing, especially for Holocaust-movie completists.

A Bag of Marbles