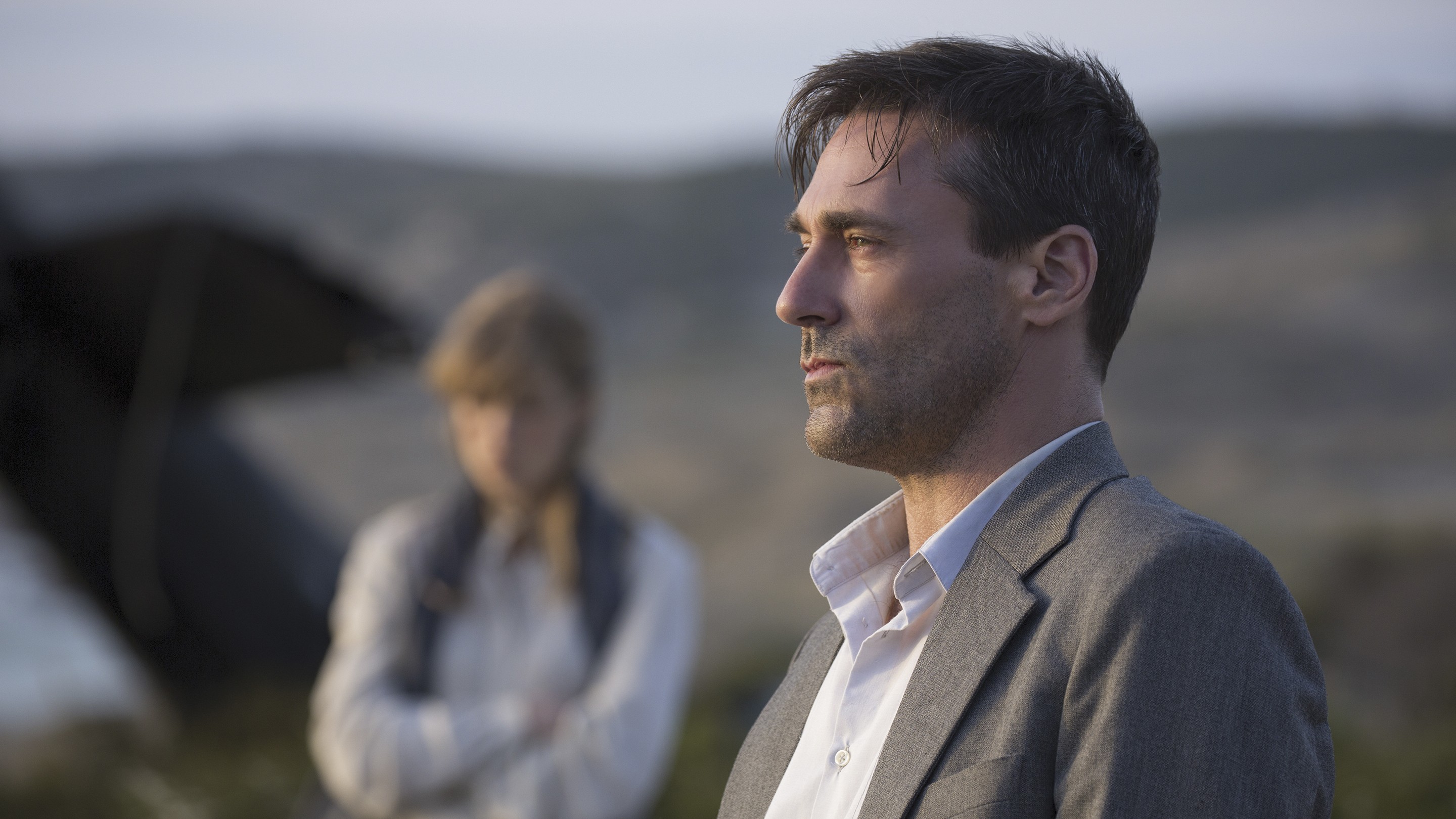 Cultural appropriation? In an American movie? Nah, never happens. We're kidding, of course. Filmed entertainment has consisted of virtually nothing but appropriation, cultural and otherwise, ever since the birth of the art form 130 years ago. However, people are complaining about the Brad Anderson/Tony Gilroy/Jon Hamm/Rosamund Pike Middle East thriller
Beirut
in terms of its misrepresentation of Arabs, so let's take a quick look at that while sizing up the film in general.
The movie purports to be the story of a former U.S. diplomatic negotiator named Mason Skiles (Hamm), and how he is lured back to the title Lebanese city — the place he left after his wife was killed in a terrorist attack years before — in order to help rescue a suspected CIA operative being held hostage by someone, presumably the Palestinian Liberation Organization (PLO). Skiles is aided/hindered in his efforts by Sandy Crowder (Pike), a shadowy national security figure, and a group of American spies.
One of our main jobs in following Skiles' Beirut misadventures — set in the time period before the 1982 Israeli invasion of Lebanon and the terrorist bombing of American targets in that country — is to sort out the good guys from the bad guys. So we can know who to cheer for. Ironically, of course, because everyone in Beirut, locals and foreigners alike, is presented as a little bent, more than a little untrustworthy, and decidedly trigger-happy.
Aside from Skiles, who's basically a melancholy alcoholic trying to forget the past, the most sympathetic character is Karim Abou Rajal (French actor Idir Chender), a former friend of Skiles whose brother is one of the bargaining chips in the hostage swap. In keeping with the mainstream cinematic portrayal of Middle East combatants, Karim is portrayed as a hot-head. Arabs in Hollywood movies about conflict in that region are almost always either frothing at the mouth or coolly insolent — definitely an unflattering stereotype.
The US security spooks are just as violence-prone, but with the added complication of up-front, devious exclusivity. That is, their tribe is one to be chosen for, not born into. Skiles, and we in the audience, never quite know how far we can believe the "station" guys played by Shea Whigham, Dean Norris, and Jonny Coyne, let alone the Israeli official who holds the key to Karim's brother's jail cell. Thus, the question is whom to trust — the U.S. Embassy people, the spooks, the PLO, or the Mossad? Or none of the above?

[embed-1]

Beirut is quite a high-class spyboiler compared to the old-fashioned Cold War espionage dramas that director Anderson (Transsiberian) and screenwriter Gilroy (the Bourne franchise) seem to emulate, with their treacherous, ugly-faced Arab villains fighting heroic Westerners in exotic places. The Earth has cooled a bit since then. Palestinians, Lebanese, Israelis, and Americans are a little more complex onscreen than they used to be — or at least they deserve to be. We've had an example of that recently, in The Insult, a contemporary courtroom drama also set in the overheated atmosphere of Beirut, directed by Lebanese native Ziad Doueiri. In that film, Lebanese play Lebanese and Palestinians play Palestinians. Beirut, on the other hand, takes some casual liberties with cultural identities. It was filmed in Morocco, and the actors and extras are either international professionals or Moroccan locals.
Beirut is essentially a war movie trying to re-create a 1980s frame of mind, James Bond-ian spies and all. And while its bitter realpolitik games leave a bad taste, Hamm's performance is first-rate. For those willing to look past its flaws, it's a pretty decent movie about one man's conflicted state of mind as he hesitatingly retraces his steps in a place full of sad memories.