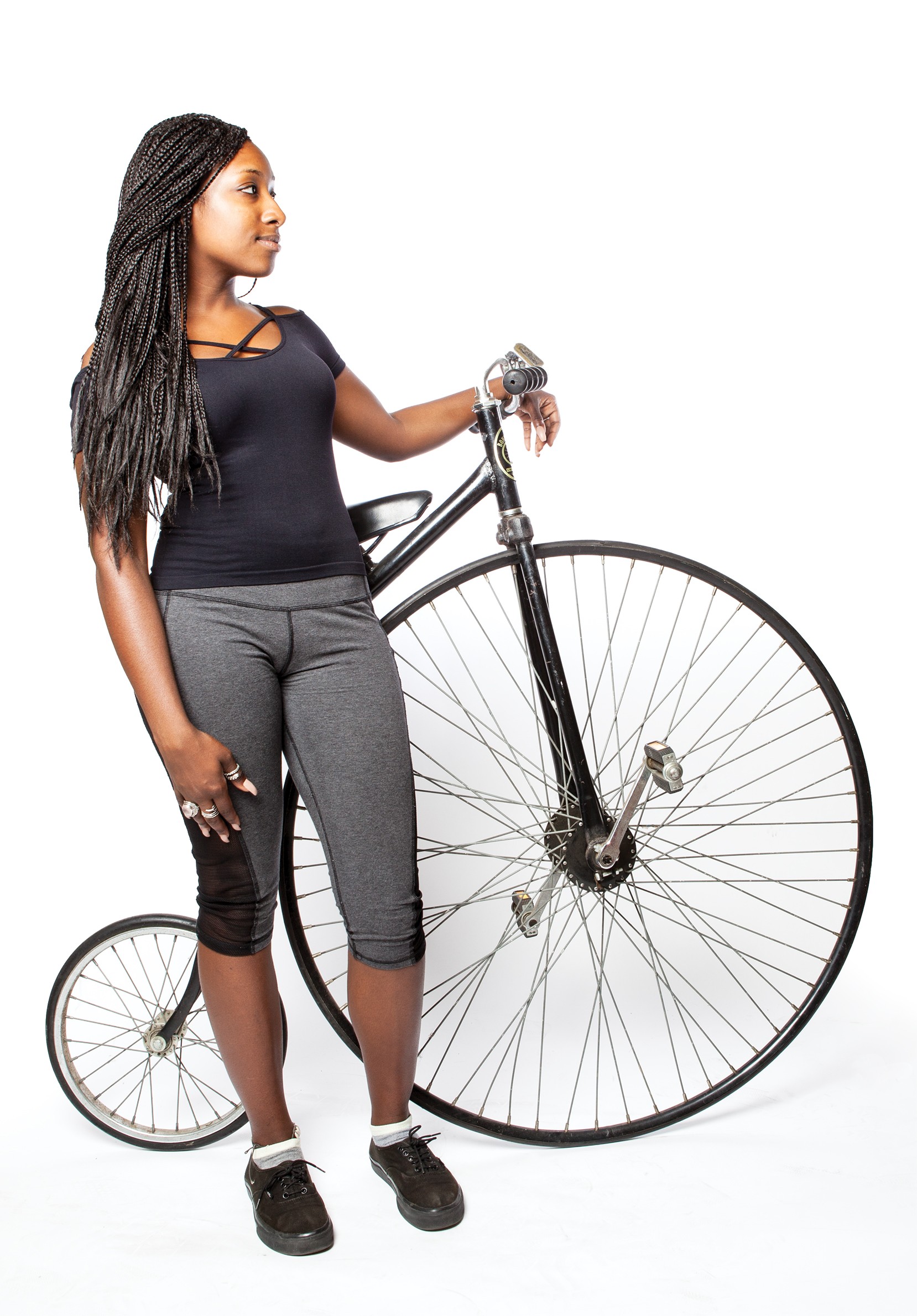 Outdoors & Sports

Ride Local In The Laurel

Laurel Cyclery, in the eponymous East Oakland neighborhood, has been fixing-up bikes for riders young and old, and doing everything from hawking tubes and chain oil, since 2014. The shop is a regional go-to for anyone who cares about both supporting independent businesses and putting in miles on the saddle each week, whether it be in the hills or to work. Owner Jason Wallach (who's pictured having a good time on this year's Summer Guide cover) has been doing the bike thing for decades, and his team is committed to getting all levels of cyclists ready for the roads. From personal experience, cycling is a helluva lot more enjoyable, safer, and fun knowing that you can have a personal relationship with a bike shop and a mechanic. For instance, if you purchase a new ride from Laurel Cyclery, you'll not only get complimentary tune-ups for the first year of the bike's life, but also the comfort in knowing that someone else also knows the inner workings of your ride, and will be there to keep it road-ready. There's pretty much nothing worse than, say, ascending Wildcat Canyon Road and having something funky go down with your drive train. Or, on the way to work, getting a flat. All the more reason to support your local cycle shop. Thanks, Laurel Cyclery!
3715 MacArthur Blvd, Oakland, LaurelCyclery.com
. (NM)
Secret Society — With Sausages

Discretely tucked into the hillside, there's a semi-secret Bavarian-styled lodge in the Muir Woods that offers refuge, beers, and even landjäger (which we are told is a semi-dried sausage) for hungry hikers — or people dressed like hungry hikers who really just drove to the forest to watch tourists gape at big trees while stoned. The best way to the lodge is to hike in, but even the "easy way" involves a steep half-mile-long descent from the parking lot along an unmarked trail. If you make it to the The Tourist Club of San Francisco, your Mt. Tam adventure is guaranteed to get even better. One of many lodges around the world, the club is run by Die Naturfreunde (The Nature Friends), founded in Austria in 1895 to promote "nature appreciation, outdoor activities, conservation, sustainability, and international friendship and understanding." Though most of the time the club requires a membership for access — an application requires member approval, a commitment to regularly helping with maintenance and chores during the club's "work days," and annual dues — occasionally it is open for guests and festivals through the summer and fall. Those who gain entry can count on being greeted by friendly faces, snacks, and beverages — and maybe even an accordion player — to add to the ambience and picturesque view. All ages are welcome, but dogs are not, and you have to bring cash. Check their online social calendar for updates on guest days and events. TouristClubS.org. To hike in, take the Dipsea Trail to the Sun Trail, or the Redwood Trail in Mt. Tam.
The Parking lot is located at 30 Ridge Ave, Mill Valley. Not ADA accessible
. (GC)
Solution To Potholes

Avoiding Oakland's potholes on a road bike should be a competitive sport, but sometimes it's just better to swap skinny tires for fatties and embrace trees and their roots. Yes, Oakland has a ton of hiking trails up in the hills, but not all are welcoming to mountain bikes. Thankfully, there's Big Trees Trail, Oakland's only single-track mountain-biking route, in Joaquin Miller Park. With twists, turns, ups, downs, and the occasional berm, it's perfect for an after-work stress-relief riding session. The trailhead is located on the west side of Skyline Boulevard, just past the Chabot Space and Science Center, and there's no fee to ride. While dogs are supposed to be on leash, few owners follow that rule, so keep your eyes peeled for wandering pooches and packs of families, especially on the weekends. (BK)
Stairway Heaven

By now, the "secret" stairs of the East Bay are less of a secret, but still a fun way to explore while you exercise. Plus, there are so many of them — more than 300 — so there's still a good chance you can work your glutes and check out sites all by yourself. Tucked into the hillsides across Oakland and Berkeley, the stairs were originally put there to help residents catch the streetcar more than a century ago. These days, many of them have fallen into disrepair, but volunteers and city officials have been working to restore them. To get started, try the Merriwood Staircase, renovated by the City of Oakland in 2003. Look for the "City of Oakland Public Stairway" sign near 5915 Thornhill Drive, and keep meandering up through the neighborhood. There's also Davidson Way, off of Grand Avenue between Mandana and Bonham ways, with steps heading up from The Claremont Hotel, and the Oakmore stairs at Leimart and Oakmore.
For a comprehensive look at where to go, buy Charles Fleming's book Secret Stairs: East Bay
. (GC)
Swim, Bike, And Run The City

The Oakland Triathlon advertises itself as an "urban triathlon," and it's not kidding. You'll swim in the estuary between Jack London Square and Alameda (and, yes, a law-enforcement official told me last year that, before the race, he boated along the route and scooped up condoms and debris!). After the swim, you'll spin along Mandela Parkway in West Oakland, climb up overpasses, and dart through the port, for a total of just over 26 miles. And then after all this, you'll run around Lake Merritt and back to the start in Jack London — complete with a final climb of stairs near the Amtrak station on the waterfront. If that sounds rad — and it is — then be sure to start training. But don't worry if you're not quite in shape: This is a triathlon for all levels, including those who don't want to swim (there's a run-bike-run race, too). See you in August! This year's race day is Sunday, August 27. Find out more at OaklandTri.com. (NM)

Peep The Meteor Shows

There will be two meteor showers and a full solar eclipse this July and August. From July 12 to August 23, the Delta Aquariids will be visible. This is a minor meteor shower, but around the peak of July 29 it should produce some fireballs. On August 11 and 12, the Perseids will put on a better show. Caused by the Earth's collision with the debris path of the comet Swift-Tuttle, this is the best meteor shower, producing the largest number of bright, falling molten rocks. Your best bet for viewing it is to escape the Bay's fog and go camping. The solar eclipse, which takes place on August 21, will be visible in the Bay Area — but we only get a partial show. About 70 percent of the sun will be obscured by the moon. However, if you're feeling adventurous, the further north you travel, the better the viewing gets. If you drive all the way into central Oregon, you can see the totality, when the moon blocks the sun's entire body and only corona is visible. NASA's got more info at Eclipse2017.nasa.gov. (DBG)
Oakland A's Pub Crawl

The Oakland A's are deep into another mediocre season, and with the usual mid-year fire sale imminent, there are fewer compelling reasons to attend games. But instead of making the game your Saturday main event, why not make it your halftime in an epic East Bay craft beer crawl? Most afternoon A's games kick off at 1:05 p.m., so start at Fieldwork Berkeley at 11 a.m., hop over to Drake's Dealership when its doors open at 11:30, then finish your frontloading at Ale Industries before ridesharing to the Coliseum for first pitch. Wolf down a couple hot dogs and a bottle of water, and don't waste your liver on the mega-craft junk poured at the game. Rather than watch Santiago Casilla blow another save, take off early and grab a beer at Alameda Island Brewing Co. before finishing with a flight at Faction. Sip your beers, gaze across the bay and dream about next season. (DB)
Make Reckless Bets

Bring a wad of cash, wear a silly hat, throw back some beers, and bet on horse races all day long at Golden Gate Fields. Every Sunday, admission to the grandstands is just $1 — and the grandstand is by far the best place to watch the galloping drama and rub elbows with the hoi polloi. Also, beer is a dollar, too, and so are hot dogs, sodas, and programs. The horses burst from the gates every thirty minutes, all day long, so you'll have plenty of time to socialize, wander the grounds, and visit the paddock for selfies with the stallions. Of course, you'll also need to place an occasional and reckless bet on thoroughbred equestrian competitors like General Strelnikov or Holy Clem (no, we didn't make those names up). Golden Gate's live-racing season runs through June 18 and then picks up again on August 24. Parking is also just a buck on Sundays. Or, take the free shuttle from the North Berkeley BART Station.
1100 Eastshore Hwy, Berkeley
. (DBG)
Bad Ass Ladies On Wheels

Girls are made of sugar, spice, and everything — nah. They're made of the same guts and brawn as men, often with better names, especially if they're damsels of the derby. Isabella Bruisellini, Shenghis Khan, Snakes Anna Plane, anyone? Ninety-percent power and ten-percent pun, the Bay Area Derby is a spectator's smorgasbord of eight-wheeled mayhem, complete with electrifying elbows and flying femme fatales in knee-high socks. (Full disclosure: the Express is a proud sponsor of BAD.) The season opened June 3 at the historic 16th Street Station in West Oakland. Root for your local team — the Berkeley Resistance, Oakland Outlaws, Richmond Wrecking Belles, or, if you must, the San Francisco Shevil Dead — at the home team championship on August 19 at the Craneway Pavilion in Richmond. For $25, you'll pay for the whole seat, but you'll only need the edge. For more, check out BayAreaDerby.com. (BK)
America's Floating Pastime

It's not summer without baseball, so it's a given that you should catch a game. But if you're someone who wants to pack more adventure into your afternoons, try a Bay Area twist on the season's best sport: enjoy it from a kayak. Paddle your kayak — or another seafaring vessel of choice — to McCovey Cove on the side of the right field wall of AT&T Park, and prepare to cheer alongside other floating fans. All you need is a waterproof radio to enjoy baseball the way it was made to be enjoyed (audibly), and perhaps a glove just in case a so-called "splash hit" sends a lucky ball flying your way. Kayak rentals available near the stadium at City Kayak, out of South Beach Harbor. (GC)
Drinking Outside With Dogs

Sunny afternoons call for drinking outside. Drinking outside means drinking on patios. Drinking on patios (at least the good ones) means drinking with dogs. This season use the weather as an excuse to hang out with other people's dogs. Maybe you already have your own dog, but the point here is that there are bars where dogs hang out, and those are the best bars to be in.
The Kingfish (5227 Telegraph Ave, KingfishPubAndCafe.com) is dog favorite, because people spill their popcorn (offered to patrons for free) on the floor and — ask any dog — popcorn is delicious. It's also great spot to make new canine friends, because their owners will likely be distracted playing shuffleboard, watching the A's on one of the TV screens located both inside and on the back patio, or chatting with the friendly bar-tenders. Bonus: Dogs are allowed inside the bar, too, so you can enjoy their company even if it's cold outside.
Heart and Dagger (504 Lake Park Ave, HeartAndDaggersaloon.com) is one of our Best of The East Bay nominees for good reason: cheap drinks, pool table, and pinball machines, and a great jukebox. But the best part might be the back patio. Tucked underneath a lemon tree, it's a chill spot to sit in the shade on a summer day and — of course — hang out with dogs. If you are lucky, you might even be there when a big giant dog comes in, which happens from time to time. Plus, since the bar is close to the lake, you can enjoy the company of both dogs and funny-looking seabirds, such as the black crowned night herons, who look like they are silently judging you from their perch in the trees above. Cash only.
Prizefighter (6702 Hollis St, Emeryville, PrizefighterBar.com) was named after a great Eels song that goes: "Well, if you get sad I'm your friend / I've got an ear I'll always lend / You know that you can always talk to me / Now come on baby take a walk with me." The Eels haven't ever said so, but obviously that song was written by a dog. At it's namesake bar, new dog friends are sure to lend an ear while you enjoy well-made craft cocktails in an unpretentious environment.
And finally, Beer Revolution (464 Third St, Oakland, Beer-Revolution.com) is a beer-drinking dog lovers paradise. Fifty rotating beers on draft and hundreds more bottles to choose from. That means you can take your beer to go, but you and your dog should probably just sit and stay—or at least your dog should. (GC)
Rock The Yacht Lifestyle (Sort Of)

If you are looking for a way to get out on the water this summer, the Cal Sailing Club will teach you how. Become a member for the three-month season for lessons, access to the club's fleet of keelboats and dinghies, and weekly races. Membership dues come in at just under $100 for the summer, but the Club also offers open house events every month, where anyone is welcome to sail the seas for the afternoon. Nautical puns not included. Find out more at Cal-Sailing.org. (GC)
Arts & Music

Summer Film Fests

The summer movie season is upon us, and so IQs are plummeting at the multiplexes, helpless against a seemingly endless onslaught of Transformers sequels and Pixar backwash. There's no better time to support true independent film (Best Exotic Marigold Hotels need not apply) than during the summer movie season, when the enemy feels most emboldened. Independent film festivals provide the starkest counterprogramming to the big-budget status quo, giving a voice to people generally ignored by Hollywood. Luckily, the Bay Area is rife with intriguing film festivals, and the summer is no exception — the season already kicked off on May 31 with the SF Documentary Film Festival (produced by SF Indiefest and running through June 15), and continues with the SF Black Film Festival (June 15-18), the Frameline LGBT Film Festival (June 15-25), the SF Jewish Film Festival (July 20-August 6), the California Independent Film Festival (September 7-14) and more. (DB)
Blast Off

For some of us, the Chabot Space and Science Center is nothing but a memory of fun field trips. Which means it is time to rediscover this magical place, and take advantage of how close it is to so many of us who live in the East Bay. It is also a crucial time to support the arts, given Trump's proposed budget, and how it will impact many agencies that support the arts; NASA alone is set to lose over $261 million in funding. Chabot has seven ongoing exhibits: Touch The Sun, a fully interactive animation of the sun, brought possible by a NASA grant issued through the Education & Public Outreach for Earth & Space Science Program. There's also the A View to the Stars, an exploration of Chabot's historic telescopes, which are still being used today, and are the largest on the West Coast. Did I mention that on the First Friday of every month Chabot is open till 10 p.m. and admission is only $5 after 6pm?
10000 Skyline Blvd, Oakland, Wednesday through Sunday, 10am-5pm, ChabotSpace.org
. (AR)
The Young Cartoonist

Last year, 14-year-old Oakland resident Quinn Nelson was one of a select few who won The New York Times' 2016 editorial cartoon contest. Her prize illustration, titled "It is a truly broken world in which the place where you are born determines whether you live or die," sorrowfully depicted the arbitrariness of suffering that war imposes on children. Another political cartoon by Nelson, responding to the 2016 presidential election, depicts a girl, who looks much like her, screaming, with the caption, "Your silence is deafening and suppressing. I but young fill the void with a scream to tell you that I will fight." The Oakland Public Library's Teen Zone is exhibiting Nelson's artwork, with the opening party on June 14 at 6 p.m. The show runs to September 13.
Oakland Public Library TeenZone, 125 14th Street, OaklandLibrary.org
. (DBG)
Political Sights

Dorothea Lange's iconic photographs are on display at Oakland Museum of California throughout the summer. The exhibition, Dorothea Lange: Politics of Seeing, coincides with the 50th anniversary of the artist's gift of her personal archive to the museum, and brings together a large collection of her photographs alongside vintage prints, personal memorabilia, and historic objects. Lange's images mix artistry with advocacy, documenting the plight of Dust Bowl migrants during the Great Depression, and the incarceration of Japanese-Americans during World War II. Richard Moore, an Oakland-based photographic dealer specializing in the work of depression-era Farm Security Administration photographers including Lange, will discuss Lange's technique, processes, material and market during a tour of the exhibition on June 7. Space is limited, so book tickets online. Tour fee includes museum admission. 1000 Oak St, Oakland, prices vary, AppraisersAssociation.org. (RF)
Daytrips & Getaways

Take A Missile Tour

Yeah, we might all die in World War III before the next election. But if you're trying to put the bellicose Trumpian foreign policy "philosophy" in its proper context, look no further than the Bay Area's fog-draped peaks and valleys. In the 1950s and 1960s, America was betting on Armageddon. The feds built dozens of "Nike" missile batteries in the rugged seaside hills from the Marin headlands to San Mateo. These launch pads were designed to attack incoming Soviet bombers in what would have been humanity's grand finale. Now, crumbling hubristic ruins perched atop sweeping vistas of the Pacific and Bay, these steel and concrete bunkers, some covered in graffiti, make for great hiking destinations and picnic spots. According to Berkeley resident Jef Poskanzer, who has visited and mapped every Bay Area Nike missile site, the most spectacular for day trips are Wolf Ridge in Marin, and Sweeney Ridge in San Mateo.
See Acme.com/jef/nike for more info and maps
. (DBG)
Backpack in the East Bay

Everyone's favorite part of a camping trip is the four-hour drive to get to the trailhead. Oh, it's not? Well, then, we suggest you keep it local. Like, hella local. It's entirely possible — and completely refreshing — to plan a weekend backpacking trip in the East Bay with minimal time spent stuck in traffic. Fortunately, there camping sites like Fern Dell, Girl's Camp, and Trail's End in Redwood Regional Park in Oakland; and Two Rocks, Bort Meadow, and Hawk Ridge in Anthony Chabot Regional Park in San Leandro, just to name a few. By following the Skyline National Trail, Bay Area Ridge Trail, and Juan Bautista de Anza National Historic Trail, you could spend days — if not weeks — meandering through these connected parks in the hills of the East Bay. And if you do get lost and don't like it, you can still Lyft your way back home. Check out EBParks.org for more. (BK)
Visit Bird Poop Islands

The Farallon Islands are those distant, rocky outcroppings shimmering far out beyond the Golden Gate Bridge, only visible on the clearest of days. And if the Farallons are famous for anything, it's prolific amounts of bird guano. These jagged escarpments are home to the largest rookery in the United States south of Alaska, with a quarter million seabirds nesting there at any given time. Seals and sea lions also sun on the Farallons, and they're preyed upon by great white sharks and orcas. The public isn't allowed to set foot on the islands anymore, but there are several charter boats that will take you up close to view the abundant wildlife and in the surrounding waters. Summertime is the best season to observe humpback and blue whales. Dolphins are also common. Boat trips range from $45 to $200, depending on what captain you go with and how big your group is. Boats take off from San Francisco's Pier 39, the San Francisco Marina, and Sausalito. Bring warm clothes in layers, a hat, binoculars, and snacks for a comfortable trip. (DBG)
Urban Hiking

The Claremont Canyon trail is a steep climb of up to 1,200 feet, with a couple of benches along the way, thankfully, and panoramic views at the peak. The trailhead begins at the first bend of Stonewall, above the Claremont Hotel in Berkeley. At the top, you can opt to continue onward, turn to the right, and hike eight miles across the hills to Orinda. The trail ends at the Orinda BART station, which lets you ride back to Rockridge. Or, from the top of the Claremont Canyon trail, you can hike for miles along the fire trails. Wear good shoes, as these are steep. For a gentler experience, try Berkeley's Pathways (buy the map at any bookstore). (AF)
Take An Angel Ferry

If you're looking for shoreside solitude, head to Angel Island's Perles Beach. Leave the crowds behind at Ayala Cove and hike or bike along Perimeter Road for about a mile-and-a-half. Find the trail down to the beach on the west side of the island, and you will be rewarded with a secluded spot to enjoy the sand (and maybe even the sun). The trail down to the beach is unmarked, so keep a close eye out near Camp Reynolds West Garrison. Ferries to Angel Island leave from San Francisco and Tiburon for around $10 one-way. (GC)
Do The Tilden Grand Slam

The "grand slam" is such: ride on the steam train and the merry-go-round, then visit the little farm and the nature center. The steam train is a scaled-down, old-time train that travels a scenic ridge around the park, and is a fun ride for families. Step into your seat and settle your kids beside you before the whistle blows, the bell clangs, and you're off! The merry-go-round is an antique carousel with calliope-style music, and the wooden animals are hand-carved and beautifully painted. The little farm is a thrill for small children that have never seen a barnyard animal up close and personal, as donkeys, turkeys, chickens, and sheep are a rare sight for city kids. Be prepared to spend a good amount of time here. The nature center, while not as dynamic, is a museum, designed with children in mind.
EBParks.org/Parks/Tilden
. (AF)
Learn How To Fish

If you want to learn how to catch your dinner — or if you like the idea of fishing without actual fish — head to the Oakland Casting Club. The nonprofit provides free casting lessons for the public in small groups at the Leona Casting pools in McCrea Memorial Park. The zen environment is the perfect place to practice fly fishing and meet new friends, or participate in the club's "Casting Games," a tournament held on Sundays twice a month and pretend you've escaped the city for a bit. Casting lessons are typically held on the third Saturday of the month and are limited to 15 students and equipment is provided for those who don't have their own. 4460 Shepherd St, OaklandCastingClub.org. (GC)
Overcome Climate Change With Alternative Bike Routes

This past winter's extreme storms ruined some of the region's most-used bike loops (I'm talking about you, Canyon Road Bridge, which is out of commission indefinitely). That busted bridge connecting Moraga to Canyon pretty much ruined the perfect Oakland-and-back loop. But that doesn't mean that cyclists have to un-clip their shoes and give up the sport. For instance, if you're based in the East Bay, simply take BART into Orinda, and enjoy the 30ish-mile loop along Bear Creek and Happy Valley roads, which passes through Lafayette before heading back to the station. Or, start at Orinda BART, take Camino Pablo to Wildcat Canyon Road, which is a four-ish mile climb through Tilden, past Inspiration Point. I've also learned to embrace the ol' Tunnel Road to Grizzly Peak up-and-back. And, heck, there's always the Alameda-Bay Farm Island figure eight, a quick 24-mile spin that, mercifully, is flat! (NM)
Brand New Berkeley Ferry

Earlier this year, a commuter ferry service set sail from the Berkeley Marina, making it the first to do so since an auto ferry service in the late 1930s. Operated by Tideline, the 40-person boat has four trips each morning and afternoon from Berkeley to San Francisco's Embarcadero. Tickets can be purchased in advance, in single or group packs, or you can take a chance and show up early to catch a seat. Tideline's ferry is no doubt the most relaxing, and at 20 to 25 minutes, the fastest way to ride into the city. Bikers can bring their bikes aboard and all passengers can enjoy free Wi-Fi and purchase beverages.
Monday-Friday, $8 if booked online, $9 for walk-ons, K Dock at Berkeley Marina, TidelineTick-ets.com/Commuter-Shuttle/Berkeley
. (RG)
Festivals & Entertainment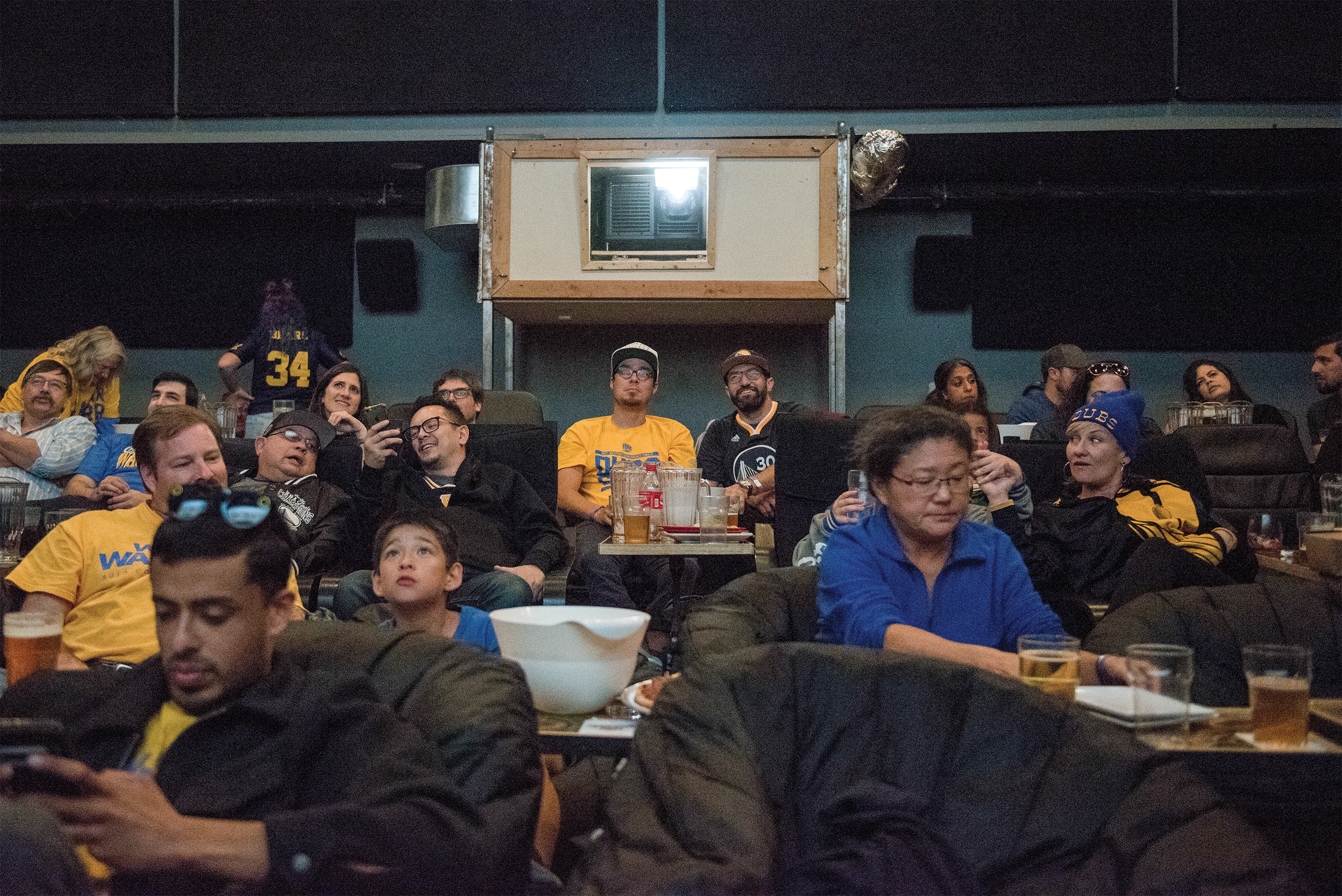 Cozy Couches, Wine, And Flicks

Oakland's New Parkway Theater is hosting movie nights — with a twist. From live accompaniment to post-film Q-and-As, the community-centered cinema's special planning has something for everyone this summer. Local beer and wine is on tap, and you can enjoy your movie from the comfort of its cozy couches. Top picks include their outdoor movie night (A League of Their Own, June 17), and a showing of Dr. Jekyll and Mr. Hyde with live accompaniment by the Invincible Czars (June 20). Cereal Cinema, a Saturday morning family screening of classic cartoons, includes an all-you-can-eat cereal bar (June 10). Post-film discussions will follow screenings of Teach Me To Be Wild (June 14), the story of a Californian wildlife sanctuary and the animals helping at-risk youth; and Black Fatherhood (June 20), an exploration of fatherhood in Black America.
Prices vary, 474 24th St, Oakland, TheNewParkway.com
. (RF)
Redwoods and Relax

Lay back, relax, and enjoy a lazy picnic while listening to live music under the redwood trees in UC Berkeley's botanical gardens. The Redwood Grove Summer Concerts are back this year, featuring a range of indie, jazz, classical, and roots-inspired performances for all ages. Catch the acclaimed Rogue + Jaye, recently named one of "10 New Artists You Need to Know" by Rolling Stone Country (on June 8). Legendary soul artist Sugar Pie DeSanto performs the following month (July 6), and Oakland natives Bells Atlas will be bringing their dynamic blend of jazz afro-pop to the stage (July 20.) Don't miss closing act, SambáDa, blending salsa and reggae beats (on August 31.) Shows have already started to sell out, so book in advance. Tickets include garden admission before 5pm.
June 1 through August 31, 200 Centennial Drive, Berkeley, prices vary, BotanicalGarden.Berkeley.Edu
. (RF)
Get World-ly

There are some who read the words "world music" and immediately run the other way. But don't be a loser. The fourteenth-annual Berkeley World Music Fest is next week, it's free, and it's a tremendous opportunity to take in tunes from across the globe in a welcoming setting, People's Park in Berkeley.
June 10-11, noon-9pm, Telegraph Avenue and Haste Street, BerkeleyWorldMusic.org
. (NM)
Visit Outer Lands

Probably the largest music festival in the Bay Area this summer, Outside Lands returns on August 11-13 for its tenth anniversary. This year's lineup is crackin', including Metallica, Lorde, The Who, A Tribe Called Quest, Gorillaz, and many more. "Eager Beaver" three-day wristbands are on sale, for $355, and VIP wristbands are more than double, in case you want your own bar, better bathrooms, and nicer views. Although volunteering information hasn't been released yet, in the past fans without the funds to buy tickets can choose to volunteer and enjoy complimentary admission.
August 11-13, Golden Gate Park in San Francisco, SFOutsideLands.com
. (DB)
An Art Haven In Richmond

Right in the civic center of the city of Richmond thrives a multigenerational learning and community institution. Started in 1936, the Richmond Art Center stands as the largest visual arts center in the East Bay, where thousands of residents from Richmond and surrounding areas come to learn a new skill — say, pottery or weaving — or catch the West Contra Costa Unified School District student's art shows. Summer at the Richmond Art Center means camps for children from ages 5 to 14, as well as the 2017 members' show, Glass Currents, a national exhibit showcasing glass artists and a contemporary print show running into late summer. Exhibitions are open to the public Tuesday through Saturday, 10am-5pm, 2540 Barrett Ave, Richmond, RichmondArtCenter.org. (RG)
Uke It Up

Head to Berkeley for this one-of-a-kind musical event. "UkeNique IV, Ladies of the Ukulele" brings together a talented group of women for a night dedicated to the music of the ukulele. Accompanying herself on piano and guitar, Canadian-Californian artist Madeline Tasquin will perform, as well as award-winning cabaret-folk group Brother Spellbinder. Joining them will be ukulele artists Amity Rose, Nina Joe Smith, and Chie & Ronin. The evening will go unplugged at 10 p.m., but bring your own uke to join in the song-in-the-round finale at the end of the night. Guys and girls welcome, BYOB.
June 17, 6-10pm, $10, 2905 Shattuck Ave, Berkeley
. (RF)
Be An ID1OT

It's rare to find a two-day fest as eclectic as ID10T — a rock-and-pop music gathering meets comedy fest meets comic-con. Launched by stand-up comedian Chris Hardwick, ID10T's concert lineup is an interesting intersection of 2000s rock bands, like Weezer and OK Go!, and electronic artists such as Girl Talk, Crystal Castles, and Madeon. Meanwhile, more than fifty comic-book artists and creators are scheduled to appear, which means all sorts of visitors dressed-up in cosplay. Tickets are currently going for $65, but will soon increase to $75, which is somewhat budget-friendly considering how expensive bigger music festivals are nowadays.
June 24-25, Shoreline Amphitheatre, 1 Amphitheatre Pkwy, Mountain View, Id10tFest.com
. (DBo)
Food & Drink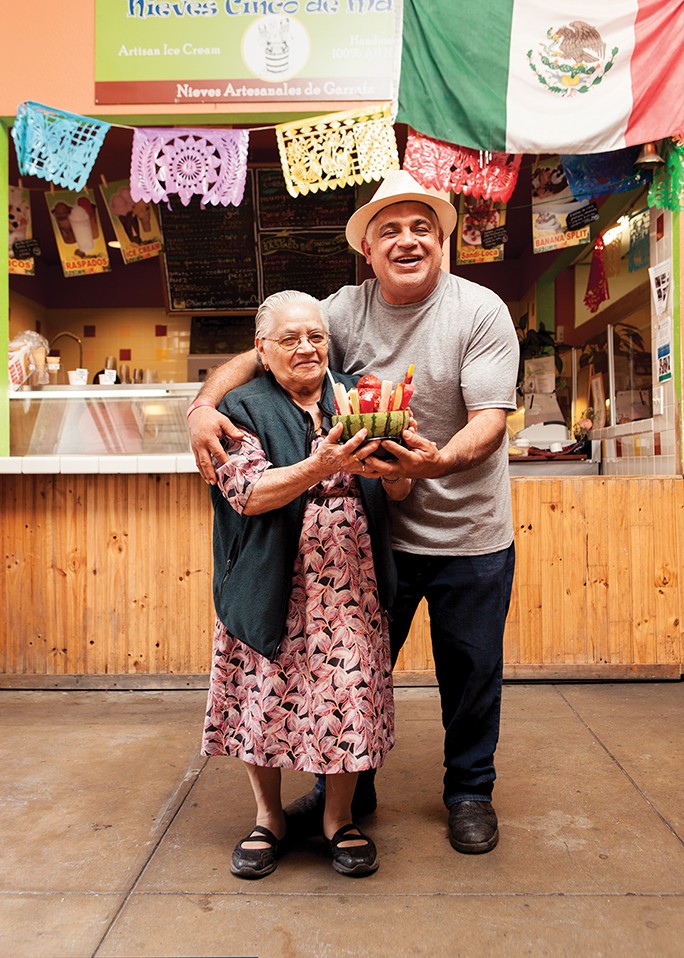 Dessert In A Watermelon

Move over banana split, there's a new sheriff in town. While ice cream, sundaes, and sorbets take over during the summer months, you might want to reconsider these classic options and venture out to try something refreshing and unexpected. Luis Abundis is the owner of Nieves Cinco De Mayo, located in the Fruitvale Village in Oakland. Abundis opened the ice cream shop ten years ago, and, since then, the popularity of the shop has skyrocketed. It isn't just his all natural, locally made ice cream that brings the crowd. It is also a creation started by his mom and his kids, a sandiloca. This tasty dessert is perfect for the hot weather: a small watermelon cut in half and filled with diced cucumber, jicama (Mexican turnip), watermelon sorbet, homemade tamarind pulp, and sprinkled with peanuts, chili powder, chamoy (a savory sauce made with condiments and pickled fruit traditionally used in Mexico), and sprinkled with lime juice. Once all put together, is a tangy, sweet and delicious concoction. Next time you want a summer treat, visit Don Luis, and tell him that the
Express
sent you.
3340 E 12th St., No 2, Oakland
. (AR)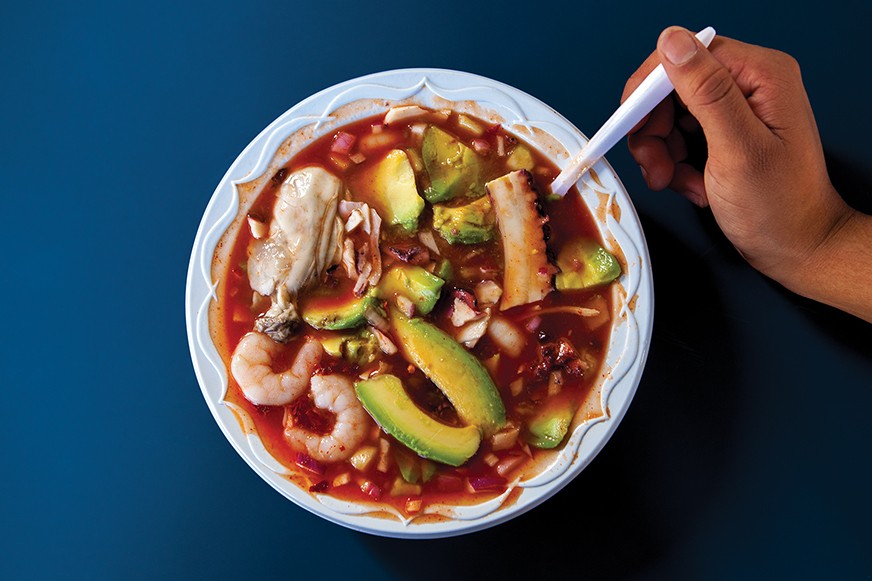 Ceviche Two Ways
If you like seafood, there is nothing tastier than a ceviche tostada on a hot day. Ceviche is a popular dish along the coast in Mexico, Central and South America, and the Caribbean. While there are variations depending on the country, its main ingredient is raw fish cured in citrus juice. Two countries famous for their ceviche are Mexico and Peru. In Mexico, the raw fish is marinated in lime juice, shrimp, cucumber, onion, cilantro, and diced tomatoes are added. The mixture is usually served on a tostada or with saltine crackers on the side. Depending on the region of Mexico where it's served, the ceviche is mixed with hot sauce and ketchup. Mexican ceviche can also include octopus, and imitation crab. In Peru, ceviche is part of the country's "national heritage." Peruvian ceviche consists of the raw fish cured in lime or bitter orange, sliced onions, and chili peppers are also added. It is usually served with corn, yucca, and sweet potatoes. Two of the best ceviches in the East Bay come from Oakland restaurants. For a taste of Mexican ceviche, head over to Mariscos La Costa, on International Boulevard in the heart of the Fruitvale. For a Peruvian experience, there is no better place than La Furia Chalaca on Broadway near Jack London Square.
Mariscos La Costa, 3625 International Blvd, Oakland; La Furia Chalaca, 310 Broadway, Oakland, LaFuriaChalaca.com
. (AR)
Socially Conscious Coffee

At 1951 Coffee Company in Berkeley, an iced vanilla latte has more power than just getting in your caffeine fix for the day. The cafe, known for their massive mugs of coffee and pastries (try the mochi muffin) served on wooden boards, is a nonprofit employed entirely by refugees. Named for the year that the United Nations first created guidelines for protection of refugees, this coffee shop provides job training and employment to refugees, who hone their skills at 1951 to prepare them for the job search. This socially conscious company gets their coffee from Bay Area brewers at Algorithm and Verve Coffee, and their pastries from local bakeries. While sipping your libation of choice, check out their wall map explaining the refugee crisis and the process asylum seekers have to go through to get to America. Instead of settling for that cookie-cutter unicorn drink at Starbucks, spend your $5 on a cup of coffee that also fights for human rights.
2410 Channing Way, Berkeley, 1951Coffee.com
. (AW)
The Good Beer fest

Just one week after Sierra Nevada Beer Camp decamped from San Francisco, a smaller but more storied beer festival goes down an hour up the road in Santa Rosa. VIP tickets are already sold out for Sonoma County Beerfest, The Good One, a long-running and eagerly anticipated event for area hopheads. Now in operation for more than a quarter-century, and once again benefitting the Sonoma County HIV/AIDS charity Face to Face, this outdoor beer festival features more than sixty breweries and cideries pouring a variety of fermented wares. Participating breweries include Sonoma County favorites like Russian River, Bear Republic, Henhouse, and Cooperage, and out-of-towners such as Firestone Walker, Knee Deep, and Sudwerk. There will also be a raffle, and complimentary food from local restaurants while supplies last. Saturday, June 10, 1-5pm, $60.
Luther Burbank Center for the Arts, 50 Mark West Springs Rd, Santa Rosa
. (DB)
Nightlife & Parties

Yes Papa Smurf, No Kids

Professional wrestling is based on the suspension of disbelief that people can repeatedly punch and kick each other without so much as a bloody nose. While the chants at Oakland's Hoodslam — "This is real!" — contests this notion, it also takes the costumed showman/womanship of the WWE to ridiculous levels, often mixed with Nineties nostalgia and irreverence. Past shows have paired Captain Planet with Papa Smurf, and upcoming shows this summer at the Oakland Metro Operahouse include its annual video game tribute, and a 'Merica-themed bout, where if "anyone tries to tread on us we will smack their face off of their face." The show also travels to San Francisco, Sacramento, and a hole-in-the-wall bar in Knightsen. For upcoming dates, check out BirdsWillFall.com. Oh, and the organizers would like you to not bring your f'ing kids. (BK)
Billiards and Brew

Why do we play games that require extraordinary coordination in bars? For example, darts, foosball, and of course there's the ultimate game of concentration and mental geometry: pool. Maybe we enjoy the challenge of blunting our senses only to rely on them even more? Maybe the social lubrication of alcohol pairs well with the thrill of sporting competition? Whatever the reason, it's terribly fun. One of the best places to shoot pool and drink in the East Bay is The Broken Rack. This Emeryville house of games has a full bar, including Racer 5 and Pabst on tap, and they'll shake you up a cocktail if you're feeling fancy. They also have a cheap and delicious bar-food menu. Pool tables are $14 per hour if you're in a group on week nights. Weekends they go for $18 an hour. You can also play snooker. (Similar to pool, but strange and fun.) And The Broken Rack also has darts and foosball.
5768 Peladeau St., Emeryville
. (DBG)
Sundaes on Sunday

If day drinking is part of your summer plans, then you will find that the Bay Area will not have a shortage of day parties to keep you occupied all summer long. Parliament, located in Old Oakland, is a venue known for its weekend events that feature rotating local DJs, from Hector, KMEL's DC is Chillin, Big Von, Mind Motion, Lexx Jonez, DJ Umami, Red Corvette, The CME, among many others. The venue also houses TrapSoul, one of the most popular Thursday night parties. For the month of June, Parliament will host "Ice Cream Sundaes" every Sunday from 2-6 p.m. This day-party series will feature resident rotating DJs, and, most importantly, free ice cream sundaes! (And refreshing cocktails.) Sunny days call for music and drinks, so don't miss out on this summer series.
June 4, June 11, June 18, and June 25, 2pm, no cover, 21+, 811Parliament.com
. (AZ)
AC, PBR, and Turkeys

Let's face it, you can't spend all summer outside. When the day comes that you're craving some air conditioning but can't sit around the house, AMF Southshore Lanes in Alameda is the place. They have 40 lanes to bowl, a full-length sports bar, and pool tables for those who care about the pins and prefer some ball on ball action. This summer AMF is stepping it up, offering three games a day all summer if you buy the season pass. Daily and late-night specials — like games, shoes, pizza slices, and PBR tall boys for just $2.22 on Tuesday after 8 p.m. — make it a great hang-out spot or family outing. And if you time it just right, you can still get that dose of sunlight by stepping across the street onto the tiny beach on Shoreline Drive and watching the sun set behind the San Francisco skyline.
300 Park St., Alameda, AMF.com
. (NS)
Zouk, Zouk, Zouk

Spend an evening kicking up your heels in Jack London Square and join a session of Dancing Under the Stars. Whether you're an experienced jiver or a boogying newbie, everyone is invited to these Friday night dance parties. Professional instructor Bradley Montoya will lead a half-hour lesson from 8:30 p.m., followed by a mixed music dance session from 9 to 10 p.m. Each night is dedicated to a particular dance style, so check the website for your favorite. Upcoming sessions include salsa, jitterbug, cha-cha, single time swing, line dance, and zouk. Sessions are free, so bring a friend and join the fun. June 2 through August 25, Jack London Square, Oakland, free, JackLondonSquare.com. (RF)
Cozy Cinema

Some of the most comfortable seats of all movie theatres in the East Bay can be found at the Shattuck Cinemas. Their smaller theaters offer plush and informal couches, while larger ones, with whose walls are adorned art deco and hieroglyphic details, have spacious and cozy seats. As part of Landmark Theatres, a national chain that focuses on independent and foreign cinema, Shattuck Cinemas also offers less common titles and a respite from overblown summer blockbusters. For those who enjoy a beverage with their films, Lot 68 offers drinks and snacks that you don't have to sneak past security.
$8.50-11, 2230 Shattuck Ave, Berkeley, LandmarkTheatres.com/Booking/Shattuck-Cinemas
. (RG)
Get Banjo Smart

If you're hoping to strum by the campfire this summer, build your skills at music classes and workshops offered at nonprofit community arts organization Freight & Salvage Coffeehouse. With a focus on "promoting public awareness and understanding of traditional music," the Freight offers tailored classes and jam sessions for music enthusiasts interested in musical time travel, at all ages and levels. Classes vary from across a variety of instruments and styles, including banjo, fiddle, guitar, and vocals. Best part is you can stick around after your class to catch one of the many great performances coming through the venue throughout the summer. Class series are weekly and go for a month and a half, starting at $130. Workshops and Jam Sessions are priced according to the event but some are free. 2020 Addison St, Berkeley, TheFreight.org/Education. (GC)
Poutine 'Til 4 A.M.

Smoke's Poutinerie has brought a Canadian treasure to Berkeley. Poutine originated in Quebec, and is typically constructed with a base of French fries, a topping of cheese curd, and a drizzling of gravy. It has come to Berkeley as a treat for the late night crowd, and Smoke's prepares it in the traditional format, but also offers toppings of all iterations, including pork, chili, chicken, steak, beef, and veggies. The Poutinerie is close to the UC Berkeley campus, stays open until 4 a.m., and offers vegetarian options. The many will try the Poutinerie's "traditional" dish, but the few will bravely order the chili cheese bacon poutine, the veggie nacho poutine, or the dish simply referred to as "chicken inferno."
2518 Durant Ave, Berkeley, SmokesPoutinerie.com
. (AM)