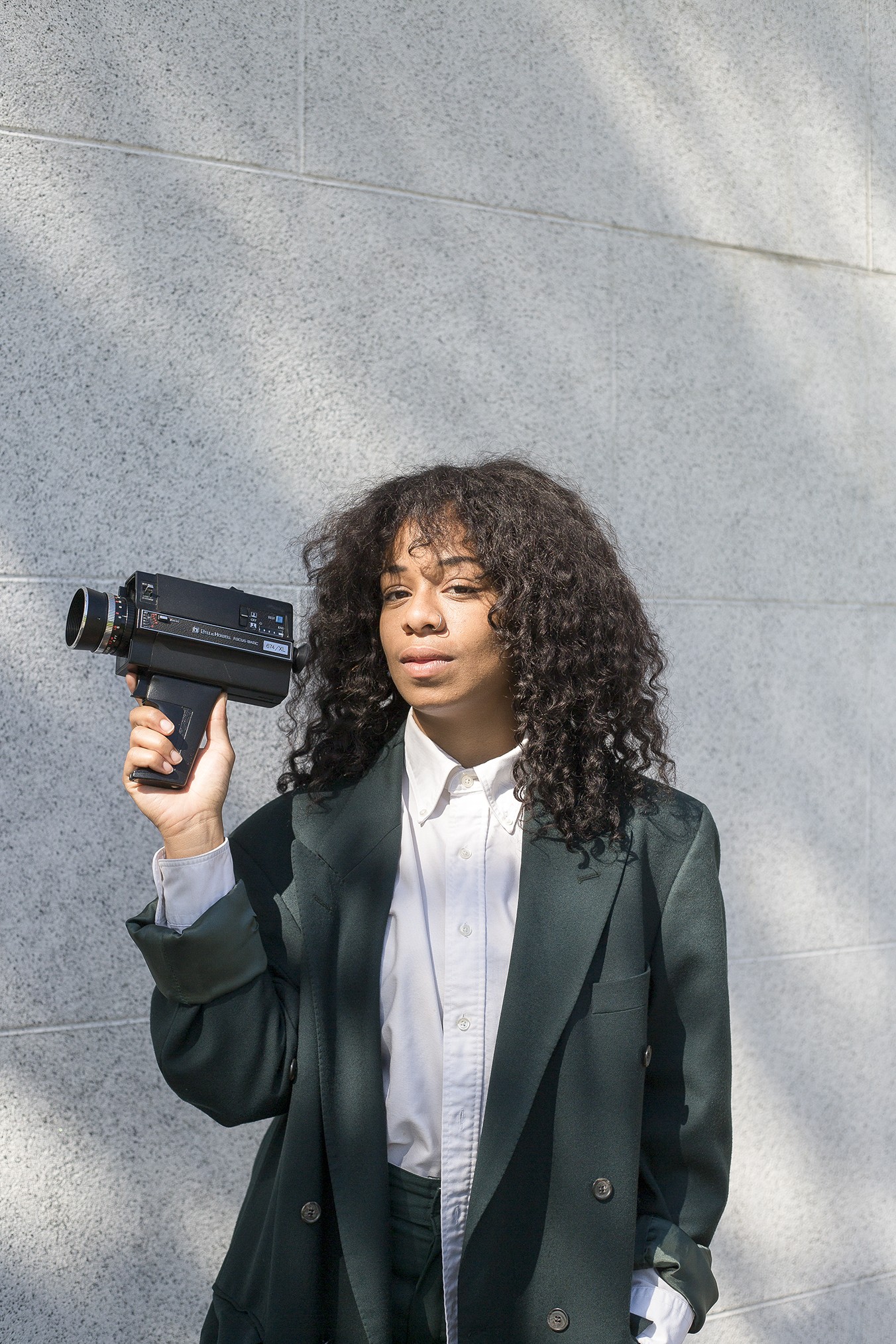 Two years ago, summer mason was taking a film class at UC Berkeley in which the professor screened
Our Trip to Africa
, an experimental short film by Austrian filmmaker Peter Kubelka. Mason (whose preferred pronoun is "they" and who lowercases their name) was uncomfortable that the professor screened the sadistic Euro-colonial fantasy without constructively engaging the students of color in the class. In response, mason made an experimental short film of their own.
Porch Monkey
features footage interspersed with images and film from the Civil Rights era, and closes with mason reading a letter from filmmaker Cauleen Smith, encouraging mason to make art and to use it as a weapon at Cal and beyond.
Since then, mason has done just that through a series of short experimental films. Aside from
Porch Monkey
, mason's films aren't intended to be provocative, but the filmmaker also doesn't care if they are. What sets mason's works apart is freedom from the gaze of others and how they purely express mason's identity and growth. Yet the works resonate with many viewers.
Mason's most recent film,
Copper
, is an exquisite visual and auditory elaboration of Black grief — including the filmmaker's own grief around the death of their Black feminine identity. A production of the Black art collective ONX, of which mason is the creative director, the short film has received the most attention of all of mason's works thus far, and rightfully so. In less than 11 minutes, Copper depicts grief through the languid, intentional motions of a dozen actors through phases that are marked by shifts in music (varying from a wispy cover of Otis Redding to an electronic industrial lamentation from composer Imogen Teasley-Vlautin) and light — golden flares of sunlight shift to soft light sifted through a foggy sky, then to artificial light inside a windowless warehouse.
Music and light are about the only constants in mason's work. The six short experimental films have addressed issues such as complicated relationships with fathers (
Post Daddy Issue
), depression (
Hello Darkness My Old Friend
), intimacy (
Linoleum
), and the Black erotic experience (
Blkkksty
).
Given the complex and personal nature of mason's films, the filmmaker prioritizes creating emotional and physical safety on set. "It doesn't really matter how talented you are or what you can do with the camera, or clothes, or acting-wise," mason said. "If we're not on the same page, I'm not fucking with you.
"'Same page' means we have to have the same politics," mason continued. "It's not just about who we're voting for. It's not that. It's about sensitivity. It's about how sensitive you are with other people; how sensitive you are with yourself."
[pullquote-1] On the set of
Copper
, a member of the production was verbally and physically demonstrating anti-Blackness and anti-queerness toward members of the cast, mason said. When the situation couldn't be resolved through dialogue, mason ousted the person.
"I went through a cleansing this year," said mason. "I got rid of so many people. I was throwing out old clothes. I didn't think twice about it. We have to be on the same page. You have to see me." "It's not just about who we're voting for. It's not that. It's about sensitivity. It's about how sensitive you are with other people; how sensitive you are with yourself."
One of mason's close friends and creative partners is Jasdeep Kang, who did the cinematography for
Copper
. Kang will produce the pilot for a TV show that mason has been writing for the past two years. "I told myself after Copper, I want to do more linear narrative, television-show stuff, but still with my experimental, Bay Area vibe thing going on," mason said. The show, which is privately funded, will be called
818
and will be based on mason's unusual upbringing with seven brothers and no parents in Los Angeles' Canoga Park neighborhood.
The format will be an opportunity for mason to expatiate on their childhood as well as on the spectrum of Black masculinity in a longer format. Mason said they appreciate how stories on TV are less distinguishable than those on film, both in the quality of the storytelling as well as in the size of the budgets. (Mason mentioned they admired FX's
Atlanta
and Cinemax's
The Knick
.) The opportunity to hire more people is especially exciting for the filmmaker.
But delving into their childhood will also be emotionally tasking. "I have to battle a lot of things I went through as a kid and be able to represent my brothers and their voices and who they are as beautiful human beings in visually stunning ways as well," mason said.
As absolute as mason can be on issues of safety and artistic freedom, in their films and in person, they express more fluidity. Mason has a softness, a subversive sense of humor, and a sort of charming dissonance that comes from a person comfortable with ongoing internal debate. Their vision centering the experiences of queer folks, Black people, and other folks of color on the medium of TV would be like any other in that landscape.